Roasted Tomatoes with Soybean Spaghetti
We may earn money or products from the companies mentioned in this post.
Roasted Tomatoes with Soybean Spaghetti
Roasted Tomatoes with Soybean Spaghetti is a fresh, easy and delicious dinner option. With fresh tomatoes in season, this recipe is a great way to use up those tomatoes that just seem to keep on coming! Roasting tomatoes adds depth and gives the tomatoes a more concentrated flavor. If you have never roasted tomatoes before you need to jump on the bandwagon and give this recipe a try. Grab those tomatoes you have lined up on your window sill and get to roasting.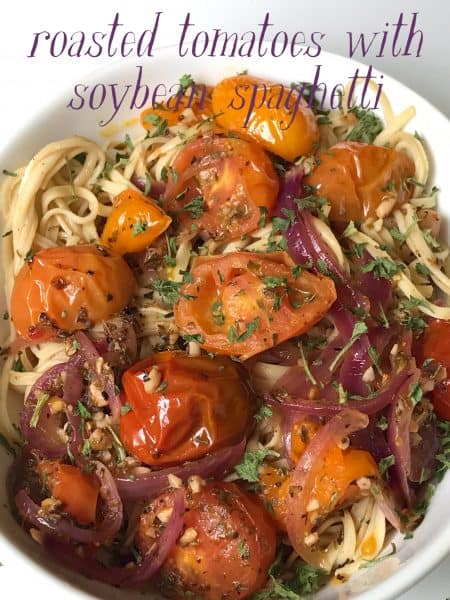 Soybean Spaghetti
A few days ago, I was on a grocery shopping trip to Aldi.  While in the pasta section looking at jars of marinara sauce, I spotted a box of soybean spaghetti. A few weeks back I bought a box of black bean penn and made Black Bean Penne Caprese Salad.  The salad was a huge hit with the family, so when I saw the box of soybean spaghetti, I thought what the heck, give it a go! I put a box in my cart and headed to the produce section.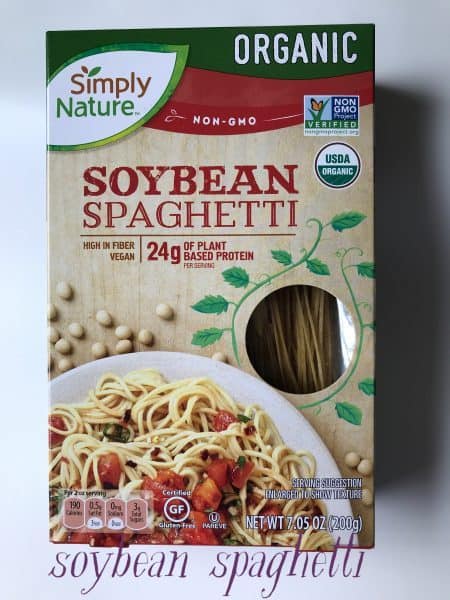 Gourmet Tomatoes
For this recipe I used Simple Nature Organic Wild Wonders Gourmet Tomatoes from Aldi. Like I mentioned, this recipe would be even better made with fresh garden tomatoes or as my grandson called them 'nomatoes.' I wasn't lucky enough to have fresh garden tomatoes on hand when I made this recipe, but the gourmet tomatoes I picked up at Aldi worked super. Here in Wisconsin our growing season is behind a few weeks. Normally fresh produce would be in abundance right now but due to our wet, chilly spring we're a little behind. As soon as fresh tomatoes are ready, I'll definitely be making this recipe again. This simple recipe has very few ingredients but is big on taste.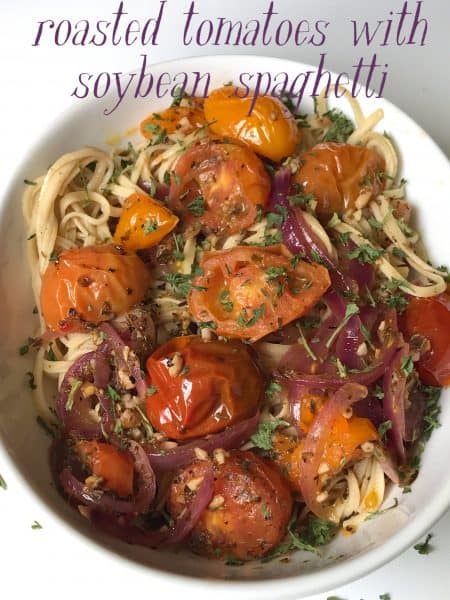 Recipe Note: This recipe can also be made with any kind of pasta.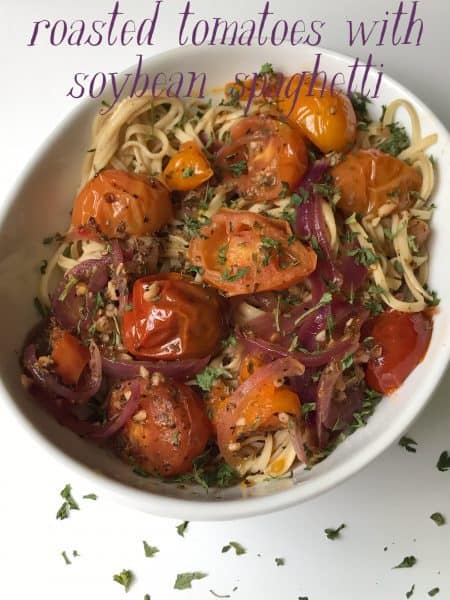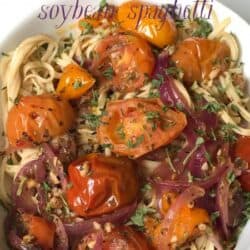 Roasted Tomatoes with Soybean Tomatoes
A super easy recipe that is big on taste.
Ingredients
1

12 oz

Wild Wonders Gourmet Tomatoes

1

small

red onion, thinly sliced

4

cloves

garlic

2

tablespoons

dried oregano

olive oil

salt and pepper

Parmesan cheese

1

7 oz package

soybean spaghetti
Instructions
Preheat oven to 425° Line a large sided baking sheet with heavy duty aluminum foil. Set aside.

Slice tomatoes in half if using cherry tomatoes. If using larger tomatoes, cut them in half and half again. Spread tomatoes on lined baking sheet. Scatter chopped onions and garlic cloves over tomatoes. Sprinkle with dried oregano.

Drizzle olive oil over tomato mixture, coating well. Sprinkle with salt and pepper. Bake at 425° for 20 minutes or until tomatoes are soft yet still firm.

Meanwhile, cook soybean spaghetti according to package directions, drain. Place spaghetti in large bowl, top with roasted tomatoes and toss gently together. Serve with Parmesan cheese.
Nutrition
Serving:
1
g
,
Calories:
23
kcal
,
Carbohydrates:
5
g
,
Protein:
1
g
,
Fat:
1
g
,
Saturated Fat:
1
g
,
Sodium:
2
mg
,
Potassium:
84
mg
,
Fiber:
2
g
,
Sugar:
1
g
,
Vitamin A:
40
IU
,
Vitamin C:
3
mg
,
Calcium:
52
mg
,
Iron:
1
mg
Recent Recipe: Honey Berry Fruit Salad