Roasted Cherry Tomatoes
We may earn money or products from the companies mentioned in this post.
Roasted Cherry Tomatoes
Roasted Cherry Tomatoes are delicious served with sliced avocado and cubes of mozzarella cheese or crumbled blue cheese. This simple "dish is for a great light lunch or side dish. Roasted vegetables have become our recent passion as of late and this recipe tops the list. When tomatoes are in season there is no better way to enjoy fresh tomatoes than roasted, even though freshly picked tomatoes are pretty good too.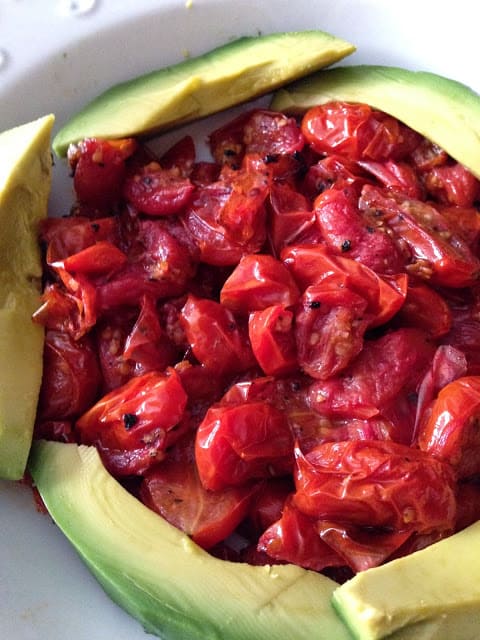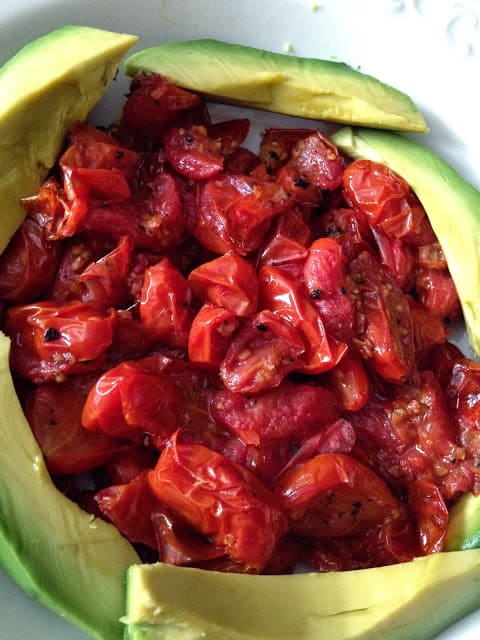 Word About Small Tomatoes
Globe Tomatoes are medium-size, firm and juicy. They're good both raw and cooked. Another variety is the Plum Tomato, also called Italian plum and Roma, a flavorful egg-shaped tomato that comes in red and yellow versions. Grape Tomatoes are baby romas. The small Cherry Tomato is about 1-inch in diameter and can be red or yelllow-gold in color.  It's very popular, both for eating and as a garnish because of its bright red color and excellent flavor.
The yellow cherry tomato is slightly less acidic than the red, therefore somewhat bland in flavor. Though it's long been popular raw in salads and eating out of hand, the cherry tomato is gaining favor as a cooked side dish. The Yellow Pear Tomato is slightly smaller than the cherry tomato and resembles a tiny pear. It's used in the same way as the cherry tomato. Whether small or large, tomatoes are delicious and versatile.
Serve Vegetables
When vegetables are in season, roasting vegetables is a super way to add veggies to your diet. We often forgo meat altogether when fresh vegetables can be found at our local farm stand. A nice big plate of steaming hot roasted mixed veggies served with a drizzle of olive oil, maybe some Parmesan cheese and a sprinkling of salt and pepper. Add a side of white or brown rice and you have a delicious meal, vegetarian meal.
Carolina Gold Rice
Charleston Gold is an aromatic rice like other long-grain varieties such as basmati and jasmine. It has a heady, perfumed fragrance with a distinctive flavor. The flavor pairs well with hot and complex seasonings of Thai and Indian cuisine. It can also be eaten with just a pat of butter. Long-grain, aromatic Charleston Gold cooks up dry, light and fluffy. If you'd like to try Carolina Gold rice go Anson Mills.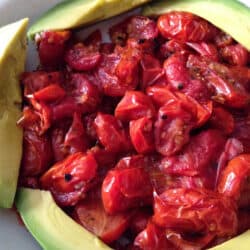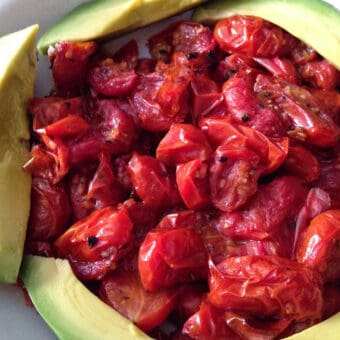 Roasted Cherry Tomatoes
Roasted tomatoes are delicious.
Ingredients
1

pint

grape or cherry tomatoes

,

rinsed and green stems removed

2

tablespoons

olive oil

1

teaspoon

fresh rosemary

,

minced

1/2

teaspoon

kosher salt

1/4

teaspoon

coarsely ground black pepper

2

tablespoons

balsamic vinegar
Instructions
Preheat oven to 400º Line a baking sheet with parchment paper. Cut each tomato in half, lengthwise, then place on prepared baking sheet. Drizzle with olive oil. Sprinkle with rosemary, salt and pepper. Drizzle with balsamic vinegar. Toss lightly.

Arrange tomatoes on baking sheet. Roast for 25 to 35 minutes. Cool.
Recipes On Tap: Oatmeal Scotchie Muffins   and Munch a Bunch Snack Mix