Roasted Baby Carrots
We may earn money or products from the companies mentioned in this post.
Roasted Baby Carrots
To add more vegetables to your diet, try roasting them. Roasting vegetables has become our new favorite way to enjoy our vegetables. All vegetables benefit from spending some time in the oven including baby carrots. For a fast and quick side dish, purchase a bag of baby carrots, throw them on a baking sheet, drizzle with oil, sprinkle with a seasoning blend and roast. Roasted Baby Carrots are  Simple. Fast. Easy. Delicious.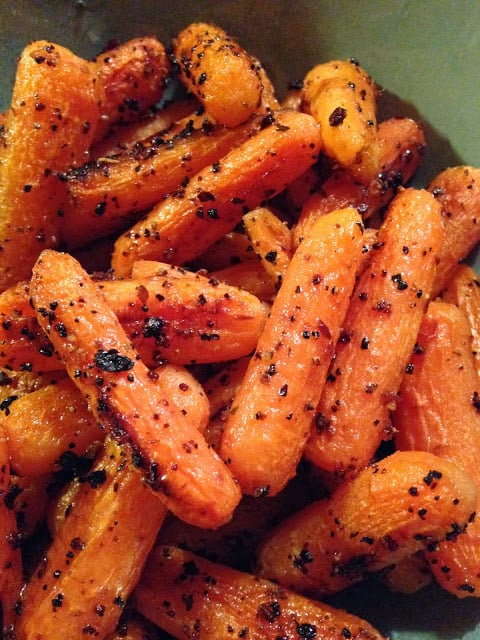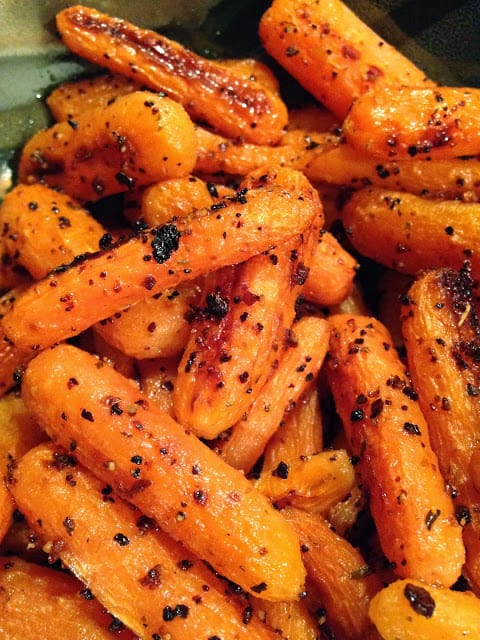 Gourmet or Heirloom
To make this super simple dish even better, pick up a selection of gourmet or heirloom carrots. Heirloom carrots can be found in some grocery store produce departments, usually in the specialty area. You can also find heirloom carrots at Farmers Markets, Roadside Produce Stands or at your favorite Farm Stand. Heirloom carrots come in different colors and are many times longer and thinner than regular carrots.
Use In
For this recipe we used Bolthouse Farms Baby Carrots. Baby carrots are most often used as a snack with vegetable or dill dip. There are so n many different ways y to prepare baby carrots. Add them too soups, stews and casseroles. In my humble culinary opinion, "Baby" carrots were start of the baby vegetable craze. In fact, baby carrots have been the reigned Queen for a long time now. Every vegetable from Avocado to Zucchini can be found in baby form:) Frankly, I've jumped on the band wagon, I love them!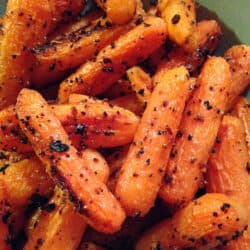 Roasted Carrots
Ingredients
1

bag

baby carrots

2 to 4

tablespoons

olive oil

2 to 4

tablespoons

garlic and onion seasoning blend
Instructions
Rinse carrots, pat dry. Heat oven to 425°

Place carrots on a foil lined baking sheet. Drizzle with olive oil. Sprinkle with seasoning blend.

Bake for 20 to 35 minutes or until carrots are roasted and tender.

Remove from oven and Enjoy.
Nutrition
Serving:
1
g
,
Calories:
163
kcal
,
Carbohydrates:
10
g
,
Protein:
1
g
,
Fat:
15
g
,
Saturated Fat:
2
g
,
Sodium:
4
mg
,
Potassium:
186
mg
,
Fiber:
6
g
,
Sugar:
1
g
,
Vitamin A:
275
IU
,
Vitamin C:
0.3
mg
,
Calcium:
236
mg
,
Iron:
5.5
mg
Try this recipe for Roasted Brussels Sprouts. Brussels sprouts never tasted so good!
Health Note: Berries are fiber giants. Just 1 cup of blackberries or raspberries gives you a whopping 8 grams of fiber, one-third of your daily fiber needs.