Roasted Asparagus Scones
We may earn money or products from the companies mentioned in this post.
Roasted Asparagus Scones
If you are an asparagus lover as I am, you are constantly looking for new ways to use this springtime favorite. Roasted Asparagus Scones are a great way to make asparagus in a new way. There is nothing better than fresh asparagus and the flavor just can't be beat. Make something new for your Easter dinner this year and serve asparagus scones. Re-discover asparagus in a fun and tasty way.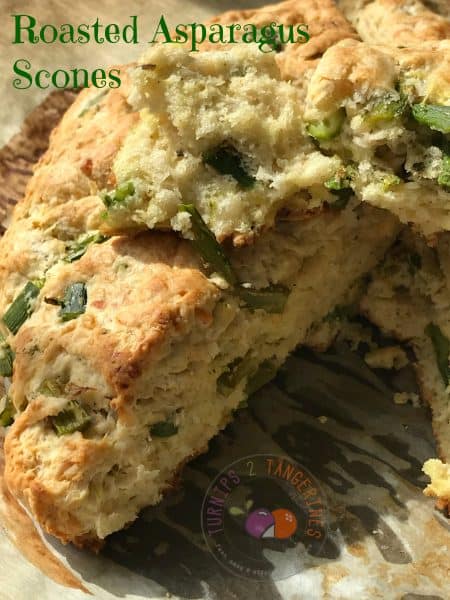 Driving those Back-Roads
As the song goes, "I've got the radio blastin', I've got the windows rolled down, And I'm crusin' these backroads, On the outskirts of town." When I'm out driving those back-roads of Wisconsin, the minute I see a sign that says 'fresh asparagus for sale' I slam on my brakes and pull my car right on over. Here in the 'woods' of Wisconsin, fresh asparagus season doesn't last long, so when the asparagus is ready, so am I. You gotta love Spring!
*Song Backroads by Ricky Van Shelton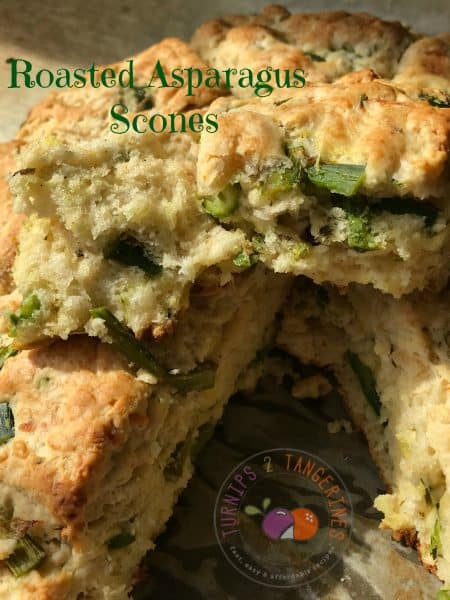 Asparagus 
This universally popular vegetable is one of the lily family. Fresh asparagus lasts from February through June, depending on where you live, and is available year-round in some regions. The earliest and most tender stalks are an apple green with purple tinged tips. When buying asparagus, choose firm, bright green stalks with tight, purple tinged tips. Generally the smaller the stalks, the more tender they are. Larger stalks tend to be woody.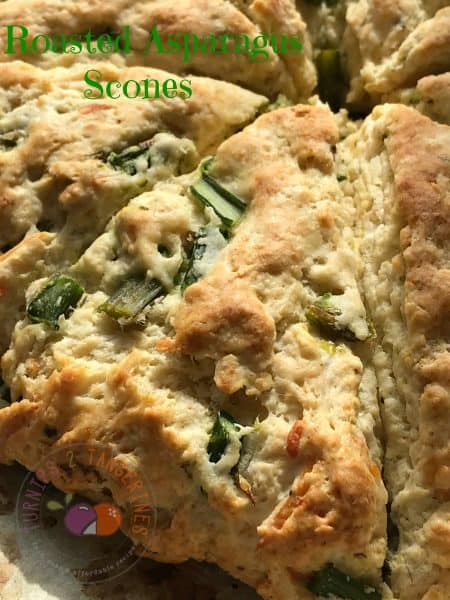 White and Purple Asparagus
European asparagus or specifically French asparagus called Argenteuil is white asparagus which is grown underground to prevent it from becoming green. White asparagus spears are usually thicker, are smoother and more tender than green asparagus. There's also a purple variety of asparagus called Viola. Both the white and purple varieties have the same wonderful flavor as green asparagus.
Serve With
Asparagus scones are a great way to use up any asparagus you might have leftover from your Easter dinner but they're also delicious served with your meal as well. These slightly peppery scones are the perfect vehicle for ham. Split open a warm scone, slather on some Dijon mustard (I can't eat ham without it) and you have a terrific ham sandwich. Move on over potato rolls, there's a new bun in town!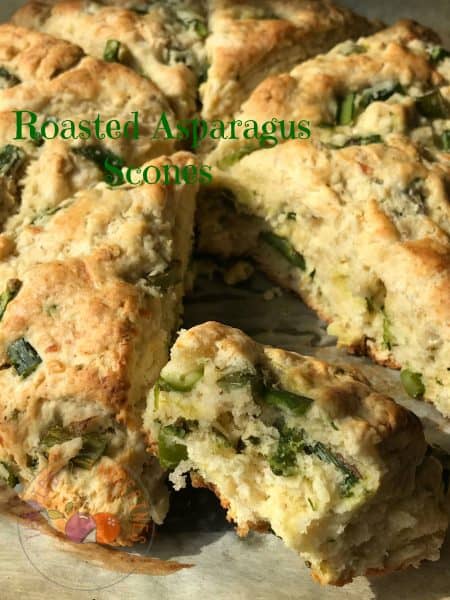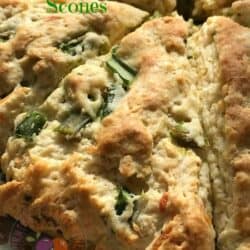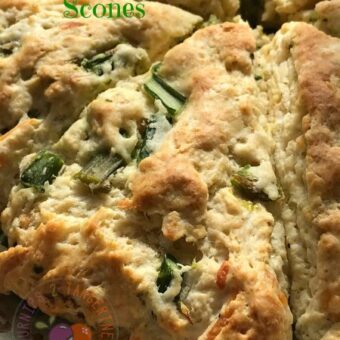 Roasted Asparagus Scones
A fantastic way to enjoy fresh roasted asparagus.
Ingredients
1 3/4

cups

fresh asparagus, roasted and and sliced into 1/4-inch pieces

2

cups

flour

1

tablespoon

sugar

2

teaspoons

baking powder

1/2

teaspoon

salt

1/4

teaspoon

baking soda

1/4

teaspoon

pepper

1/4

teaspoon

cayenne pepper

1/4

cup

cold butter

3/4

cup

plus 2 tablespoons buttermilk, divided

1/3 - 1/2

cup

grated Parmesan cheese
Instructions
Roast Asparagus: Lay asparagus in a single layer on baking sheet with sides. Drizzle with olive oil, season with salt and pepper to taste. Roast in a 425 degree oven for 10 minutes, shaking pan often. *Roasting time will vary depending on how thick the asparagus.* Remove from oven, set aside to cool. When asparagus has cooled, slice into 1/4-inch pieces.

In a large bowl, combine the flour, sugar, baking powder, salt, baking soda, pepper and cayenne. Cut in butter until mixture resembles coarse crumbs. Stir in 3/4 cup buttermilk just until moistened. Stir in cheese and asparagus.

Turn onto a floured surface; knead 10 times. Transfer dough to a baking sheet lined with parchment paper. Pat into a 9-inch circle. Cut into eight wedges, do not separate.

Brush with remaining buttermilk. Bake at 425 for 18-20 minutes or until golden brown. Cool scones on wire rack.
Signature Deviled Eggs and Crackle Colored Eggs and Coconut Nests are a few more egg recipes and ideas that might interest you.