Roasted Asparagus with Horseradish Dip
We may earn money or products from the companies mentioned in this post.
Roasted Asparagus with Horseradish Dip
With fresh asparagus season fast approaching, you might be on the lookout for new and tasty recipes to accompany this springtime favorite. Roasted Asparagus with Horseradish Dip is not only delicious, it's got some spunk. The spunk comes exclusively from the horseradish. I am a fan of horseradish and love it with beef roast. I don't like super spicy, tongue numbing, hot peppers but I can handle the eye watering, sinus clearing vapors from horseradish. Now my hubby who is known for eating hot, fiery foods and consuming anything with ghost peppers 🌶 doesn't like horseradish. Go figure!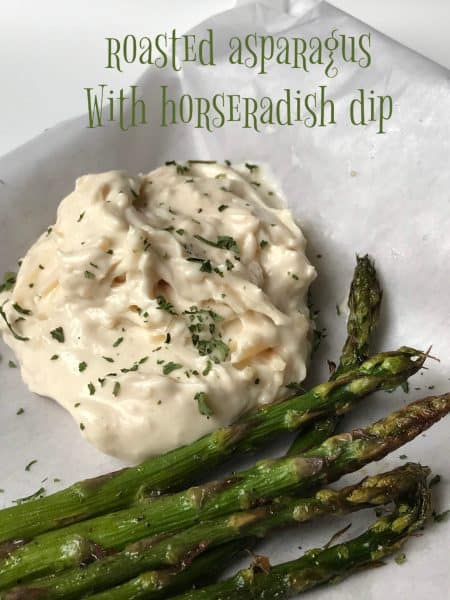 What is Horseradish?
This ancient herb (one of the five bitter herbs of the Jewish Passover festival) is a native of eastern Europe but now grows in other parts of Europe as well as the United States. Though it has spiky green leaves that can be used in salads, horseradish is grown mainly for its large, white, pungently spicy roots. Choose roots that are firm with no sign of blemishes or withering. Horseradish should be refrigerated, wrapped in a plastic bag, and peeled before using. It's most often grated and used in sauces or as a condiment with fish or meat. Bottled horseradish is available white ( preserved in vinegar), and red (in beet juice). Also available is dried horseradish, which must be reconstituted before using.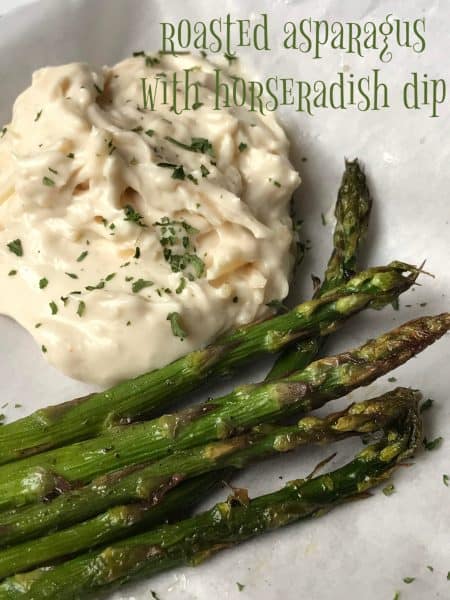 Asparagus
Asparagus is part of the lily family. Fresh asparagus season lasts from February through June, depending on the area in which you live. The earliest, most tender stalks are an apple green in color with purple-tinged tips. Asparagus is best cooked the same day it's picked or purchased but will keep, tightly wrapped in a plastic bag, 3 to 4 days in the refrigerator. Or, store standing upright in about an inch of water, covering the container with a plastic bag. Horseradish dip is not only super with asparagus, but it can be used as a veggie dip in general. Try it with pretzels or crackers too.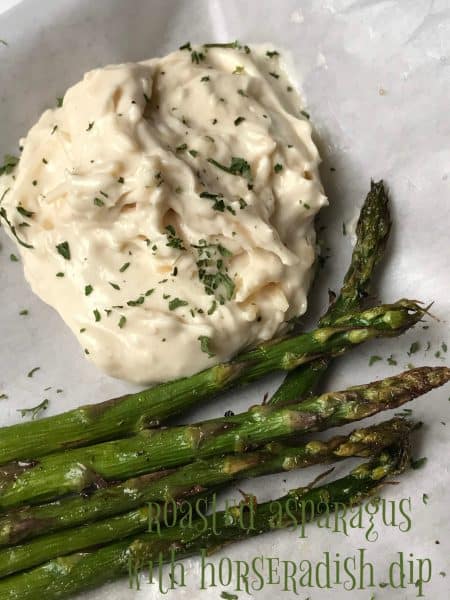 Roasted Asparagus with Horseradish Dip
A simple recipe that's big on taste.
Ingredients
32

(2 pounds)

fresh asparagus spears

2-4

tablespoons

olive oil

salt and pepper, to taste

1

cup

reduce-fat mayonnaise

1/4

cup

grated Parmesan cheese

1

tablespoon

prepared prepared horseradish

1/2

teaspoon

Worcestershire sauce
Instructions
In small bowl combine mayonnaise, Parmesan cheese, horseradish and Worcestershire sauce. Refrigerate dip for an hour.

Lay asparagus spears in a single layer on baking sheet (with sides). Drizzle asparagus with oil, season with salt and pepper. Roast in a 425 degree oven for 8-10 minutes. Remove from oven and serve with dip.

Dip can also be served with steamed asparagus.
Springtime is the Best Time
Springtime is the perfect time to pick or purchase fresh asparagus. Pick up fresh asparagus at your local farm stand, farmers market or check out Pick Your Own to find out where you can 'pick your own' asparagus in your area. While you're visiting Pick Your Own website, find out when rhubarb, berries and any other produce is available to pick in your area.