Rhubarb Banana Sourdough Scones
We may earn money or products from the companies mentioned in this post.
Rhubarb Banana Sourdough Scones
with Lemon Glaze
Rhubarb, banana and sourdough scones are the perfect blend of all three flavors. Rhubarb Banana Sourdough Scones have a nice banana flavor from the mashed bananas, along with a tart bite from the rhubarb and the sourdough lends a nice tang. The perfect blend of flavors. The lemon glaze is the crowning touch on these scones. The lemon glaze also adds a perfectly nice sweetness to these not so overly sweet scones.
Rhubarb, A Springtime Favorite
Rhubarb has been a springtime favorite of mine since I was a kid. My sister Joan and I would sit on the front porch steps and dip our rhubarb stalks into small bowls of sugar. Later my mom Aggie would make up a batch of rhubarb sauce that we would have for breakfast, spooned over toast. Now that I'm older I prefer the finer things in life like rhubarb pie but I'll never forget those spring days eating rhubarb with my sister Joan.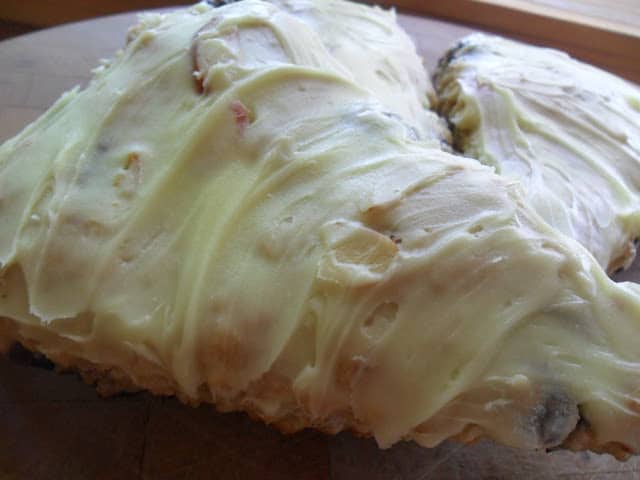 Sliced Almonds
For an added special touch to these scones top them with sliced almonds before baking. After the scones have baked and cooled they can be glazed. Spoon the lemon glaze thickly over the scones, sliced almonds and all, and with the back of a teaspoon spread the glaze back and forth. If you can wait a little longer, let the scones set up about 15 minutes before devouring them.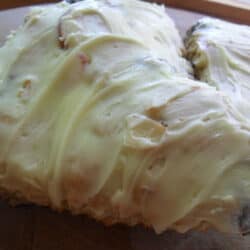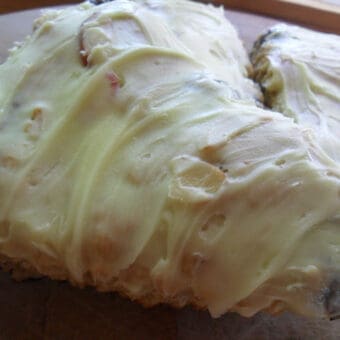 Rhubarb Banana Sourdough Scones with Lemon Glaze
Ingredients
2 1/2

cups

flour

1/2

cup

rolled oats

2

teaspoons

baking powder

1/4

teaspoon

salt

1/3

cup

cold butter, cut into cubes

1 3/4

cups

diced rhubarb

2

ripe bananas, mashed

1/3

cup

brown sugar, lightly packed

1/2

cup

sourdough starter

1

egg

1

teaspoon

almond extract

2

teaspoons

lemon zest

1

cup

confectioners' sugar

2

teaspoons

lemon juice

2 to 4

teaspoons

milk

sliced almonds, optional
Instructions
Preheat oven to 375º

Combine flour, rolled oats, baking powder and salt. Cut in butter with pastry blender until mixture resembles coarse crumbs. Stir in rhubarb by hand to coat pieces.

In a large bowl, stir together mashed bananas, brown sugar, sourdough starter, egg, almond extract and lemon zest. Add the dry to the wet and stir just until moistened. Turn dough out onto a well floured surface and pat into a 12 inch round. Dough will be moist and sticky, so make sure the surface is well floured. Divide dough into 8 to 10 scones. Transfer to a baking sheet lined with parchment paper. Bake at 375º for 25 minutes.

While scones are baking, make glaze.

Lemon Glaze:

Combine confectioners' sugar, lemon juice, and milk until desired consistency.

Remove scones from oven and transfer to a wire rack to cool slightly.

Drizzle scones with lemon glaze while warm, top with sliced almonds, optional
If you like scones as much as we do, you will love these simple Buttermilk Peach Scones with White Chocolate Chip Glaze