Red White and Blue Parfaits
We may earn money or products from the companies mentioned in this post.
Red, White and Blue Parfaits
Red, White and Blue Parfaits are perfect to serve for Memorial Day, the 4th of July or Any day! The red in this recipe comes from fresh red raspberries, the white is from rice pudding, which we purchased but you could also make it from scratch and the blue comes from fresh blueberries of course! Raspberries, rice pudding and blueberries are layered in parfait glasses to make a sensational dessert.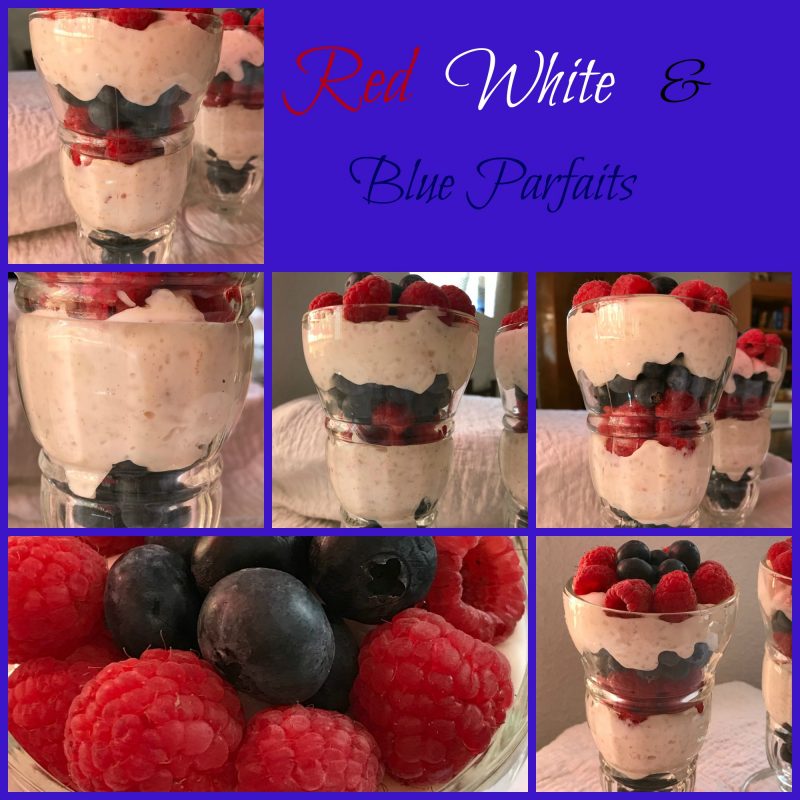 Make Things Easier
To make things easier this Memorial Day, we decided to go with our favorite rice pudding from Kozy Shack. If you're looking for a prepared rice pudding that has that down home, homemade taste Kozy Shack is for you. I've tried a few other brands but none compare to Kozy Shack. Made with "real" ingredients like eggs, milk, rice, and sugar and it's taste is hard to beat.
Kozy Shack or Homemade
If you prefer to make your own rice pudding, by all means, knock yourself out:) Whenever I have left-over rice the first thing I think of is;" Oh goody, tomorrow we can have rice pudding" but this time I wanted to save some time so I went with the next best thing, Kozy Shack. I've included a recipe for homemade rice pudding just in case you wanted to make your own. Whether you decide to make your own or use Kozy Shack, these parfaits are great!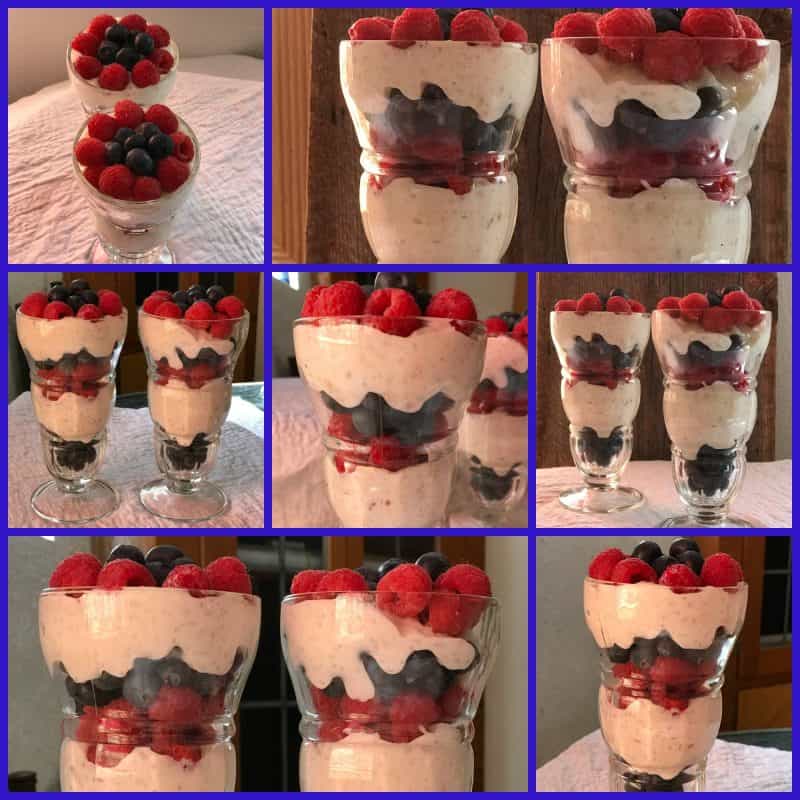 Substitute
Don't like rice pudding? You can substitute tapioca pudding, vanilla pudding, banana cream pudding or even white chocolate pudding or cheesecake flavored pudding!! I've made this recipe with many different flavors of pudding and my favorite is still lemon. Sugar-free pudding can also be used if you want to cut calories. You can replace the pudding with cool-whip "free" for another lo-cal option.
More Red, White and Blue
Hungry for more Red White and Blue recipes? Here are a few you might like. Red White and Blue Cupcake and Red White and Blue Broken Glass Jello  or Red and Blue Krispie Treats. Check out our recipe box for more delicious fast, easy and affordable recipes you're sure to love.
Red White and Blue Parfaits
Author:
Prep time:
Total time:
Serves:
5 parfait glasses
A delicious and easy dessert. Perfect for Memorial Day, the 4th of July or Any day!
Ingredients
1 1/2 cups fresh blueberries
1 1/2 cups fresh raspberries
16 oz container rice pudding
Instructions
Spoon blueberries into five parfait glasses or dessert glasses.
Top with rice pudding and then red raspberries.
Repeat layers ending with rice pudding.
Garnish top with blueberries and raspberries.