Red Moscato Drunken Gummi Bears
We may earn money or products from the companies mentioned in this post.
Red Moscato Drunken Gummi Bears
If your looking for something fun to bring to your Memorial Day festivities, why not being a jar of Red Moscato Drunken Gummi Bears. This recipe has been all over Pinterest for some time now, but like I've stated before I'm usually a few steps behind everyone else and quite frankly, I have a problem with wasting a perfectly good bottle of wine on gummi bears. But I was also curious to see if this "project" was actually going to work. I wanted to see if the gummi bears really did soak up the wine.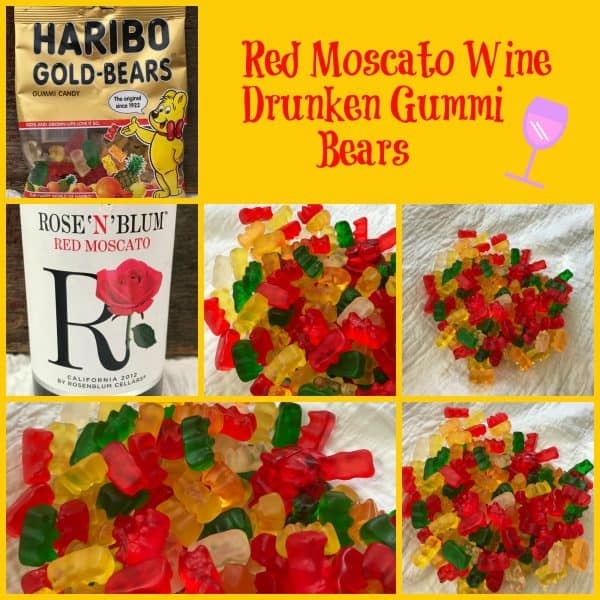 Red Moscato Wine
Moscato Wine is all the rage right now. Everyone seems to be drinking Moscato Wine or talking about their favorite Moscato Wine or talking about how they haven't tried Moscato Wine. I'm just thrilled that I'm on the same page as everyone else and not my usual two steps behind. The Moscato Wine we bought for this project was on sale for $4.99. From the looks of the label, it might have been left-over from Valentine's Day.
Rose 'n' Blum
The red Moscato wine what we purchased is from Rosenblum Cellars from Sonoma California. Rose 'n' Blum is a light and fragrant Red Moscato that has a lovely bouquet of orange blossoms and apricot, followed by flavors of peach sherbet and sweet strawberry. Most ladies seem to prefer Moscato wine due to it's fruity and sweet, yet light taste. Moscato wine, both red and white are fantastic sipping wines. Moscato is best served chilled.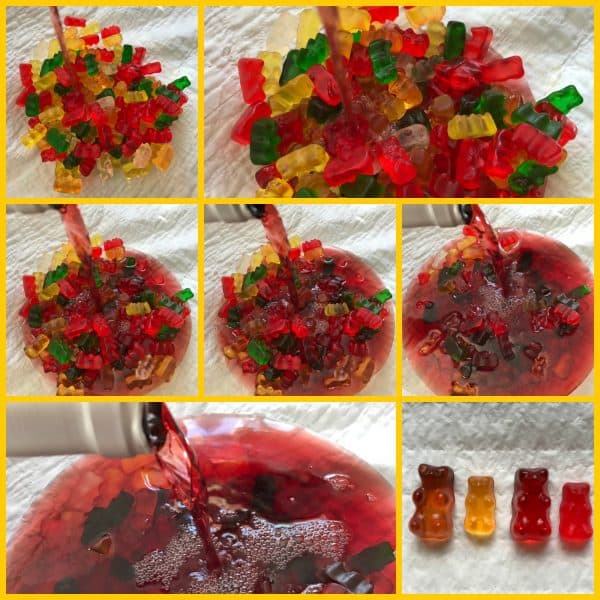 Brief History of Rosenblum Cellars
In 1978, Rosenblum Cellars opened in Alameda, California. A place known more for its docks and shipyards than for winemaking. Kent Rosenblum, "The King of Zin," always did things a little differently from the status quo. When most of the established wineries in California were focused on their estate-grown wines, Kent chose to explore some of the unrecognized and underappreciated grape-growing areas of Northern California.
Learning All Aspects of Winemaking
He met families who had been growing grapes for generations; dedicated growers passionate about their vineyards, who worked tirelessly to grow the best grapes possible from old vines their families had planted years before. Their efforts showcased the difference between mountainside and valley floor grapes, the importance of soil types and their influence on the taste of a wine.
Character and Complexity of Zin Grapes
Kent was fascinated by the character and complexity of the Zin grapes produced by these old vines, and was determined to capture this spirit in a bottle. Kent took grapes back to Alameda and began to make wines, acknowledging the contributions of his friends by placing the vineyard's name on the bottle. Working out of a factory building near the docks, Kent and his crew looked more like longshoremen than winemakers.
Award Winning Zinfandels
From single-vineyards in Sonoma and Alexander Valley to strictly selected regional blends, Rosenblum has made more than 50 Zinfandels earning 90 or more points from Wine Spectator. It's an eye-opening track record for Zin lovers, but at Rosenblum, guided by commitment and craft, delivering sumptuous wines is just business as usual.
Haribo Gold-Bears
Now lets's talk gummi bears. Gummi Bears have been around for a long time and my favorite are the gummi bears made by that ever popular candy company from Germany called Haribo. I remember when my daughter was in Jr. High or High School and took a German foreign language class. One year around the holidays, all of the foreign language students sold candy from the countries to which they were learning to speak the language.
This was the first time I had ever heard of this company or heard of gummi bears for that matter. That was well-over 20 years ago, and since that time the Haribo company has made a huge splash in the US. Today you can buy Haribo candy products everywhere and with good reason. Haribo candy is delicious and Haribo makes a candy for everyone.
Thirsty For More Wine? Here are a few of our favorite Wisconsin Wineries Three Lakes Winery and Simon Creek Winery.
Red Moscato Drunken Gummi Bears
Author:
Prep time:
Total time:
This fun filled recipe is great to bring to any party or family gathering.
Ingredients
1 bottle Moscato Wine, red or white
4 4 oz bags Haribo gummi bears
Instructions
Place gummi bears in a medium glass bowl.
Pour wine over gummi bears and let soak for several hours or several days.
Discard wine and store gummi bears in a screw top jar.
Looking for something non-alcoholic?  Sun Tea is perfect!