Red Bell Pepper Risotto
We may earn money or products from the companies mentioned in this post.
Red Bell Pepper Risotto
with Green Onion Curls
Risotto [rih-SAW-toh; ree-ZAW-toh] An Italian rice specialty made by stirring hot stock into a mixture of rice (and often chopped onions and peppers) that has been sautéed in butter. The stock is added 1/2 cup at a time and the mixture is stirred continually while it cooks until all the liquid is absorbed before more stock is added. Red Bell Pepper Risotto with Green Onion Curls is delicious.
Well worth it
This labor-intensive technique results in rice that is delectably creamy while the grains remain separate and firm. Well worth the extra effort. Risottos can be flavored variously with ingredients such as chicken, shellfish, sausage, vegetables, cheese, white wine and herbs. The famous Risotto Milanese, is scented with saffron. The use of Italian Arborio Rice is traditional in the preparation of risotto. Red Bell Pepper Risotto is super delicious. Serve it as a side dish with everything from hot dogs to gelled  steak.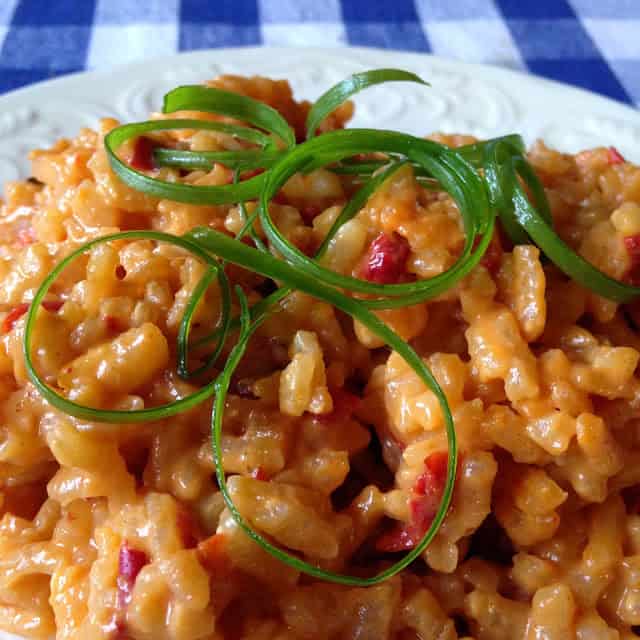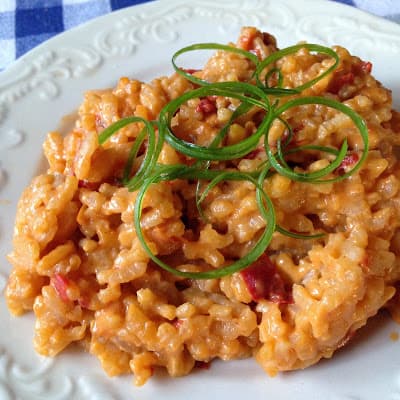 Red Pepper Risotto
Ingredients
3




red bell peppers, chopped

1 tablespoon




water

5 tablespoons




unsalted butter

4 cups




low-sodium chicken broth

4




shallots, minced

1 garlic




clove, minced

1 cup




arborio rice

1/3 cup




dry white wine

1 cup




freshly grated Parmesan cheese

2 tablespoons




minced flat-leaf parsley
Cooking Directions
In a skillet, cook peppers in water and 2 tablespoon of butter.
Simmer over moderate heat, stirring occasionally until very soft, about 20 minutes.
Transfer peppers to a small bowl, puree' peppers with an immersion blender leaving a few pieces of peppers in small pieces. Season with salt and pepper.
In a saucepan, heat broth and keep at a bare simmer.
In a heavy 2 to 3 quart saucepan, cook shallots and garlic in remaining 2 tablespoons butter over low heat until very soft, about 5 minutes.
Stir in rice. Cook over moderate heat, stirring constantly about 5 minutes.
Add wine and cook stirring constantly until wine is absorbed.
Continue adding broth about 1/2 cup at a time, cooking and stirring constantly, letting each addition be absorbed before adding the next, until rice is al dente', about 20 minutes.
Remove pan from heat, stir in pepper puree', Parmesan cheese, salt and pepper to taste.
Garnish risotto with green onion curls.
Learn how to make green onion curls here: How to Make Green Onion Curls
For this recipe we used Arborio Rice