Ratatouille Ricotta Stuffed Shells
We may earn money or products from the companies mentioned in this post.
Ratatouille Ricotta Stuffed Shells
Make it a "French/Italian Dinner Night" at your house tonight! Serve great tasting Ratatouille Ricotta Stuffed Shells with a tossed green salad, topped with our favorite salad dressing from the Olive Garden Italian Dressing and a loaf of French bread. Today, 🇫🇷 France meets 🇮🇹 Italy in this culinary delight.
Gelato "Italian" Ice Cream
For an extra special treat, you and your family can have a dish of Gelato for dessert. Gelato is "Italian" Ice Cream and it's super delicious. The first time I had Gelato was at Figaro's Pizza, located in the Willow Bend Shoppes in Crivitz WI. It was a hit with me and the hubby. Gelato is made fresh daily on site and with free samples, it's a win win.
Gelato [jeh-LAH-toh]; pl. Gelati [jeh-LAH-tee] Italian for "ice cream." Gelato doesn't contain as much air as its American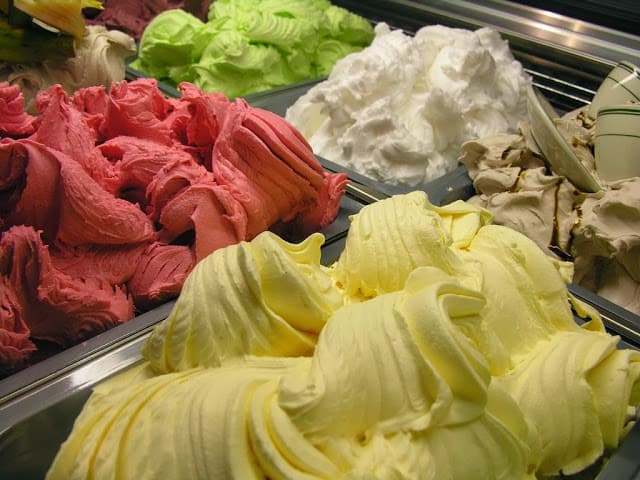 What is Ratatouille?
Ratatouille [ra-tuh-TOO-ee; ra-tuh-TWEE] A popular dish from the French region of Provence that combines eggplant, tomatoes, onions, bell peppers, zucchini, garlic and herbs all simmered in olive oil. The vegetables can vary according to the chef or homecook but the basic ingredient eggplant is normally included. Ratatouille can be served hot, cold or at room temperature and as an appetizer with bread or as a side dish. We've added a tomato pasta sauce to the mix for an "Italian" inspired "sauce."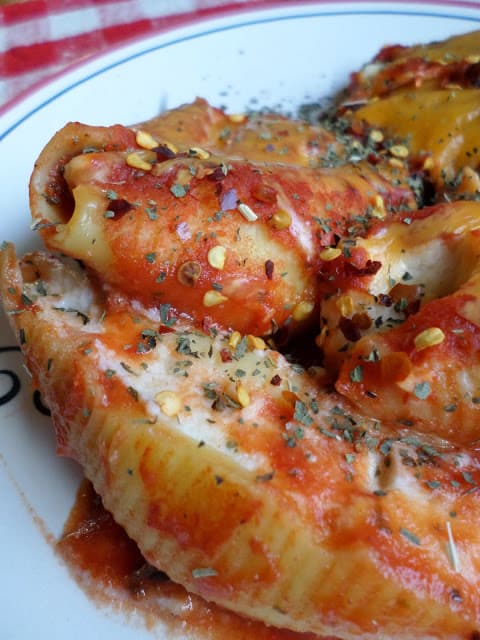 *Ratatouille Ricotta Stuffed Shells can be served as a side dish or light dinner.
Ratatouille Ricotta Stuffed Shells
Wonderful as a light lunch, main dish or side dish.
Ingredients
12

uncooked

jumbo pasta shells

1

tablespoon

olive oil

1

cup

frozen bell pepper and onion stir fry mix

2

minced

garlic cloves

1

cup

diced eggplant

1

small zucchini, diced

2

small

tomatoes, seeded and chopped

1/3

cup

Romano cheese

1

15 oz container

part-skim ricotta cheese

1

teaspoon

Italian seasoning

1

14 to 15 oz jar

tomato pasta sauce

1

cup

shredded 6-cheese Italian blend or cheddar cheese
Instructions
Heat oven to 350º Spray a 13 x 9 baking dish with nonstick cooking spray.

Cook pasta shells as directed on the package. Drain; cover to keep warm.

Heat olive oil in a large skillet over medium heat until hot. Add bell pepper, onion and garlic. Cook and stir 2 to 3 minutes or until crisp tender. Add eggplant and zucchini; cook and stir 3 minutes. Stir in tomatoes, oil and 1/4 cup of the tomato sauce. Cook until heated through, stirring frequently, 10 minutes. Cool.

In medium bowl, stir together Romano cheese, ricotta cheese, and Italian seasoning. Add cooled vegetable mixture to ricotta mixture, mix well.

Fill each cooked pasta shell with about 1/4 cup vegetable/cheese mixture. Place in sprayed baking dish. Spoon remaining pasta sauce over shells.

Cover with foil. Bake 30 minutes.

Uncover baking dish; sprinkle with remaining cheese.

Bake uncovered 5 to 10 minutes longer or until bubbly and cheese is melted.
Nutrition
Serving:
1
g
,
Calories:
113
kcal
,
Carbohydrates:
6
g
,
Protein:
7
g
,
Fat:
7
g
,
Saturated Fat:
3
g
,
Cholesterol:
18
mg
,
Sodium:
189
mg
,
Potassium:
204
mg
,
Fiber:
1
g
,
Sugar:
2
g
,
Vitamin A:
430
IU
,
Vitamin C:
10.3
mg
,
Calcium:
220
mg
,
Iron:
0.5
mg
Big Batch Spaghetti Meat Sauce may take all day to make but it's well worth. One batch of Big Batch Spaghetti Meat Sauce and you'll have enough sauce for at least five to six meals.