Raspberry Swirl White Chocolate Cheesecake
We may earn money or products from the companies mentioned in this post.
Raspberry Swirl White Chocolate Cheesecake
I have been making this recipe for Raspberry Swirl White Chocolate Cheesecake for a few years now. I found this recipe in one of my many Taste of Home Annual recipe books and been making it ever since and often! In fact, this is one of the few  cheesecake recipes that I make over and over again. With good reason, it turns out every single time and it's delicious. This recipe calls for using 1/4 cup of your favorite jam or preserves. I used black raspberry today but I've used red raspberry, blueberry preserves and even lemon curd.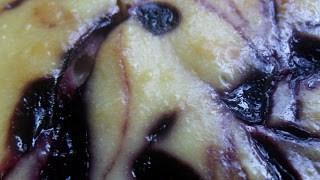 Cheesecake Savory or Sweet 
Though a cheesecake can be savory and served with crackers as an appetizer, most of us think of the term as describing a luscious, rich dessert. The texture of cheesecake can vary greatly, from light and airy to dense and rich to smooth and creamy. All cheesecakes begin with cheese. Usually cream cheese, ricotta cheese, cottage cheese or sometimes Swiss or cheddar cheese. Cheesecakes may or may not have a crust, which can be a light dusting of breadcrumbs, a cookie crust or a pasty crust. The filling is made by creaming the cheese and mixing it with eggs, sugar and other flavorings. This recipe for raspberry swirl white chocolate cheesecake.
Springform Pan
The mixture is then poured into a special springform pan and baked. After baking, the cheesecake is thoroughly chilled and generously topped with sour cream, whipped cream, fruit, chocolate or nuts. Springform pans have a latch on the side of the pan and a removable bottom that makes it easy to 'release' the cheesecake from the pan, which makes serving cheesecake easier. Springform pans are also deep and rather wide, allowing for enough room for all of the tasty cheese filling.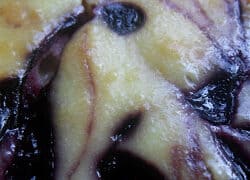 Black Raspberry Swirl White Chocolate Cheesecake
White chocolate chips are combined with cream cheese to make an incredible tasting cheesecake. Topped with black raspberry jam that is swirled into the filling before baking adds that special touch.
Ingredients
2

cups 

graham crackers, crushed

2

tablespoons 

sugar

1/2

cup

butter, melted

3

8 oz each packages

cream cheese, softened

3/4

cup 

sugar

1/3

cup 

sour cream

3

tablespoons 

flour

1

teaspoon

vanilla extract

3 

eggs, lightly beaten

1

teaspoon

lemon zest

1

12 oz pacakge

white chocolate chips

1/4

cup

seedless black raspberry jam or jam of your choice
Instructions
Place springform pan on a double thickness of heavy-duty foil. Securely wrap foil around pan. In small bowl, combine the graham cracker crumbs, sugar and butter. Press onto the bottom of a greased 9-in. springform pan, set aside.

In a large bowl, beat cream cheese and sugar until smooth. Beat in sour cream, flour and vanilla extract. Add eggs; beat on low speed just until combined. Fold in lemon zest and chips. Pour over crust.

In microwave, melt black raspberry jam or jam of choice, stir until smooth. Drop by teaspoonfuls over batter; cut through batter with a knife to swirl.

Place pan in a larger baking pan; add 1 inch of hot water to larger pan

Bake at 325º for 70 to 75 minutes or until center is just set. Remove from oven and remove tin foil from around pan. Cool pan on a wire rack for 10 minutes. Carefully run a knife around edge of pan to loosen; cool 1 hour longer. Cover and refrigerate overnight.

Remove sides of pan. Serve with your favorite whipped topping.