Ranch Seasoning Bread made with Bisquick
We may earn money or products from the companies mentioned in this post.
Ranch Seasoning Bread made with Bisquick
Ranch Seasoning Bread made with Bisquick is about as easy as it gets. Made with only 4 ingredients, all of which you probably already have on hand. I have been trying hard, as has everyone else in the world, to stay busy and remain positive during this time of quarantine-ment. I know that's not a real word but at this point, does it matter? This recipe comes about because I'm trying to use up ingredients that I've overlooked in my pantry over the past few months.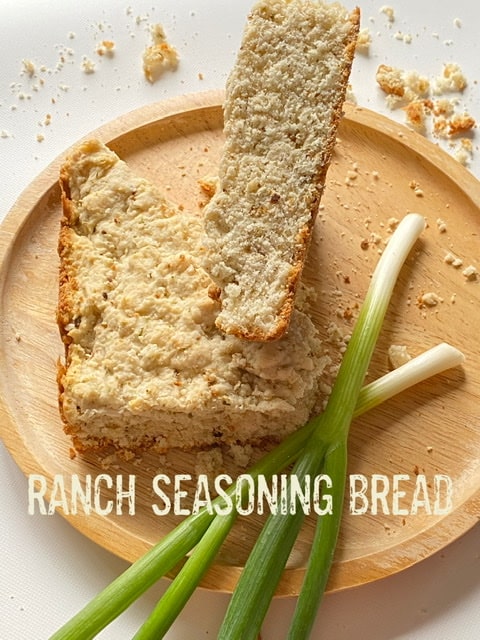 Bisquick
I always have a box of Bisquick sitting in my cupboard, always. Bisquick is still really inexpensive when you think about it and it remains the Queen of convenient products. Pancakes, waffles, biscuits, bread, muffins, and even pie can be made with Bisquick. Chicken n' Dumplings, Bisquick Style  is one such recipe. It turned out really super good and convinced me once again why I always keep a box of Bisquick on hand.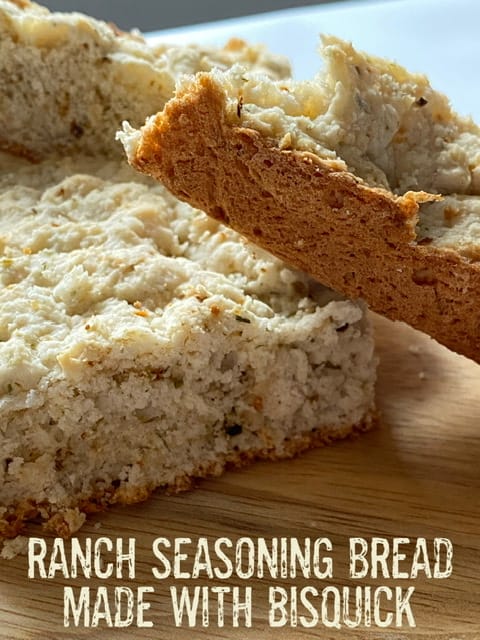 Original Hidden Valley Ranch®
Another ingredient that I always have on hand and that made this recipe extra special is Hidden Valley Ranch® seasoning & salad dressing mix. I buy the 8 oz container, so I don't run out. Many people may not know just how versatile Hidden Valley Ranch® dressing really is. I like to use both Hidden Valley Ranch salad dressing and HVR seasoning & salad dressing mix in many recipes. From dips to coating chicken or pork chops, to turkey meatballs, Hidden Valley is a must have in the kitchen.
Up Next: Honey Lime Simple Fruit Salad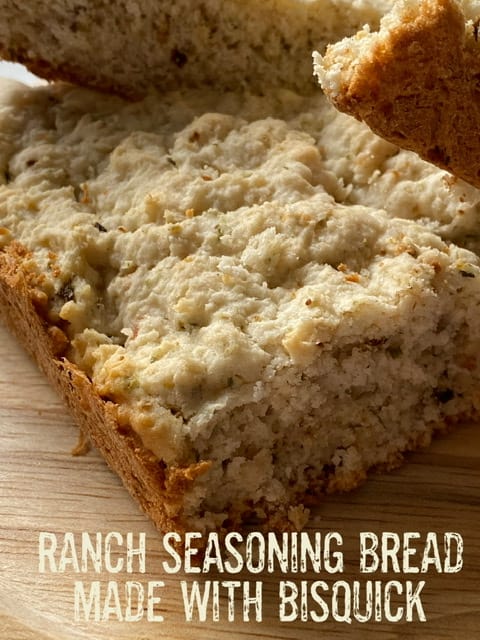 Serve With
Ranch Seasoning Bread made with Bisquick can be served smothered with a few pats of butter. An even tastier way to serve wedges of this bread is to dip them into dill dip. Not your thing? Try wedges served with soup, stew or steamy bowls of chili. We found that allowing this bread to sit overnight in the pan and then cut into wedges or triangles the next day, helped with crumbling. Now if your like my hubby, who likes crumbles, crumbled his bread into his bowl of chili.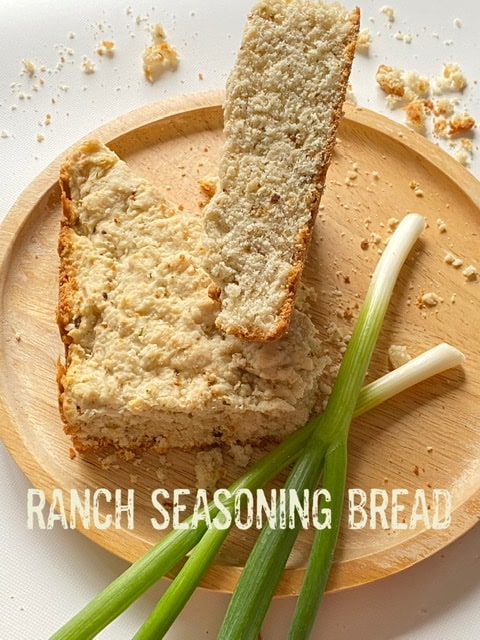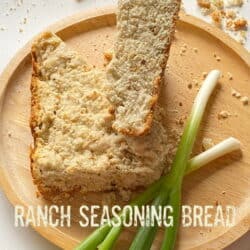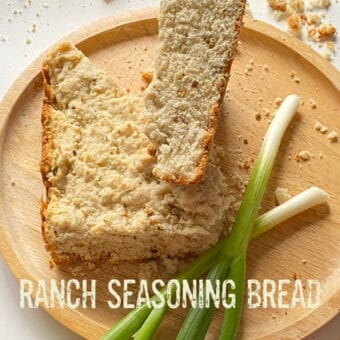 Ranch Seasoning Bread made with Bisquick
Couldn't get any easier than this.
Ingredients
2

cups

biscuit/baking mix

2/3

cup

milk

4 1/2

teaspoons

ranch salad dressing seasoning

2

tablespoons

butter, melted
Instructions
In a bowl, combine the biscuit mix, milk, and seasoning; mix well. Pat into a greased 8-inch baking pan; drizzle with butter. Bake at 425 degrees for 15-17 minutes or until a toothpick inserted near the center comes out clean.

Recipe Note: Italian or ranch salad dressing mix, taco seasoning or onion soup mix may be substituted for the chili seasoning.