Quiche Lorraine
We may earn money or products from the companies mentioned in this post.
Quiche Lorraine
Quiche Lorraine and Quiche became all the rage in the 70's and luckily it has stayed a hit. It didn't take long for it to become a mainstay in kitchens everywhere. Quiche is great for brunch or lunch and makes for a great light dinner option. Quiche has definitely become a mainstay in my kitchen. Quiche can be made with any number of ingredients making the options unlimited. Perfect to whip up anytime.
A Word About Quiche
Quiche [KEESH] originated in northeastern France in the region of Alsace-Lorraine. It consists of a pastry shell filled with a savory custard made of eggs, cream, seasonings and other ingredients such as onions, mushrooms, ham, shellfish or herbs. The most notable of these savory pies is Quiche Lorraine, which has crisp bacon bits and sometimes Gruyère cheese added to the custard filling.
Classic Quiche
Classic quiche is baked in a quiche pan which has fluted, straight sides and ranges in diameter from 8-12 inches and is about 1 1/2 inches deep. Metal quiche pans have removable bottoms, glass and porcelain pans have solid bottoms. Quiche can be served as a lunch or dinner entrèe, as a first course or as an hors d'oeuvre.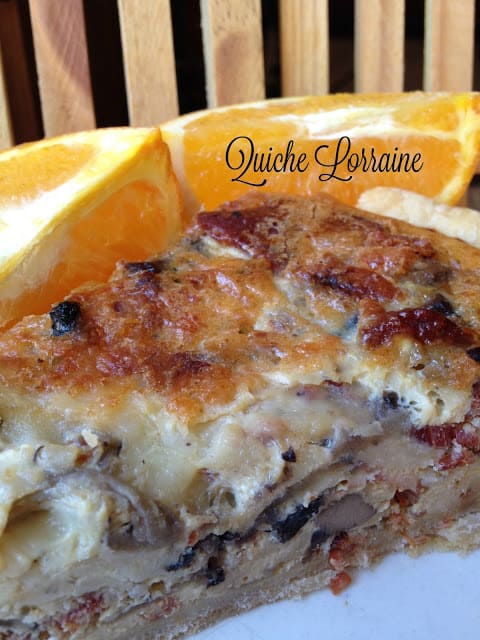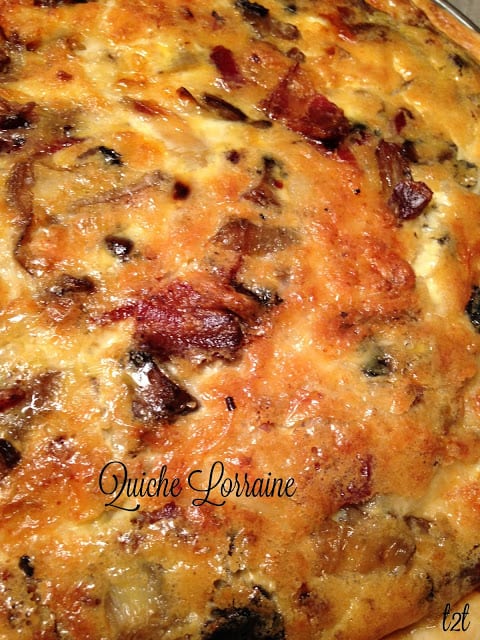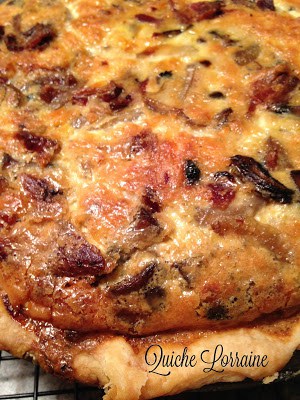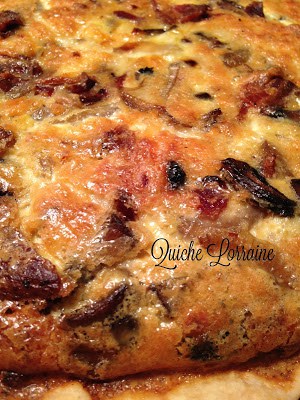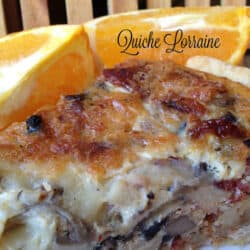 Quiche Lorraine
Delicious for Breakfast, Brunch, Lunch or as a Main Dish
Ingredients
1

9-inch

pre-made pie crust

8

slices

bacon

1

medium

onion, thinly sliced

6

fresh

mushrooms, chopped

4

beaten

eggs

1

cup

half and half

1

cup

milk

1/4

teaspoon

salt

dash

nutmeg

1 1/2

cups

shredded Swiss cheese or Gruyere cheese

1

tablespoon

flour
Instructions
Line unpricked pastry shell with a double thickness of heavy foil.

Bake in a 450 degree oven for 8 minutes.

Remove foil. Bake for 4 to 5 minutes more.

Remove from oven. Reduce oven temperature to 325 degrees.

(Pie shell should still be hot when filling is added; do not partially bake pastry shell ahead of time.)

Meanwhile in a large skillet cook bacon until crisp. Drain, reserving 2 tablespoon drippings.

Finely crumble bacon; set aside.

Cook sliced onion and mushrooms in reserved drippings over medium heat until tender but not brown; drain.

In a medium bowl, stir together the eggs, half-and-half, milk, salt and nutmeg.

Stir in the crumbled bacon and onion/mushroom mixture.

Toss together shredded cheese and flour. Add to egg mixture; mix well.

Pour egg mixture into hot, baked pastry shell.

Bake in the 325 degree oven for 50 to 60 minutes or until a knife inserted near the center comes out clean.

If necessary, cover edge of crust with foil to prevent over browning. Let stand 10 minutes.