Pumpkin Spice Chocolate Chip Scones
We may earn money or products from the companies mentioned in this post.
Pumpkin Spice Chocolate Chip Scones
Pumpkin Spice Chocolate Chip Scones are the perfect blend of fall flavors. Canned pumpkin, pumpkin pie spice, apple juice and mini chocolate chips are all rolled into one delicious scone. What more could you ask for, right? Well, how does a cream cheese frosting sound! Heavenly, doesn't it. Make these fall flavored scones for Thanksgiving brunch or before you head out the door to enjoy a fall day of apple picking.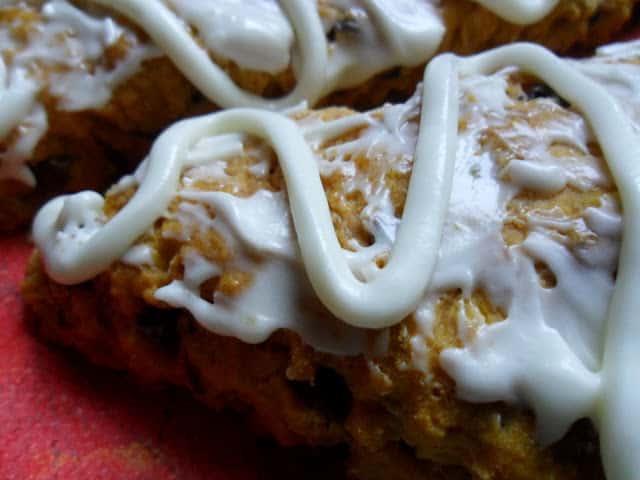 What is a Scone?
This Scottish quick bread is said to have taken its name from the Stone of Destiny (or Scone), the place where Scottish kings were once crowned. The original triangular-shaped scone was made with oats and griddle-baked. Today's versions are more often flour-based and baked in the oven. They come in various shapes including triangles, rounds, squares and diamonds. Scones can be savory or sweet and are usually eaten for breakfast or tea.
What do Pumpkin Scones Taste Like?
To me, pumpkin scones are a cross between a pumpkin cookie and a pumpkin bar. They are made with canned pumpkin and pumpkin pie spice which gives them that classic taste. The texture and density of the scones, reminds me of a cookie or a bar. Make them for yourself and see what you think! One thing is for certain, they are delicious but the cream cheese frosting takes them a step up from ordinary to spectacular.
UP NEXT: Cherry Oatmeal Jumbo Muffins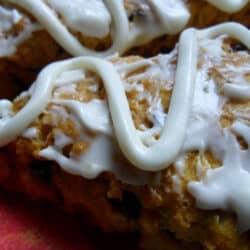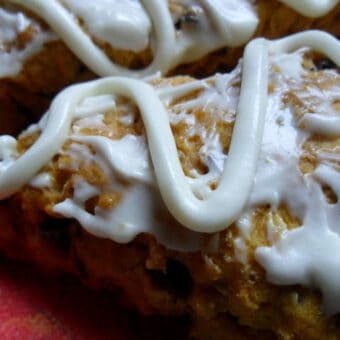 Pumpkin Spice Chocolate Chip Scones with Cream Cheese Frosting
The perfect combination of fall flavors.
Ingredients
2 1/2

cups

all-purpose flour

1

cup

rolled oats

1/3

cup

packed brown sugar

1

tablespoon

plus 1 teaspoon baking powder

1/2

teaspoon

baking soda

1/2

teaspoon

salt

1/2

teaspoon

pumpkin pie spice

1/2

cup

butter, cold and cubed

1

egg, lightly beaten

1/4

cup

apple juice

1/4

cup

milk

1/3

cup

canned pumpkin

1/2

cup

mini chocolate chips

1/4

cup

butter, room temperature

1

8 oz package cream cheese, room temperature

1

teaspoon

vanilla extract

1

16 oz package powdered sugar

2

tablespoons

milk, add one tablespoon at a time
Instructions
Preheat oven to 425 degrees. Line baking sheet with parchment paper.

In large bowl combine flour, oats, brown sugar, baking powder, baking soda, salt, and pumpkin pie spice. Cut in butter until mixture resembles coarse crumbs.

In small bowl combine egg, apple juice, milk and pumpkin. Add milk mixture to flour mixture. Stir together. Fold in mini chocolate chips.

Turn dough onto well floured surface. Knead 5 to 10 times. Pat dough onto a 10 inch circle. Cut dough into 10 wedges. Place wedges on prepared baking sheet.

Bake scones for 12 to 15 minutes or until golden brown. Remove from baking sheet. Cool on wire rack.

Make Cream Cheese Frosting

Cream together butter and cream cheese, add vanilla extract and powdered sugar. Beat until creamy. Add milk, 1 tablespoon at a time until creamy. Frost scones