Provencal Salmon Fillets in Air Fryer
We may earn money or products from the companies mentioned in this post.
Provencal Salmon Fillets in Air Fryer
A few weeks ago my hubby came home with a Power Air Fryer XL. My first thought was, "Where in God's name am I going to put that? I don't have much cupboard space to begin with." The power air fryer xl sat on my big, old round cutting board for about a week before my hubby finally said, "Are you ever going to use the air fryer?" "Yes, dear next weekend." Provencal Salmon Fillers in Air Fryer was soon to become a "hit" in my house:)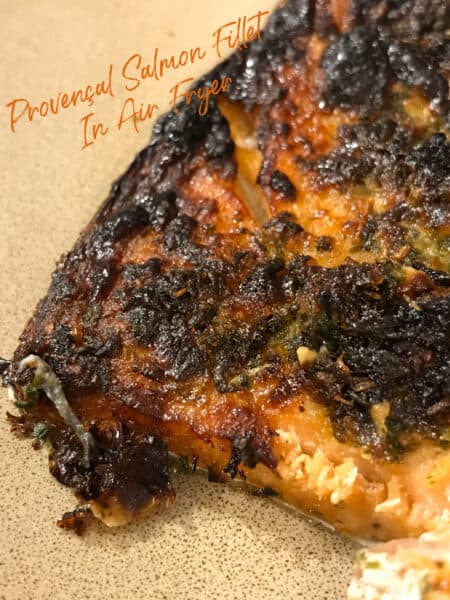 Good Deals on Salmon
The following weekend we stopped at Aldi to do some grocery shopping. I normally do the shopping by myself for one simple reason, if I go with the hubby, we tend to buy more stuff that we don't need than the stuff that we do need. But this particular time we managed to buy only the good stuff. My hubby is a big fan of salmon, which I am not. I do think Aldi has some darn good deals on salmon, both fresh and frozen, which makes my hubby super happy.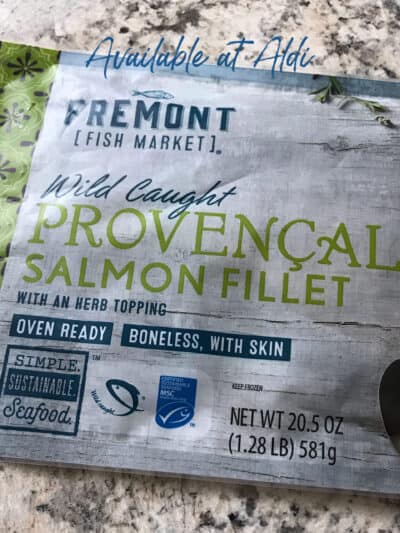 On this particular day we picked up a package of Provençal Salmon Fillets with an Herb Topping. It's basically a salmon fillet topped with a Provençal herb topping. Therefore, this recipe couldn't get any easier. No need to buy any fresh herbs and no need for any chopping. All the work is done for you. Simply purchase a package of Provençal Salmon Fillets, bring it home, pop it in your power Air Fryer XL and fifteen minutes later, dinner is served.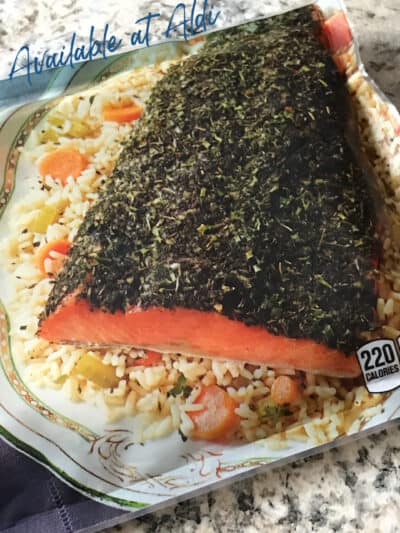 Serve With
To make a delicious and relatively inexpensive meal, serve Provençal Salmon Fillets with Greek Orzo Salad and Cool Cucumber Radish Salad. It sounds super delicious, refreshing and healthy doesn't it, and it is! It's the perfect meal for anytime of the year too. Enjoy in the summer on the patio or in the winter by the fireplace. If time is short, simply serve salmon fillets with a loaf of crusty bread and a few lemon wedges.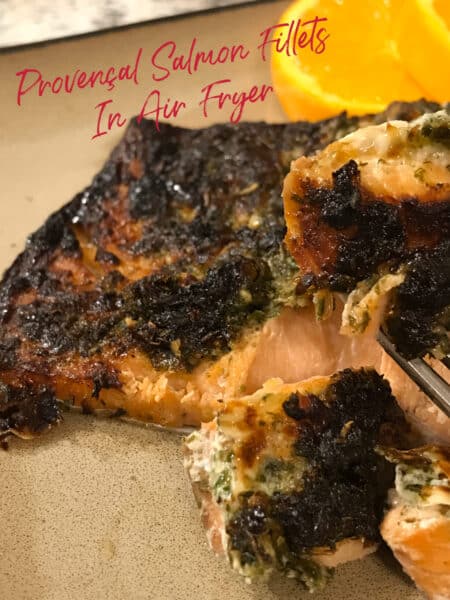 Power Air Fryer XL
As I mentioned, I made the salmon in my new Power Air Fryer XL and can I say what a breeze it was! In roughly under 15 minutes the salmon was done and the herb topping formed a nice crunchy topping. The salmon was super moist and not dried out. I have a bed habit over cooking fish of any kind, by using the Power Air Fryer XL, I think I might have finally conquered that "bad habit."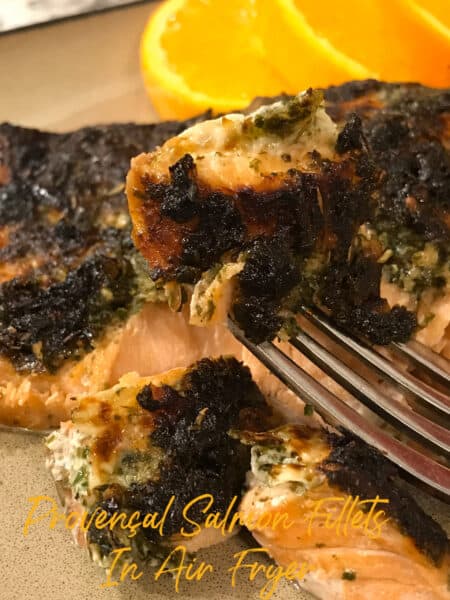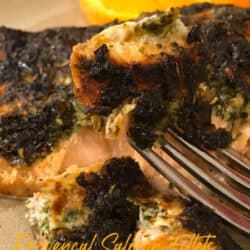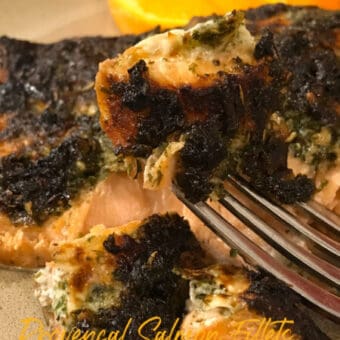 Provencal Salmon Fillets made in the Air Fryer
A simple recipe made in an Air Fryer.
Ingredients
1

package

Provencal Salmon Fillets with Herb Topping

1

lemon cut into wedges
Instructions
Preheat Air Fryer at 375° for 5 minutes.

Remove salmon from package. Place salmon fillet, skin side down and herb topping up, in Air Fryer. Cook in Air Fryer for 12 to 15 minutes.

Remove salmon from air fryer and place on serving place. Serve with lemon wedges.
Notes
Provencal Salmon Fillets purchased at Aldi
Recipe on Tap
Serve Provençal Salmon Fillets with this Southern Classic; Hush Puppy Southern Specialty
*On a more personal note; this post is dedicated to Mike Loeper who passed away on Sunday March 1, 2020. Thank-you Mike for being a huge fan of my Grandma's Lemon Meringue Pie and allowing me to keep her recipe alive.