Prosciutto Provolone Cantaloupe Appetizer
We may earn money or products from the companies mentioned in this post.
Prosciutto Provolone Cantaloupe Appetizers
In the culinary world, there are food "marriages" or pairings that are made for each other. Parings that go hand and hand. Here are a few culinary pairings worth noting; apples and caramel, pancakes and maple syrup, chocolate and mint. This list of culinary, power-house, flavor couples can go on and on. Prosciutto and Cantaloupe have been together for ions, with no possibility of divorce in the near future. Prosciutto Provolone Cantaloupe Appetizers are here to stay.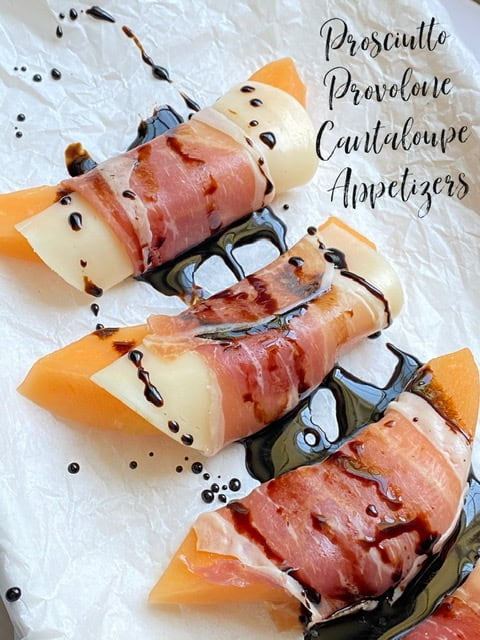 Serve with Moscato d' Asti
Spend the last days of summer enjoying this classic Italian appetizer. Prosciutto Provolone Cantaloupe Appetizers are best served with a bubbly wine such as a Moscato d' Asti. Fruity and slightly sweet, Moscato d' Asti pairs beautifully with the juicy melon and salty prosciutto. A truly classic Italian antipasto.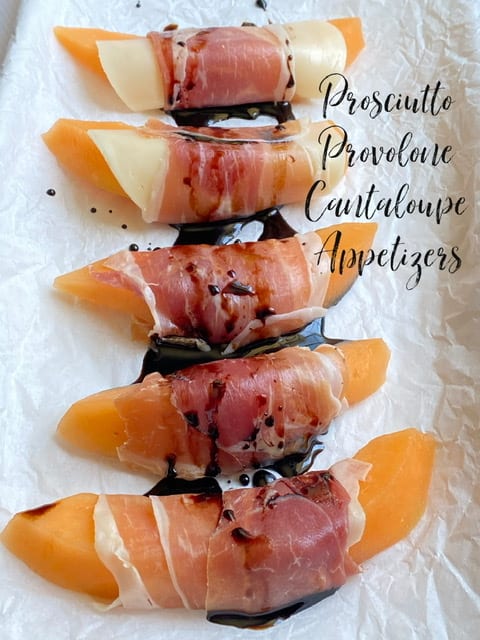 Caprese Salad & Margarita Pizza
Prosciutto e Melone is Italian antipasti at its best. It's one of the most well known Italian antipasti, and with good reason. It symbolizes what Italian cuisine is all about; freshness and simplicity. Two other classic Italian antipasti are Caprese salad and Margarita pizza. Both of which have the same ingredients. The colors of the Italian flag; Green, White and Red. Basil represents the color green, mozzarella the color white and tomatoes represent the color red.
Make it Keto-Friendly
Make Margarita pizza using a low-carb, keto-friendly pizza crust. I'll be going on a Keto-friendly diet the first of September. The reason, staggering high blood sugar levels. Something needed to be done before more drastic measures have to be taken. Therefore, my doctor suggested trying a modified keto diet, along with my medication. While educating myself on Keto, I found many resources. Thus, making my head start to spin in circles.
Pizza! 
On the blog Ditch the Carbs I found many recipes that I'd like to try. Since I'm a huge pizza lover, this recipe jumped right out at me. If you're a pizza lover, watching your carbs, give this recipe a try. Prepare Fat Head Pizza Recipe, top with Roa's Marinara Sauce , and sliced fresh mozzarella. Bake until crust is golden and cheese has melted. Remove from oven and top pizza with fresh basil leaves. Who says you can't have your pizza and eat it too.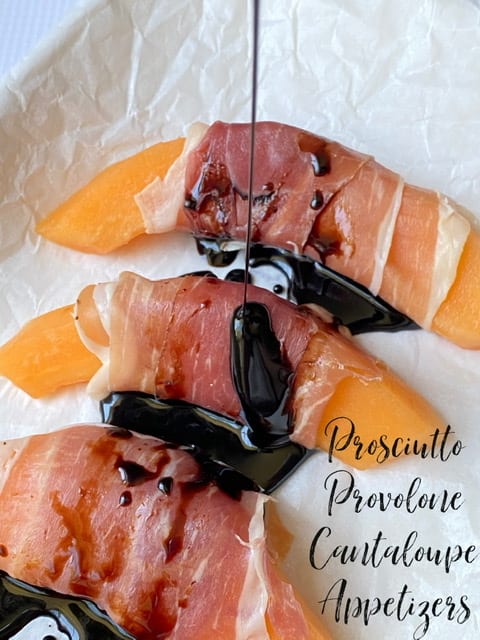 Simplicity is Best
Caprese salad is a traditional Neapolitan dish, named after the island of Capri in Italy. Caprese Salad and Margarita pizza are both widely renowned for their simplicity, freshness and color palate. Furthermore, both are keto friendly and should be made often. Make both Caprese salad and Margarita pizza when tomatoes are fresh and basil is abundant. In Italian cuisine, simplicity and freshness is key to making recipes come together.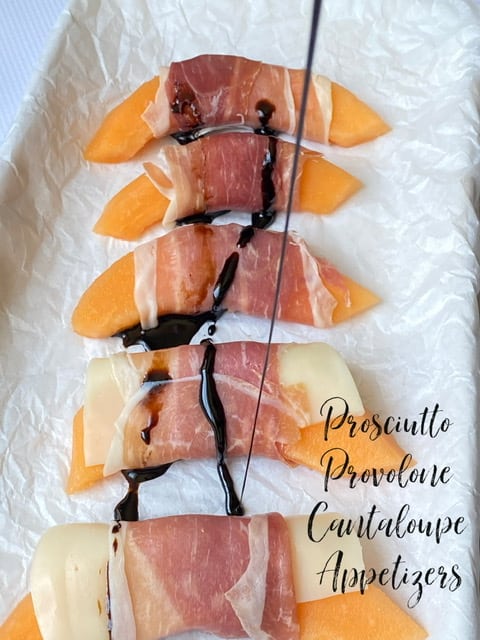 Balsamic Glaze
Traditionally, this recipe is made without cheese. I had a few slices of Provolone cheese leftover from lunch so I decided to throw caution to the wind. We made six antipasto with cheese and six without. Needless to say, we gobbled them all up. To Drizzle or Not Too Drizzle?
A simple balsamic glaze is made of balsamic vinegar and honey. If you're a fan of a balsamic glaze, like me, then by all means make a glaze. Drizzle to your little hearts desire. On the other hand, if you're not a fan of a balsamic glaze, like my hubby, then by no means drizzle. It's as simple as that.
Looking for more salad recipes?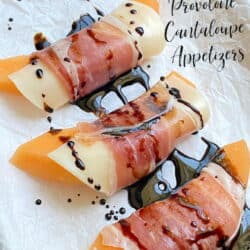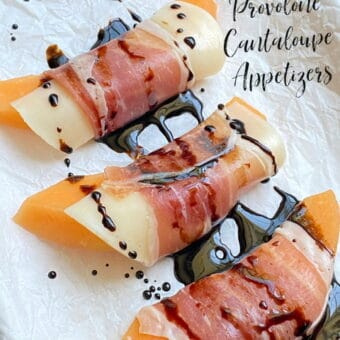 Prosciutto Provolone Cantaloupe Appetizers
Ingredients
½

c.balsamic vinegar

2

tbsp

honey

½

cantaloupe

,

seeded, removed from rind and cut into thin slices

1

3 oz pkg thinly sliced provolone cheese, cut in half

1

3oz pkg thinly sliced prosciutto, cut in half

toothpicks

,

optional

fresh torn basil leaves

,

optional
Instructions
In a small saucepan, combine balsamic vinegar and honey. Bring to a boil over medium high heat. Reduce heat to low and simmer until thickened and mixture is reduced and thickened. About 10 minutes. Set aside to cool slightly.

Arrange cantaloupe slices on a serving plate. Carefully wrap a slice of provolone cheese and a slice of prosciutto ham around each slice of cantaloupe. Secure with a toothpick if needed. Drizzle with balsamic reduction. Sprinkle with torn basil leaves if using.