Pretzel Bites Green Bay Packer Colors
We may earn money or products from the companies mentioned in this post.
Pretzel Bites Green Bay Packer Colors
Pretzel Bites Green Bay Packer Colors are in honor of my favorite home team, the Green Bay Packers but you can make these fast and easy chocolate pretzel bites in your favorite team colors too. Only three ingredients are needed to make these yummy bites…pretzels, m & m candy and Rolo chocolate caramel candies. We used football shaped pretzels, to stay on the theme of things. This sweet and salty snack will definitely score a touchdown!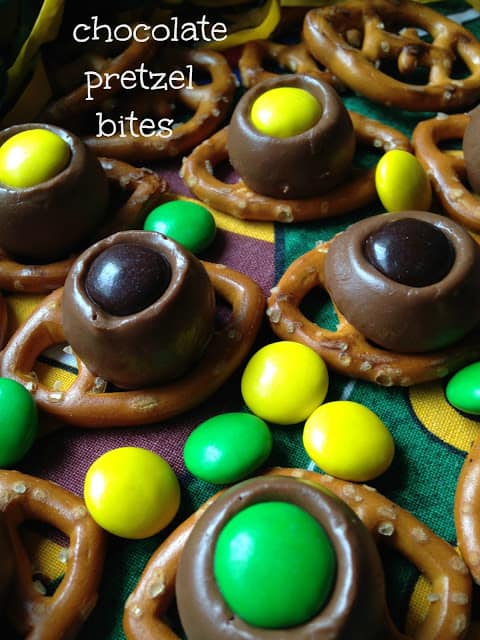 Any Shape, Any Color
Any shape of pretzel will do to make these snacks. We like to use holiday shaped pretzels made by Utz Pretzels. As for the m & m's, you can make these snacks in just about any color. Red and green for Christmas, orange and brown for Halloween, red, orange and brown for Thanksgiving, red, white and blue for the 4th of July and pink, white and yellow for Easter No matter what color of m & m's you decide to use to make these yummy snacks, they are fast, easy , super affordable and delicious. One thing is for certain, they are so tasty and addicting, you can't possibly eat just one. How do I know this???  Trust me, I know! One more thing, pretzel bites are the perfect kid friendly snack. Let your kids help with the preparation.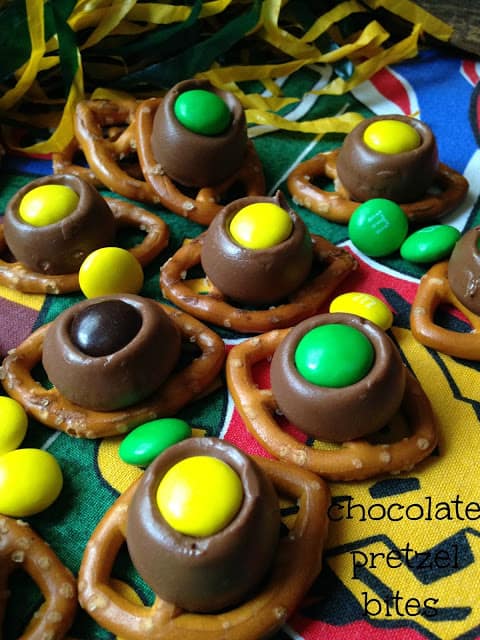 Let the Kids Help
Get your kids involved by letting them line the pretzels up on a baking sheet lined with parchment paper. Have them put a rolo on top of each pretzel (little fingers work great for this part) Mom now it's your turn, pop the baking sheet in the oven for 1 or 2 minutes, watching carefully. Take the baking sheet back out of the oven and let the kids carefully place a m & m on top of each rolo candy and gently push it down. Mom's use *caution* during this last step. The rolo candy is hot and very melty.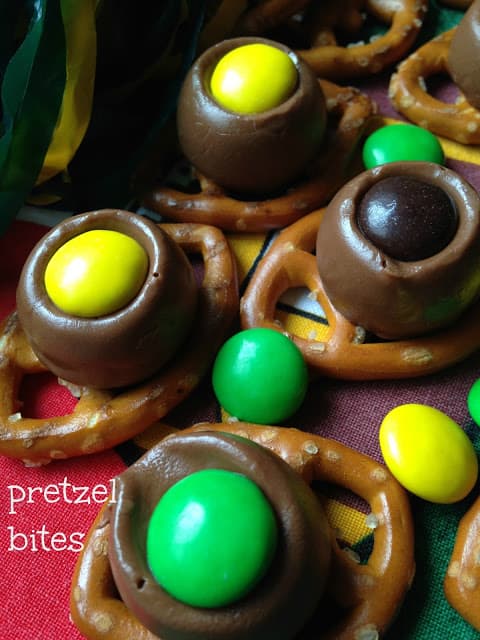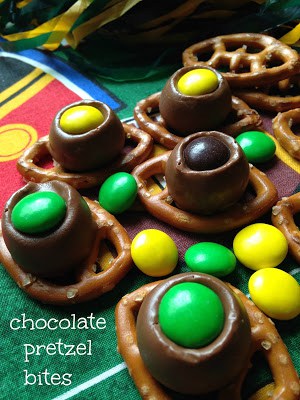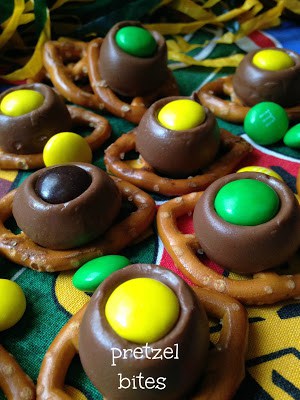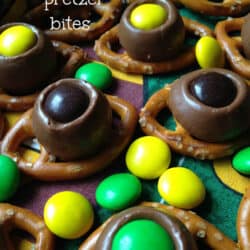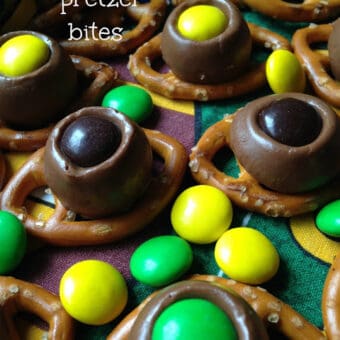 Green Bay Packer Pretzel Bites
Can be made in any of your favorite team colors.
Ingredients
24

football shaped pretzels

24

rolo candies

8

green m&m's

8

yellow m&m's

8 

brown m&m's
Instructions
Preheat oven to 250 degrees.

Place 24 pretzel snaps on cookie sheet lined with parchment paper.

Place a rolo in the middle of each pretzel.

Carefully place the cookie sheet in oven for 2 to 2 1/2 minutes.

*Note: You want the candy to be melted enough to press the m&m into, but not so melted that the rolo loses its' shape and the chocolate starts dripping off the pretzel. The exact amount of time in the oven will depend on your oven, so check after 2 minutes.*

Gently place green, yellow and brown m&m's on the top of the rolo. You don't need to press down on the m&m because the melted rolo will settle on its own. The cookie sheet will be hot from the oven so if the rolo's keep melting, stick the cookie sheet in the freezer for 3 to 5 minutes after you have place the m&m's to stop the melting process.