Praline Pecan Brownies
We may earn money or products from the companies mentioned in this post.
Praline Pecan Brownies
Sometimes all you need is a boxed brownie mix to make your day special. Ghirardelli is my all thyme favorite boxed brownie mix. Adding some Praline Pecan Liqueur and pecans well that's pure heaven. A few months back, I saw a recipe on Ms.enPlace that called for Praline Pecan Liqueur. The name, Praline Pecan Liqueur, immediately caught my attention! I had never heard of Praline Pecan Liqueur before but it certainly sounded delicious to me! I knew I was going to have to look into this a little further:) Any liqueur that sounded creamy, sweet, nutty and southern was definitely on my radar.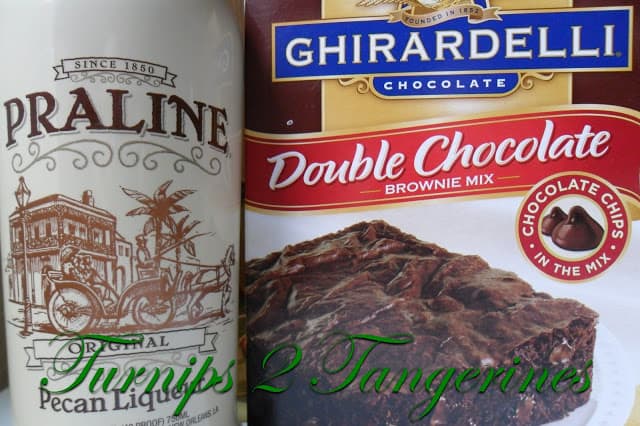 Visiting Georgia
Here in Northern WI, I wasn't able to find Praline Pecan Liqueur. I'm not sure why either. I know several people who would love to try it. Some months later while visiting my daughter in Athens GA, we stopped at 5 Points Bottle Shop. We needed to pick up a bottle of dark beer for the beer bread we were going to make. I was looking around and sure enough, there it was sitting on the shelf! Several bottles lined up in a neat row.
Knowing I had to bring the bottle home on the airplane, I only bought one bottle. Very big mistake on my part! And one I would regret. (I didn't know it at the time but this was to be my last trip to Georgia.) I originally wanted to try pecan praline liqueur in a recipe for overnight French toast but today, I decided to add a couple shots to a boxed brownie mix. The end result was super. We even added a drop or two the frosting.
Fabulous Sipper
Well, we never did make that recipe for French toast using Pecan Praline Liqueur but we did enjoy the remaining liqueur served over crushed ice. It was a fabulous sipper and we both enjoyed it, thoroughly:) On the back of the bottle of Praline Pecan Liqueur it says; "Close your eyes and listen for the tuneful cry of the praline lady," "Praw-LEENS, frais praw-LEENS!" Get the Spirit of the French Quarter with a Bottle of Praline Pecan Liqueur by: Sazerac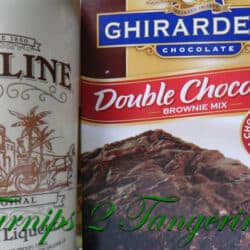 Praline Pecan Brownies
A delicious fudge brownie made special with Praline Pecan Liqueur
Ingredients
1

18 oz box

Ghirardelli Double Chocolate Brownie Mix

1/3

cup

vegetable oil

1

egg

1/4

cup

praline pecan liqueur

1/3

cup

chopped toasted pecans

1

container

chocolate fudge frosting

2

tablespoons

praline pecan liqueur

chopped pecans

,

optional

powdered sugar

,

optional
Instructions
Preheat oven to 325º Lightly grease bottom of 11 x 7 glass baking dish.

Place oil, egg and liqueur in a medium bowl and stir until fully mixed. Add brownie mix and chopped toasted pecans. Stir until just blended. Spread into prepared pan.

Bake at 325º for 24 to 28 minutes.

Frosting:

In a medium bowl, mix together chocolate fudge frosting and praline pecan liqueur. Stir until creamy. Frost brownies and sprinkle with chopped pecans. Brownies can also be lightly dusted with powdered sugar instead of frosting.
Nutrition
Serving:
1
brownie
,
Calories:
489
kcal
,
Carbohydrates:
51
g
,
Protein:
3
g
,
Fat:
32
g
,
Saturated Fat:
15
g
,
Cholesterol:
27
mg
,
Sodium:
149
mg
,
Potassium:
183
mg
,
Fiber:
1
g
,
Sugar:
46
g
,
Vitamin A:
40
IU
,
Calcium:
14
mg
,
Iron:
1.4
mg
Try a slice of Bumbleberry Pie or mixed berry pie. What ever name you want to call it, one thing is for certain, it's delicious.