Potato Bruschetta with Tomato Basil Topping
We may earn money or products from the companies mentioned in this post.
Potato Bruschetta
Potato Bruschetta is absolutely wonderful. Fast and easy to prepare, potato rounds replace the traditional crostini most often used to make bruschetta. Top each potato round with marinara sauce, cubes of mozzarella cheese and basil ribbons. Or top potato bruschetta with any of your favorite potato toppings. The topping possibilities are endless. Sour cream with a sprinkling of cheddar cheese and snipped chives would be super.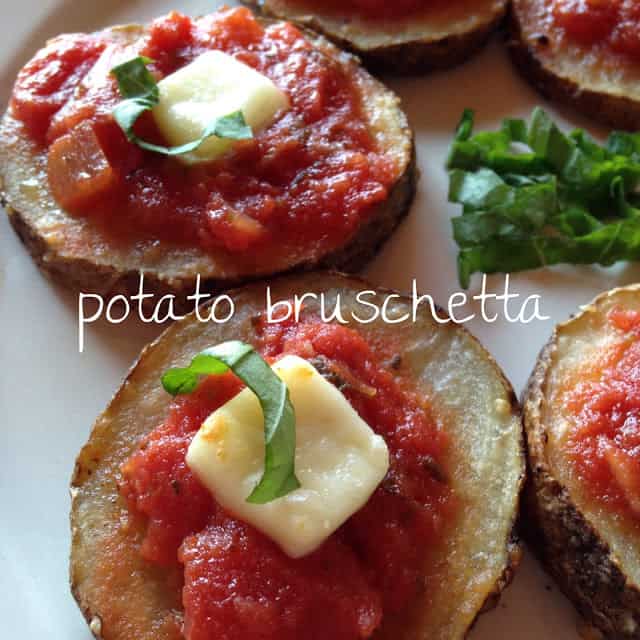 Cheese
For this recipe each potato bruschetta is topped with cubes of mozzarella cheese. Substitute provolone, pepperJack, Swiss or a tangy goat cheese for the mozzarella. Potato bruschetta makes a great and different appetizer. Set out a plate of potato bruschetta and watch them disappear. Another plus,  they're ready in under an hour. The mozzarella cheese used for this recipe is from Land o Lakes a Minnesota based company.
What Does Bruschetta Mean?
From the Italian word bruscare meaning "to roast over coals." This traditional garlic bread is made by rubbing slices of toasted bread with garlic cloves, then drizzling the bread with extra-virgin olive oil. The bread is salted and peppered, then heated and served warm. Most often used to make bruscare  is crostini although thin slices of a French baguette fills in nicely as well.
Crostini
Meaning "little toasts" in Italian. Crostini are small, thin slices of toasted bread, which are usually brushed with olive oil. The word crostini also describes canapes' consisting of small slices of toast with a savory topping.  such as cheese, shrimp, pâté or anchovies. Sometimes crostini refers to the equivalent of a crouton used for soups or salads. Imagine French onion soup or Caesar Salad.
Baguette
A French bread that's been formed into a long, narrow cylindrical loaf. It usually has a crisp brown crust and a light and chewy interior. A baguette is baked in a baguette pan. A long metal pan shaped like two half-cylinders joined along one side. Each compartment is 2 to 3 inches wide and 15 to 17 inches long. This pan is used to bake the classic French baguette, which gives the bread its familiar shape.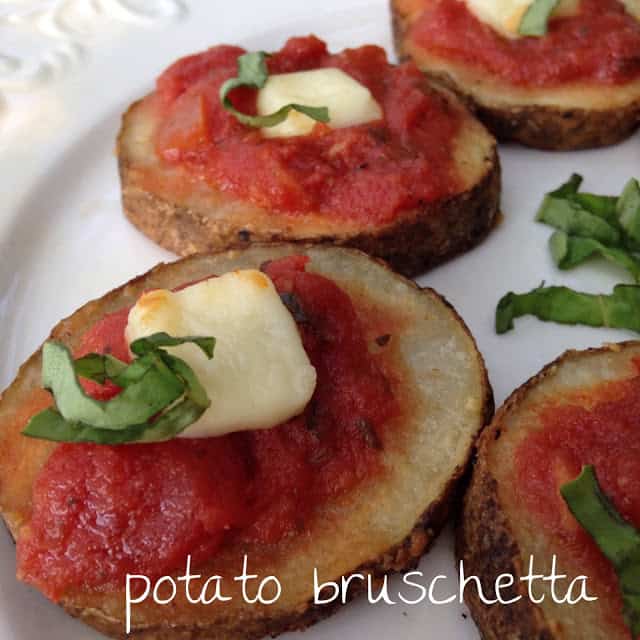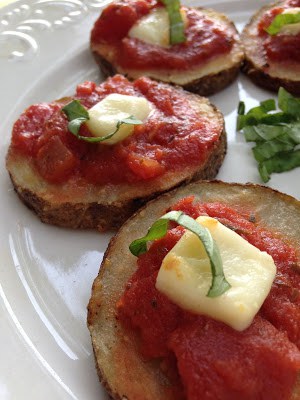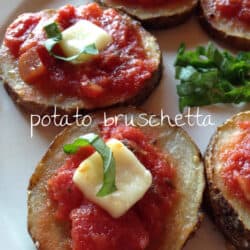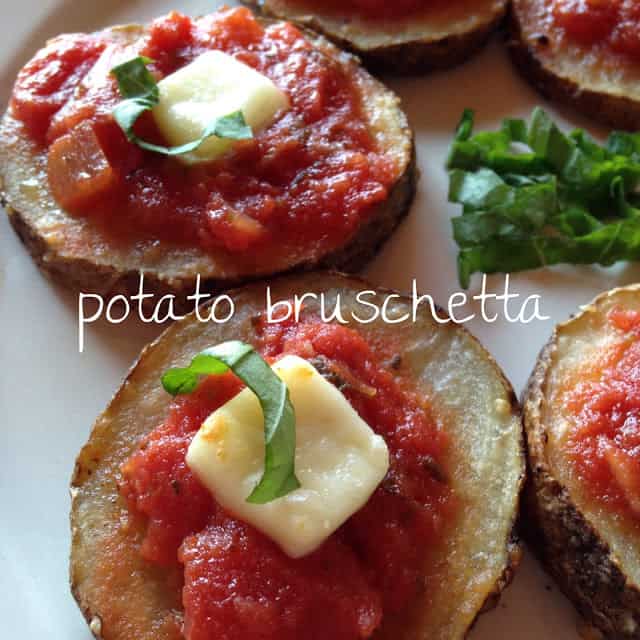 Potato Bruschetta with Tomato and Basil Topping
A super easy and tasty appetizer.
Ingredients
2

pounds

russet potatoes

3

tablespoons

olive oil

3

tablespoons

fresh grated Parmesan cheese

1/2

teaspoon

sea salt

1/4

teaspoon

black pepper

1/4

teaspoon

crushed red pepper

1 to 2

cups 

tomato and basil marinara sauce

1/2

cup

fresh mozzarella cheese, cut into 1/4-inch cubes

4

fresh basil leaves, cut into ribbons
Instructions
Preheat oven to 425º Line two baking sheets with foil.

Lightly spray foil with olive oil non-stick cooking spray. Set aside.

Slice potatoes 1/4 inch thick and discard small round ends.

Place potatoes in a medium bowl with 3 tablespoons olive oil and toss well to coat.

Add Parmesan cheese, salt, pepper and red pepper. Toss again to coat as evenly as possible.

Place in a single layer on baking sheet and bake for 25 minutes.

After 25 minutes, remove potatoes from oven.

Top each potato round with about one tablespoon tomato basil marinara sauce and one cheese cube.

Bake for 8 to 10 minutes longer or until cheese is starting to melt.

Top with basil ribbons and serve warm or at room temperature.
For this recipe you can use any brand of tomato and basil marinara sauce. We like Newman's Own. Make a homemade tomato and basil topping using this recipe; Tomato Basil Topping for Bruschetta.