Pork Spare Ribs Cantonese
We may earn money or products from the companies mentioned in this post.
Pork Spare Ribs Cantonese
Sweet and Spicy with a Splash of Orange. Pork Spare Ribs Cantonese is a recipe that has been around for years. In fact, I found this recipe in a old Better Homes and Gardens cookbook. It said this recipe was popular in the 1950's. During the 50's, many recipes included tropical fruit in the ingredient list. Fruit such as fresh or canned pineapple, oranges, and mangos.
Cantonese Cuisine
Cantonese [kan-tn-EEZ] Cantonese cuisine is famous for its meat roasting and grilling, fried rice, and Bird's Nest and Shark's Fin Soup. The combined cuisines of China have often been compared to French cuisine as having made the greatest contribution to the world of food. Chinese cooking styles have been divided into five main regions.
Five Main Regions
The five main regions of Chinese cooking is: Southeastern (Canton), East Coast (Fukien), Northeastern (Peking-Shantung), Central (Honan) and Western (Szechuan-Hunan). The province of Fukien is noted for its selection of soups and for its seafood dishes. The light, elegant Peking-Shantung style originated the famous Peking Duck, and is highly acclaimed for its subtle use of seasonings.
A Few Words About
China's Honan province is the home of sweet-and-sour cooking, and the Szechuan-Hunan cooking is known for its hot, spicy dishes. Mandarin cooking and Shanghai cooking are not regional designations, but terms used to describe cooking styles. The word mandarin means "Chinese official," which suggests an aristocratic cuisine and shanghai cooking refers to a combination of many Chinese cooking styles.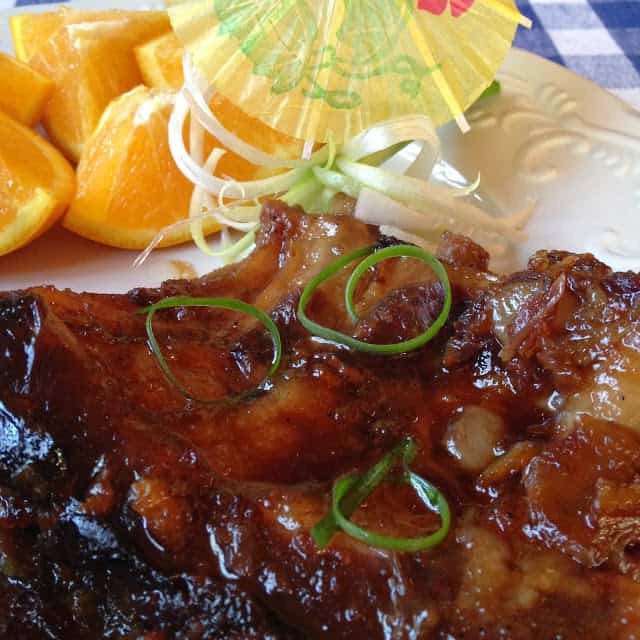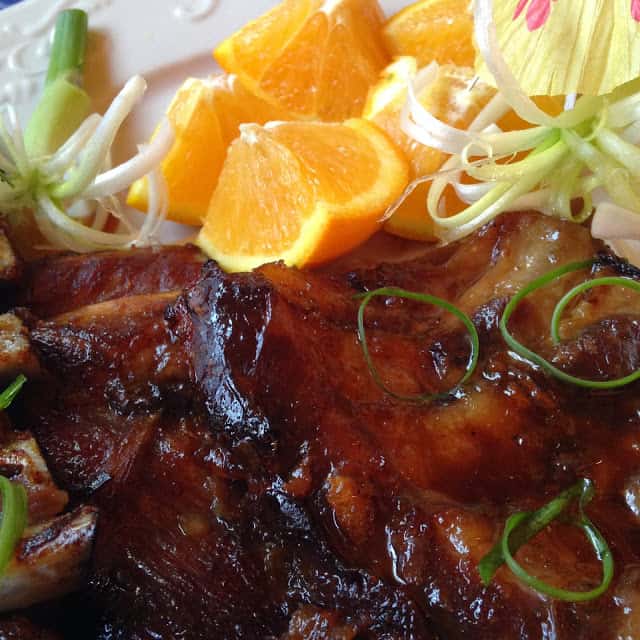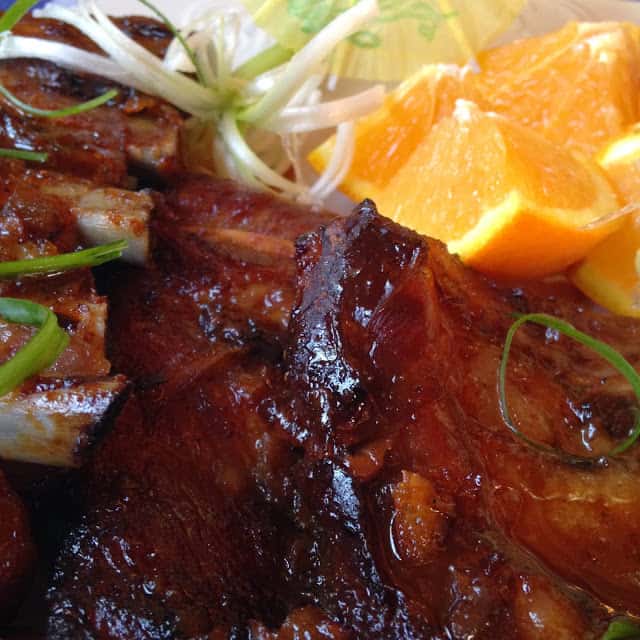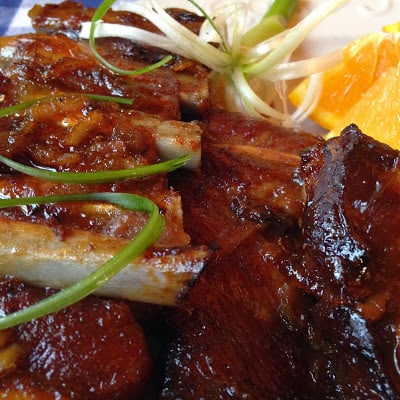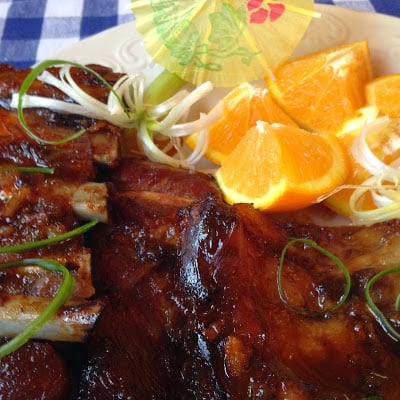 Green Onion Brushes
Learn how to make green onion brushes here: Green Onion Brushes. Another fun and easy garnish is green onion curls. Simply cut thin strips from the green part of green onions. Cut the green strips into about 4-inch lengths. Place green onion strips into a bowl filled with ice water. The green onion strips will curl the longer they sit in the ice water.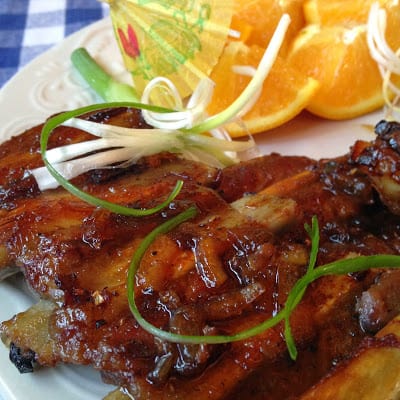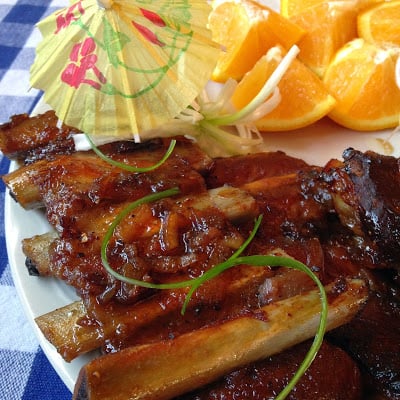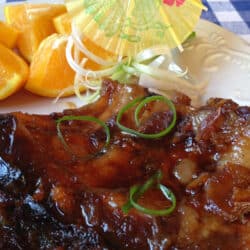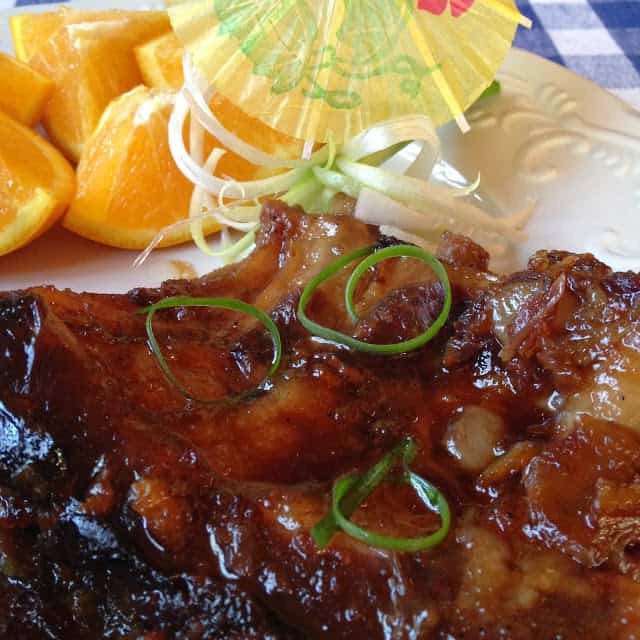 Pork Spareribs Cantonese
This delicious recipe is made with only five ingredients, not including the water and pepper.
Ingredients
4

pounds

meaty pork spare ribs or pork loin back ribs, cut into serving pieces

1

cup

orange marmalade

3/4

cup

water

1/3

cup

reduced-sodium soy sauce

2

cloves garlic, minced

1/2

teaspoon

ground ginger

dash of black pepper

orange wedges, optional

green onion brushes, optional
Instructions
Place ribs meaty side down in a shallow roasting pan. Roast, uncovered, in a 450° oven for 30 minutes. Remove from oven; carefully drain far from ribs.

Turn ribs meaty side up. Reduce oven temperature to 350°; continue roasting ribs, uncovered, for 1 hour. Carefully drain off fat. In a medium bowl combine the marmalade, water, soy sauce, garlic, ginger and pepper; stir thoroughly. Pour over ribs.

Roast ribs, uncovered, for 30 minutes more or until ribs are tender; spooning sauce over ribs occasionally. If desired, serve ribs with orange wedges and garnish with onion brushes.
For this recipe we used Sweet Orange Marmalade from Smuckers. Recent Recipe: Mini Bacon Cheese Quiche