Pork Chow Mein
We may earn money or products from the companies mentioned in this post.
Pork Chow Mein
This recipe is easy and packed full of 'good for you' vegetables. Made with lean pork tenderloin the meat becomes fork tender in this delicious dish.
All in all, pork chow mein is an easy, delicious and very good for you dinner option. Served over jasmine rice, it transforms into a satisfying and filling dish. We enjoy making Chinese-style dishes at home. For the simple fact that you can control the salt used in the recipe, add no MSG and prepare favorite recipes with the vegetables that your family likes.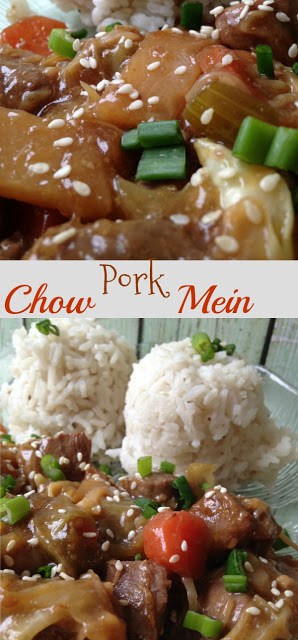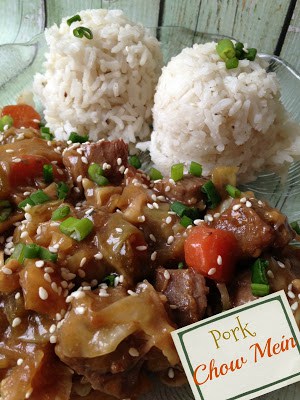 Grandma's Recipe
This recipe for Pork Chow Mein originally was my grandma's recipe. Her recipe was super simple with only a few ingredients; cubed pork steak, diced celery and one large can of bean sprouts, drained. Now that I think about it, it was really good but about as basic as it gets. Grandma browned the cubed pork steak in a small amount of oil and seasoned with salt and pepper.
In a large saucepan, in 2 cups simmering water, grandma would cook the celery until tender. She would fish the celery out with a hand-held strainer and add it to the pork.  The bean sprouts are then added to the pork/celery mixture. A 'slurry' is made with celery water and cornstarch and stirred into the pork/celery/sprouts mixture until thickened. My grandma served pork chop suey or chow mein over minute rice. Very simple, but good.
New and Improved
Even though my grandmas recipe was easy and simple, it was just a little too basic for me. After many, many years of trail and error, the recipe below is the final recipe that I came up with. To this day it's one of my hubby's favorite recipes. He requests the recipe often, like once a week often. Pork Chow Mein can be made with canned or fresh ingredients. Most produce departments now stock fresh bean sprouts, bamboo shoots and ginger.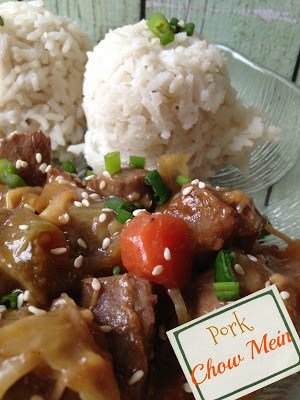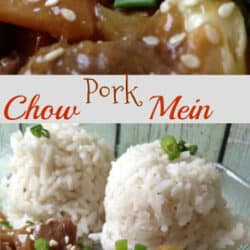 Pork Chow Mein
Serve pork chow mein over hot jasmine rice.
Ingredients
1

pound

pork tenderloin, cut into bite size pieces

2

garlic cloves, minced

4

tablespoons

soy sauce

2

tablespoons

cornstarch

1/2 to 1

teaspoon

ground ginger

1

cup

chicken broth

1

(10-12 oz) bottle

teriyaki sauce

2

tablespoons

oil

1

cup

thinly sliced carrots

1

cup

thinly sliced celery

1

cup

medium onion, chopped

1

(11 oz) jar

bamboo shoots, drained

1

(11 oz) jar

bean sprouts, drained

1

small cabbage, coarsely chopped

hot cooked jasmine rice

garnish with sesame seeds and sliced green onion tops
Instructions
Place cubed pork in a medium bowl. Add garlic and 2 tablespoons soy sauce. Cover and refrigerate for 2-4 hours.

In a second bowl, combine the cornstarch, ginger, broth and teriyaki sauce until smooth; set aside.

Heat oil in a large skillet or wok on medium high; stir-fry pork until no longer pink.

Remove and keep warm. Add carrots and celery; stir-fry for 3-4 minutes. Add the onion, bamboo shoots, bean sprouts and cabbage; stir-fry for 2-3 minutes. Stir broth mixture; stir into skillet along with the pork.

Bring to a boil; cook and stir for 3-4 minutes or until thickened.

Serve over cooked rice and garnish with sliced green onions.
Recipe On Tap
Pineapple Pork Tenderloin Kabobs and Oven Roasted Pork Tenderloin Kabobs.
This recipe was made with La Choy Teriyaki Sauce