Pork Chops with Dirty Rice
We may earn money or products from the companies mentioned in this post.
Pork Chops with Dirty Rice
What could be easier than Pork Chops with Dirty Rice. This recipe is not only easy, it's fast and very affordable. It has been a family favorite for many years. When making this recipe, I like to use thick cut pork chops. I have a tendency to over cook thin cut pork chops, which isn't really that hard to do. That's why I prefer the thicker cut pork chops, after all no one wants to eat a dried out, tough as nails, pork chop!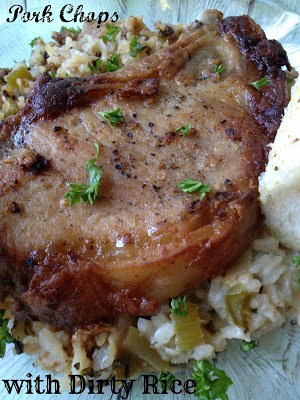 Family Favorite
I've been making this recipe for as long as I can remember.  At my age, when there are days I can barely remember where I put my car keys, remembering a recipe is a good thing. I've been making this recipe for many years, I don't even need a recipe anymore and that can only mean one thing, it must be a darn good recipe! Serve Pork Chops and Dirty Rice, with a small tossed green salad or steamed vegetables of your choice.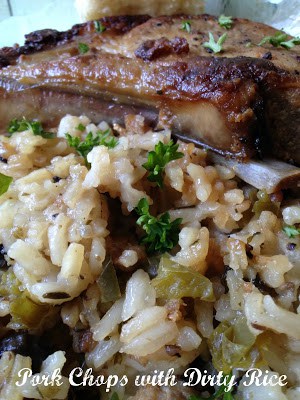 Dirty Rice
Historically, dirty rice was made with leftover meats. The giblets from a chicken is a good example. The chicken would be roasted for a meal and then a second meal would be made with the liver and gizzards and made into dirty rice. The recipe is a simple one. The giblets are browned in a skillet, chopped and set aside. In the same skillet, diced onion, celery, green pepper and carrots are sauteed. Then the rice is added to the pan along with the reserved meat, stock, salt and pepper. The rice is simmered until done. Supper is served!
South Louisiana's Favorite
Dirty rice basically came about in part to South Louisiana's abundant rice crop. Cajun cooking techniques and home cooks with many mouths to feed relied on South Louisiana's plentiful and inexpensive rice. Dirty rice, like so many great dishes from around the world, was the product of necessity. Making the best out of the ingredients cooks had on hand. Dirty rice is a hearty and satisfying meat and an extremely low cost.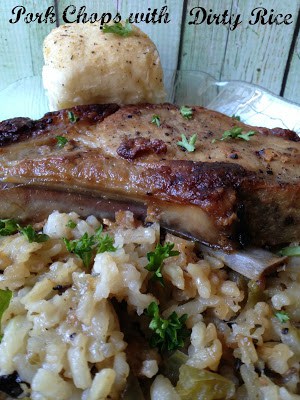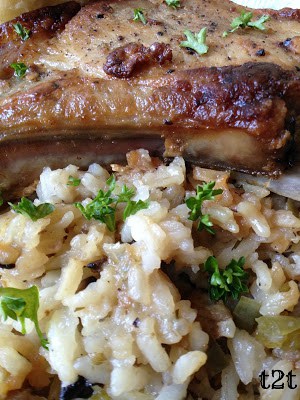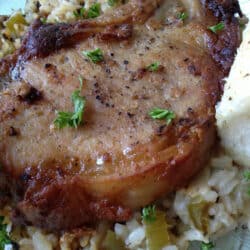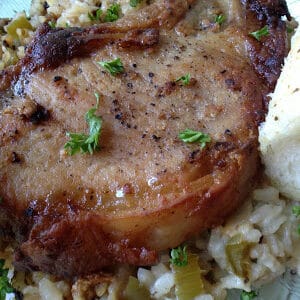 Pork Chops with Dirty Rice
A classic recipe that I have been making for years.
Ingredients
6 

thick cut

pork chops

2

tablespoons

vegetable oil

2

tablespoons

butter

1/2

teaspoon

salt

1/4

teaspoon

pepper

1

teaspoon

dried oregano

1/2

cup

chopped celery

1/2

cup

chopped onion

1/2

cup

chopped green pepper

2

garlic cloves, minced

1/2

pound

mushrooms. coarsely chopped

3 

beef bouillon cubes, crushed

4

cups

cooked long grain rice

1

can cream of mushroom soup

1

pound

ground pork, cooked and drained

1/2

cup

water

parsley chopped, garnish
Instructions
Heat oven to 350º

Prepare rice according to package directions. Set aside.

In a small skillet, brown ground pork until no longer pink inside. Drain and set aside.

Heat oil and butter in a large skillet over medium heat.

Add pork chops, fry for about 5 to 8 minutes per side.

Remove from skillet, sprinkle with salt, pepper and oregano, set aside.

In same skillet, saute celery, onion, green pepper, garlic, mushrooms and crushed bouillon cubes, simmer for about 10 minutes.

In a large bowl, stir together rice, cream of mushroom soup, ground pork and celery mixture, stir well. Set aside. In same skillet, add a 1/2 cup water, bring to a boil, stirring constantly to loosen browned bits from bottom of pan, boil 1 to 2 minutes.

Spray 2 quart baking dish with non-stick cooking spray. Spoon rice mixture into prepared baking dish. Place pork chops on top of rice mixture, pour water mixture over pork chops.

Cover and bake for 45 minutes.

Uncover and bake for 10 to 15 minutes longer.

Sprinkle with parsley and serve.
Recent Recipe: Old Fashioned Porcupine Meatballs
For the recipe we used our favorite brand of cream of mushroom soup; Campbell's For a faster and spicier version of dirty rice, pick up a box of Zatarain's Dirty Rice Mix.  Brown up some hamburger or spicy sausage and make a delicious meal your whole family will love.