Pork Chops with Mushroom Risotto
We may earn money or products from the companies mentioned in this post.
Pork Chops with Mushroom Risotto
Pork Chops with Mushroom Risotto and veggies is a complete meal. This simply yet satisfying meal can be ready in under an hour. Start with the mushroom risotto, which takes the longest to cook, and proceed with the vegetables. Garlic, multi-colored sweet peppers, mushrooms and grape tomatoes are sautéed until tender. Since pork chops only need a minimal amount of cooking time, they're added last. A complete dinner is ready in no time.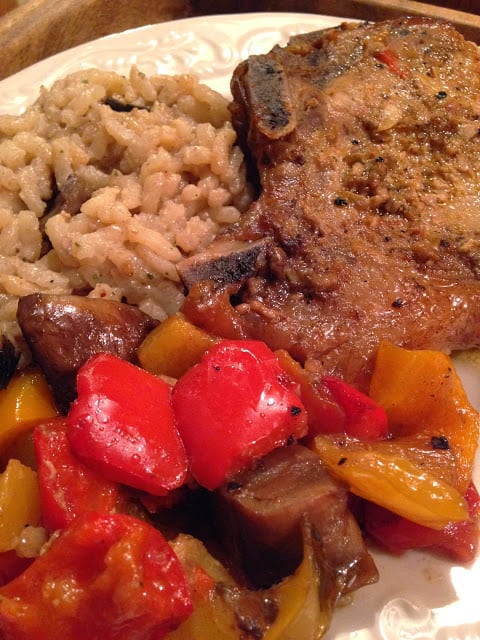 What is Risotto?
Risotto [rih-SAW-toh; ree-ZAW-toh] is an Italian rice specialty made by stirring hot stock into a mixture of rice (and often chopped onions) that has been sautéed in butter. The stock is added 1/2 cup at a time and the mixture is stirred continually. The stirring is done while it cooks until all the liquid is absorbed before more stock is added.
Worth It
There are several brands and different varieties of packaged risotto products on the grocery store shelves. Just like there is a time and place for fast cooking, packaged flavored rice, the same holds true for risotto. Try to get in the habit of making from "scratch" risotto, at least one in awhile. The flavor, taste and texture of long cooking risotto is unbeatable. The extra effort is well worth it. I like to compare making risotto to making mashed potatoes, you just can't beat or compare the real thing.
Flavored With
This labor-intensive technique results in rice that is delectably creamy, while the grains remain separate and firm. Risotto can be flavored with many different ingredients such as: meat, shellfish, vegetables, sausage, cheese, white wine and herbs. Risotto Milanese is scented with super expensive saffron. The use of Italian Arborio Rice is traditional in the preparation of risotto. Italian arborio rice can ce found most supermarkets, specialty stores and/or Italian food markets.
Pork Chops with Veggies
Ingredients
4 tablespoons




olive oil

2 tablespoons




butter

4 cloves




garlic, minced

4 peppers




red, yellow and orange, cut into pieces

1 pint




grape tomatoes, cut in half

2




portobello mushroom caps, diced

4




pork chops

1 teaspoon




onion and garlic seasoning blend

1/4 cup




aged balsamic vinegar
Cooking Directions
Heat olive oil and butter in a large skillet over medium heat. Add garlic, peppers, mushrooms and tomatoes. Saute' until veggies are tender. Remove veggies from pan, set aside.
Add pork chops to heated pan. Season with onion herb seasoning mix. Brown chops on one side for 8 minutes, turn, brown on the other side, 8 minutes longer. Return mushroom mixture back to pan. Add balsamic vinegar. Bring to a boiling, reduce heat to simmer.
Cover and simmer 20 to 30 minutes.
Mushroom Risotto
Ingredients
2 tablespoons




butter

2 cups




mushrooms, shiitake, chanterelle or oyster mushrooms, cleaned, trimmed and cut into pieces

2/3 cup




dry white wine

5 to 6 cups




chicken stock

1/3 cup




peeled and minced shallots

1 3/4 cup




arborio rice

1/3 cup




freshly grated Parmesan cheese

salt and pepper




to taste

2 tablespoons




chopped fresh parsley or chives
Cooking Directions
Bring stock to a simmer in a saucepan. Melt butter in a deep, heavy medium size saucepan over medium high heat. Add mushrooms and shallots, saute' about 5 minutes. Add the rice and stir to combine. Stir in wine, bring to a boil, reduce liquid by half about 3 to 4 minutes. Stir in simmering stock, 1/2 cup at a time, stirring in enough stock to keep the rice from sticking to the edges of the pan. Stir the rice almost constantly, wait until the stock is almost completely absorbed before adding the next 1/2 cup. This process will take about 25 minutes. The rice should be just cooked and slightly chewy.
Stir in the Parmesan cheese, add salt and pepper to taste. Garnish with chopped fresh parsley or chives.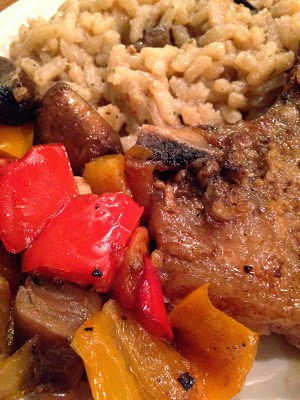 Kitchen Tip~ Keep a can of frozen orange juice concentrate on hand for quick additions to yogurt smoothies, cottage cheese and even oatmeal. Another idea; stir frozen orange juice concentrate into reduced-fat vanilla ice cream.
Not a fan of mushrooms? Give Red Bell Pepper Risotto a try. For this recipe we used Rice Select Arborio Rice.