Polish Kiszka or Blood Sausage
We may earn money or products from the companies mentioned in this post.
Polish Kiszka or Blood Sausage
You have probably, without a doubt, clicked on the recipe title, Polish Kiszka or Blood Sausage, because you're curious as too what the 'h' is 'Blood Sausage?' That was my exact question to my husband when he brought home a ring of blood sausage from the bakery. Yes, you read that right, the bakery. In Pulaski WI, you'll find a fantastic Polish-style bakery that sells everything from scrumptious Sweets to Gołąbki to Kiszka.
[easy-image-collage id=19633]
Smurawa's Bakery
Smurawa's Country Bakery  is an old-fashioned bakery with fresh baked, made-from-scratch baked goods. The bakery takes pride in sharing their Polish and Bohemian ancestry through the bakery and foods that they have to offer. On Paczki Day, Smurawa's will be offering a free Paczki and a cup of coffee to anyone who wishes to play a tune on their antique accordion. Now that's small town hospitality at it's best!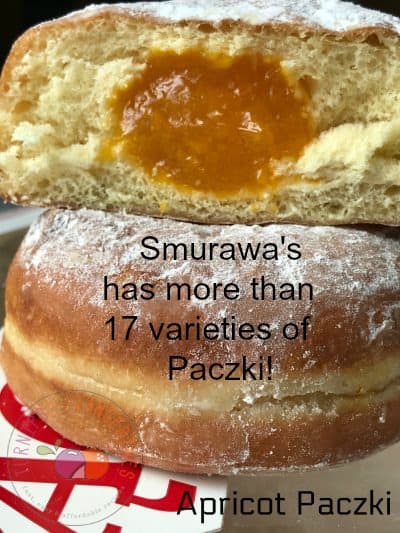 Paczki Day is on Tuesday February 13th, 2018
Circle that date on your calendar people! Smurawa's Bakery is excited to invite you to come and join them in celebrating Paczki Day! As a way of keeping with their Polish Heritage, each year on Paczki Tuesday also known as Fat Tuesday, Smurawa's welcomes people from all over the state of Wisconsin, the U.P. and as far away as Illinois. Why, you might ask? Because a Paczki, "Isn't just another jelly dough-nut."
What is a Paczki?
Paczki is a Polish pastry that the wonderful people at Smurawa's have been making for more than 90 years and 4 generations. On Paczki Day, the bakery serves more than 30,000 of these delicious pastries. That's a lot of Paczki!! Made with ingredients such as butter, sugar and eggs, Paczki are then filled with fruit jams, custards or cremes. The finishing touch…Paczki are lightly rolled in powdered sugar. "Can I get an Amen up in here!!"
Blood Sausage
Blood Sausage also know as blood pudding and in Ireland, black pudding. This large link sausage is made with pig's blood, suet, breadcrumbs and oatmeal. Almost black in color, blood sausage is generally sold precooked. Variants can be found worldwide, with each country, region and/or area having their own version of blood sausage. Pig, cow, sheep, duck and goat blood can be used. Fillers vary from meat, onion, rice, buckwheat kasha.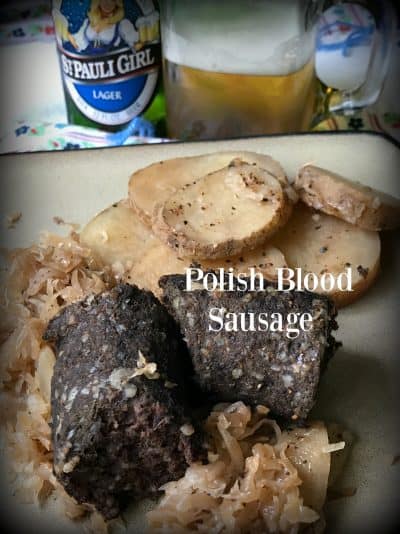 Eaten Worldwide
I had absolutely no idea how popular blood sausage is until I did some research. It seems that blood sausage is well loved and is a staple in every country you could possible think of. Check out Blood Sausage-Wikipedia, to find out how popular blood sausage really is. You'll be surprised. With there being so many variations of blood sausage, along with ways to prepare it, I'm only going to focus on the ways it's eaten here, in the U.S.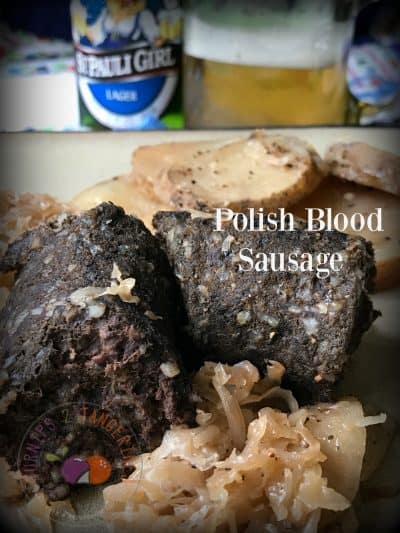 In Wisconsin
Blood sausages are very difficult to find in US supermarkets/grocery stores due to health regulations. Some cities in Wisconsin; Brussels, Sturgeon Bay, Pulaski and Milwaukee (to name a few), are home to local grocers who produce blood sausage. This is due in part to the large Belgian, Scandinavian, Polish and German populations that are in the state of Wisconsin.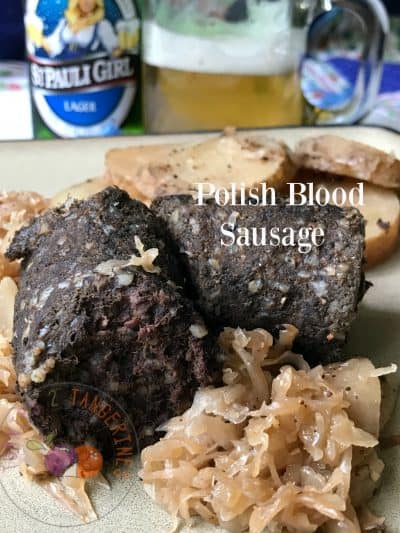 Throughout the US
In southeastern Michigan, Polish-style Kaszanka can be found in supermarkets throughout the year and is very popular. An Italian-American version of blood sausage is called Biroldo. It contains pine nuts, raisins, spices, pig snouts and is made using pig or cow's blood. German-style blood sausage and Zungenwurst is very popular. Russian and Armenian delis offer a wide range of Central European foods, including blood sausage.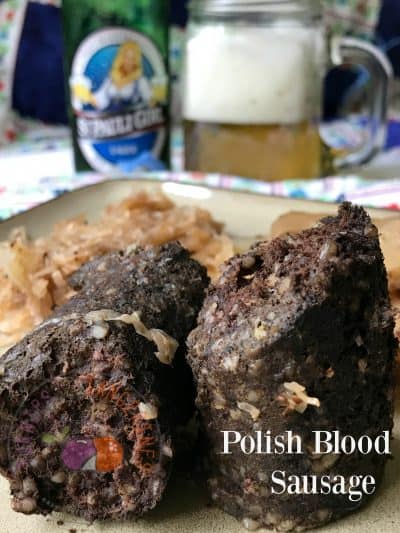 Cajun Boudin
Cajun Boudin is fresh sausage made with green onions, pork, pork liver and rice. Pig's blood is added to produce boudin rouge or red pudding. The tradition of making boudin rouge slowed somewhat when boucherie or traditional communal butchering started to decline. Cajun boudin is now usually made without blood however, blood or 'black' boudin can still be purchased. In Maine, locally produced blood pudding is popular due to the state's large French Canadian population.
Let Me Explain
I'm certain that my way of preparing blood sausage isn't exactly the 'correct' way. Most recipes say to saute' sliced blood sausage, then served with mashed potatoes or boil the blood sausage, slice and lightly saute' in oil or butter. My decision to make blood sausage in the slow cooker with sauerkraut and potatoes is mainly due to my German heritage. When in doubt, throw it in the slow cooker with kraut and potatoes.
It's Paczki Time! take a look at our post from last years Paczki Day! Hungry for Stuffed Cabbage Rolls? Give this recipe a try.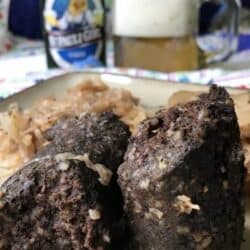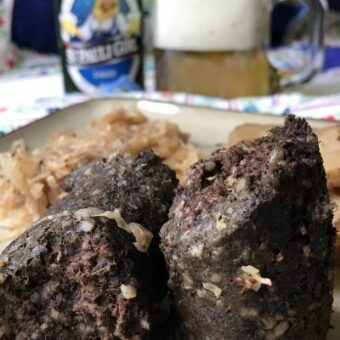 Slow Cooker Kiszka or Blood Sausage
Ingredients
1

pound

blood sausage

4 to 6

russet potatoes, scrubbed and sliced

1/2

large

onion, sliced

1

14 oz

can sauerkraut, undrained

1/2

teaspoon

season salt

1/4

teaspoon

black pepper or to taste
Instructions
In slow cooker, layer sliced potatoes, onion and sauerkraut. Season with seasoned salt and pepper.

Slice blood sausage or kiszka in 4 places, slicing only 1/4-inch deep. Cook on low 6 hrs or on high 3 to 4 hours.
Here are several recipes using 'not so familiar' ingredients but still super delicious. Slow Cooker Oxtail Stew, Pinto Beans with Smoked Ham Hocks and Venison Tenderloin in Puff Pastry.