Planning Food For A Dinner Party
We may earn money or products from the companies mentioned in this post.
Planning Food For A Dinner Party

Got a special occasion coming up? Want to host your family and friends in the comfort of your own home? You're in luck – a great option is hosting a dinner party and we've come up with the ultimate guide to help you plan all of the food, drinks and a little more. Dinner parties are a great source of entertainment, bringing together people you care about and helping everyone to bond in a relaxed, casual and intimate setting. This article for Planning Food For A Dinner Party is very helpful.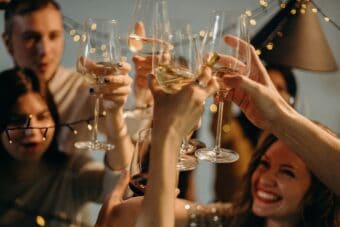 Of course, this is the positive part. Actually putting a dinner party together, on the other hand, can be a fair amount of work. The pressure falls on your to deliver a meal that will keep the night moving along smoothly, with everyone leaving full and with a smile on their face. Here's some information that will help you with this venture! Yes 
Before the Dinner Party
Of course, half of the fun of a dinner party is a sense of occasion and a group coming together. So, there are inevitably a few non-food related areas to focus on in advance in order to be able to serve your food well. Consider these to start with:
Dining space –

where will your guests seat while eating. If you're using a dining table, you need to make sure there's enough space to seat everyone at once. You don't want some people sitting awkwardly in other spots because there isn't enough room at the main table.
Seats –

we tend to have enough seats for everyone living in our home, but when guests exceed this number, you may need to pull out some emergency seating. This could include fold away chairs that can be brought out specially for the occasion.
Plates, cups, cutlery –

of course, your guests will all need plates, cups and cutlery to dine from. You may, again, need to invest in extras, as most of us only really have enough for those living within the house.
Dietary Requirement Checks
It's also a good idea to check all of your guests' dietary requirements. It's always worth double checking, as some people's may have changed since you last dined with them. YOu may find that you need to accommodate people with religious dietary requirements, vegetarians, vegans, pescatarians, people who are gluten free or lactose free and so much more. You don't want to cook a whole meal, only to find that some of your guests can't enjoy it.
The Menu
Try to keep your menu as simple and straightforward as possible. Sure, a dinner party may feel like the right time and place to show off your cooking prowess to your guests, but anything complicated or that you may not have tried before could result in culinary disaster. Instead, stick to what you know, what you are confident you can cook well, and something that doesn't tie you to the kitchen all night. This will give you the opportunity to interact with your guests and enjoy your evening too.
Courses
How many courses do you want to provide? Generally, two will be ideal. It doesn't pose too much work but does create a sense of occasion. A main and a dessert are ideal, as this gives your guests a main meal, as well as something like homemade eclairs to enjoy after when they begin to wind down.
Drinks
Remember, you're going to need to provide drinks that pair well with the food you're creating. Consider a range of wines, chilled water, sparkling water, beers and soft drinks. This should cover all bases and ensure that everyone has something to accompany their meal that they really enjoy. You might also want to provide coffee at the end of the evening, which is great to chat over.
Cooking from Scratch
You may want to cook from scratch, but this will require a lot of prep work. Instead, you can cut corners and still get great results by using pre-prepared or cooked ingredients, such as ready made pastry, pre-prepared sauces or fresh pasta that isn't homemade. If you are going to cook from scratch, try to prepare as much as possible before your guests' arrival. This will relieve pressure later on.
As you can see, there's a lot to take into consideration when planning a dinner party – and we're only just getting started with the areas of focus outlined above. The key to success is preparation and keeping things reigned in. Hopefully, some of the information provided will help you to achieve this!
Here are more articles you will find useful: How Regularly Learning to Cook New Things, How To Get Started With Smoking Food, and Bringing Friends and Family Together With Food.