Pizza Pot Pie made with Pillsbury Pizza Crust
We may earn money or products from the companies mentioned in this post.
Pizza Pot Pie made with Pillsbury Pizza Crust
I can't remember the last time I made this delicious and easy pizza pot pie. Years ago I found this recipe in one of those recipe cookbook booklets that we've all paged through while standing in line at the checkout. I read the recipe, realized I had all of the ingredients and tossed the Pillsbury cookbook booklet into my cart. It was probably way back in the early 80's, back when I was a young new wife and mom. We were living on a strict budget and I had to stretch our food budget as far as possible. Not unlike many young, new moms are still doing today. Pizza Pot Pie made with Pillsbury Pizza Crust turned out to be a hit.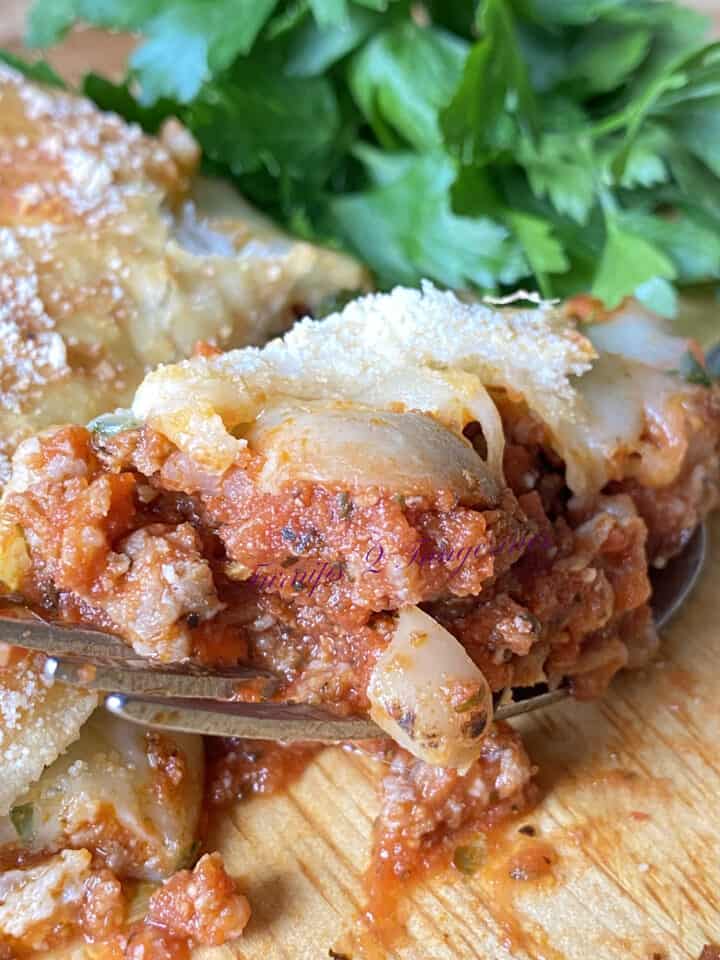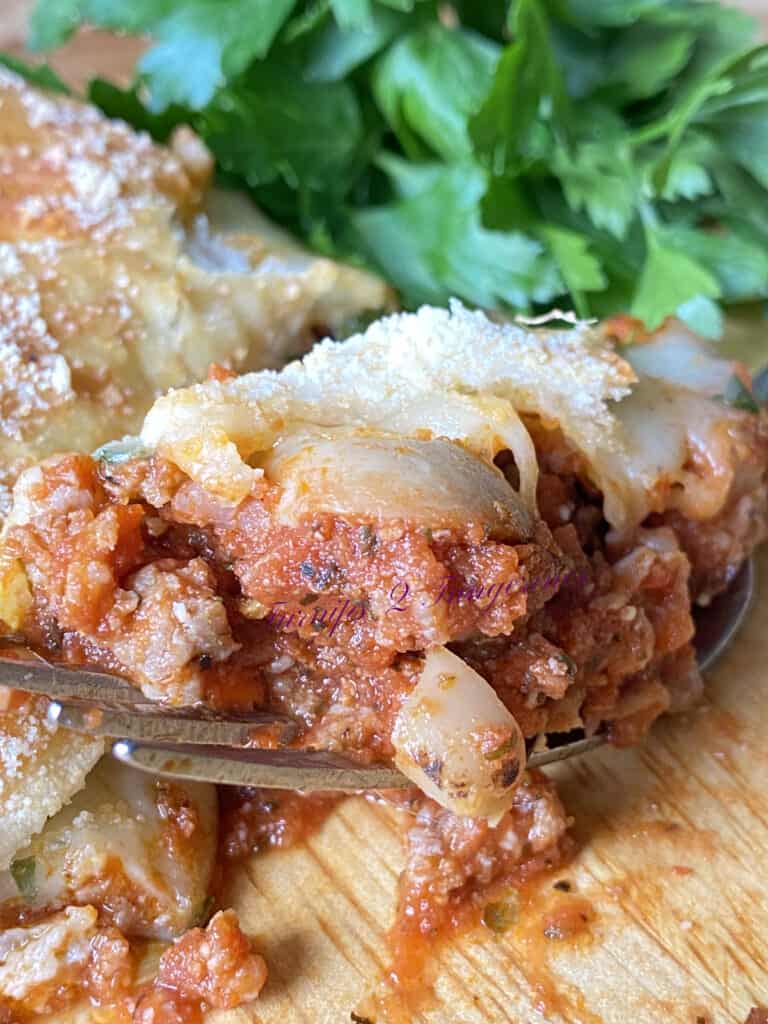 I know what you're thinking. 'If this recipe is so dang good and it turned out to be a hit, why haven't you made it in over 30 years?' Well to be perfectly honest, I totally forgot about it! In my defense, in the years since I first made this recipe I've collected well over 300 cookbooks and at least 175 recipe cookbook booklets. So yeah, my madness is quite real! This recipe uses readily available convenient products, making it not only delicious but easy too.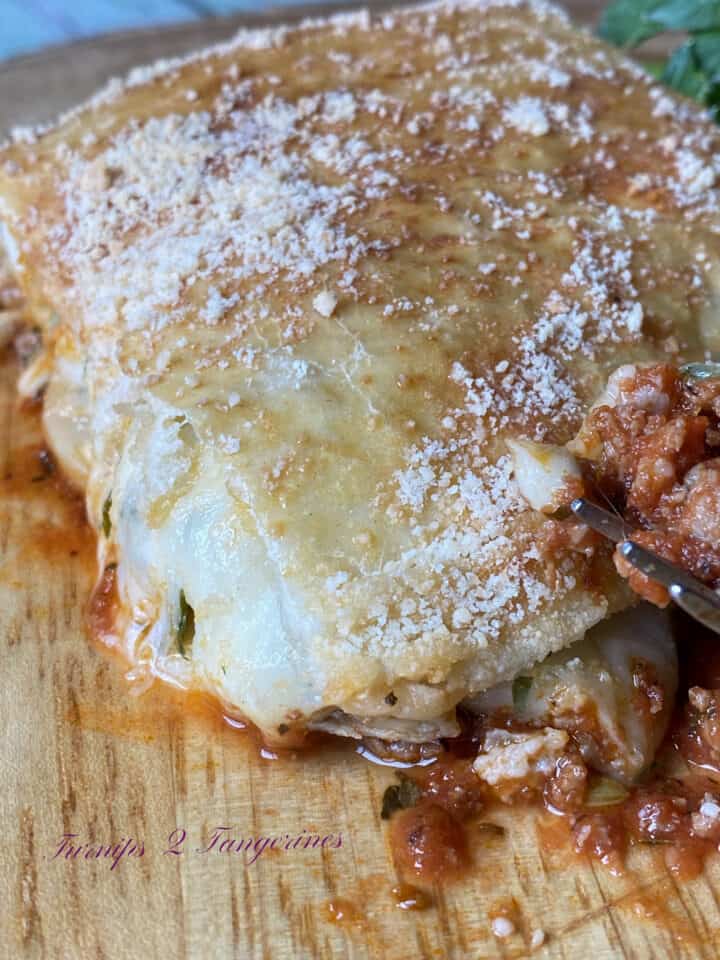 Versatile Recipe
This recipe calls for:
ground beef and Italian sausage
dried oregano, basil and Italian seasoning
2- (6 oz) cans tomato paste
4 oz can mushrooms
Substitutions for this recipe:
all ground beef or all Italian sausage
ground pork or turkey
20 oz jar spaghetti or marinara sauce
sliced fresh mushrooms, sautéed in oil first
You can certainly experiment with this simple recipe, making it your own. Think about what you like on a pizza and go from there. Pepperoni, black olives, chopped onions, and green peppers will work. The real secret to this pot pie is one 10-ounce can of Pillsbury All Ready Pizza Crust. You simply pop open the can, unroll the dough and lay it over the meat-cheese mixture in the pan. Seal the edges of the dough to the sides of the baking dish, brush with beaten egg and sprinkle with remaining Parmesan cheese. While the pizza pot pie is baking, whip up a tossed green salad and your dinner, a darn good one at that, will be ready.  Can't beat that with a stick!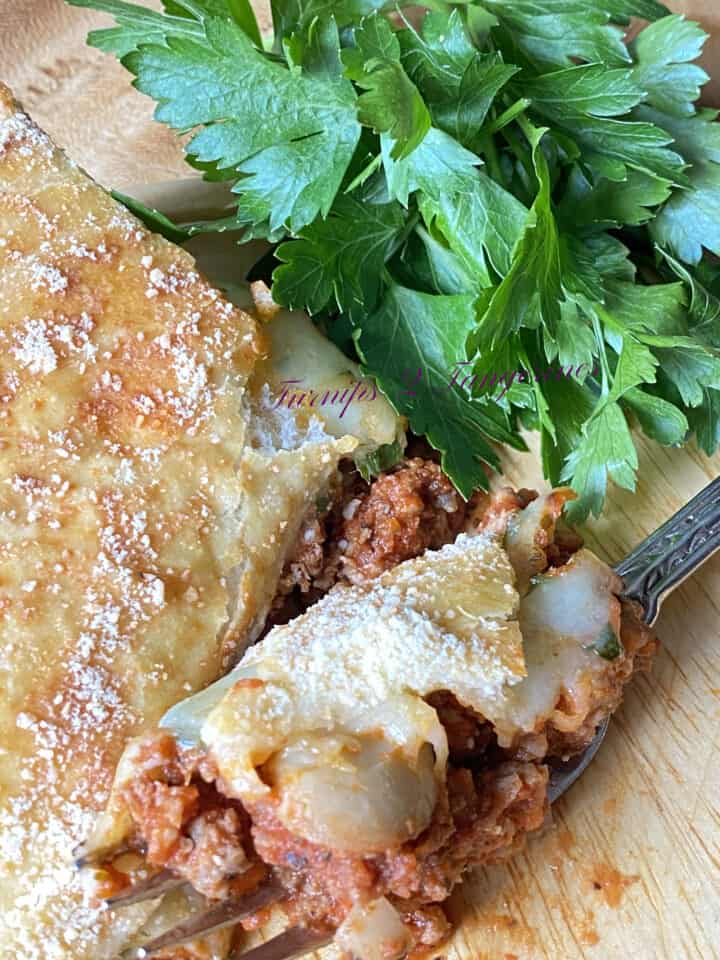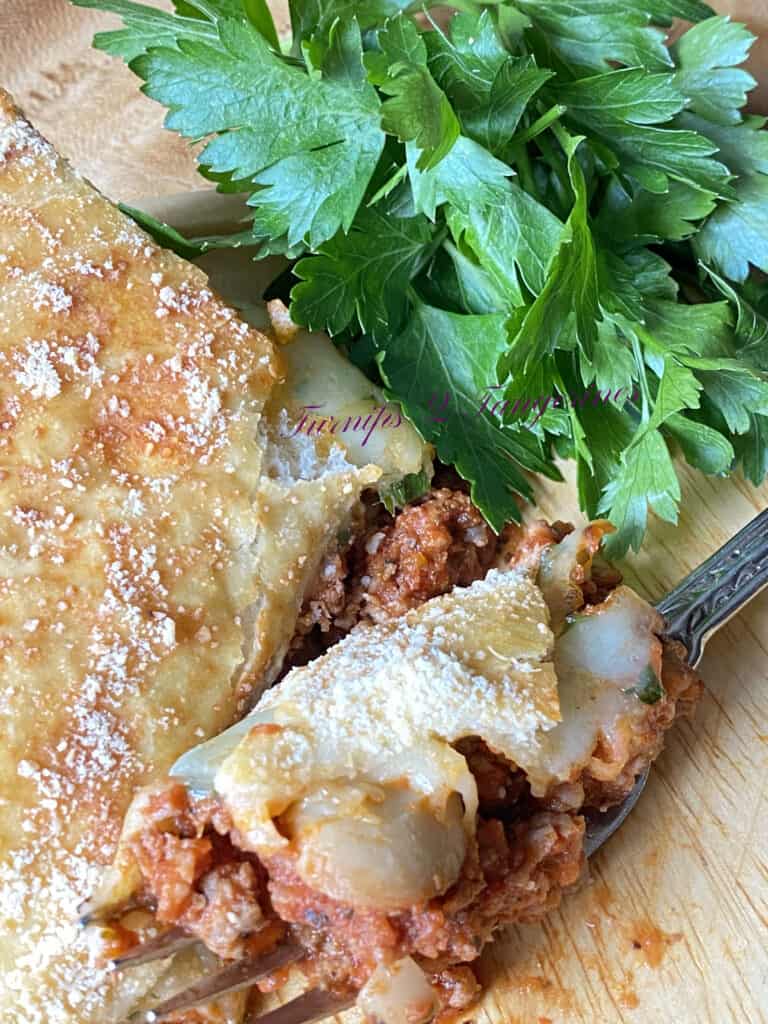 Friday Night Pizza
One thing we love here at Turnips 2 Tangerines is pizza. When my kids were growing up Friday Night was pizza night at our house, in fact it still is. Back in the day, you could get a large pizza, breadsticks and a 2 liter of pop at Little Caesars for $5.00. As the years went by and new pizza places opened, deals on pizzas abound. Places like Rocky Rocco's, Domino's, Pizza Hut and Papa Murphy's all had fantastic pizza deals.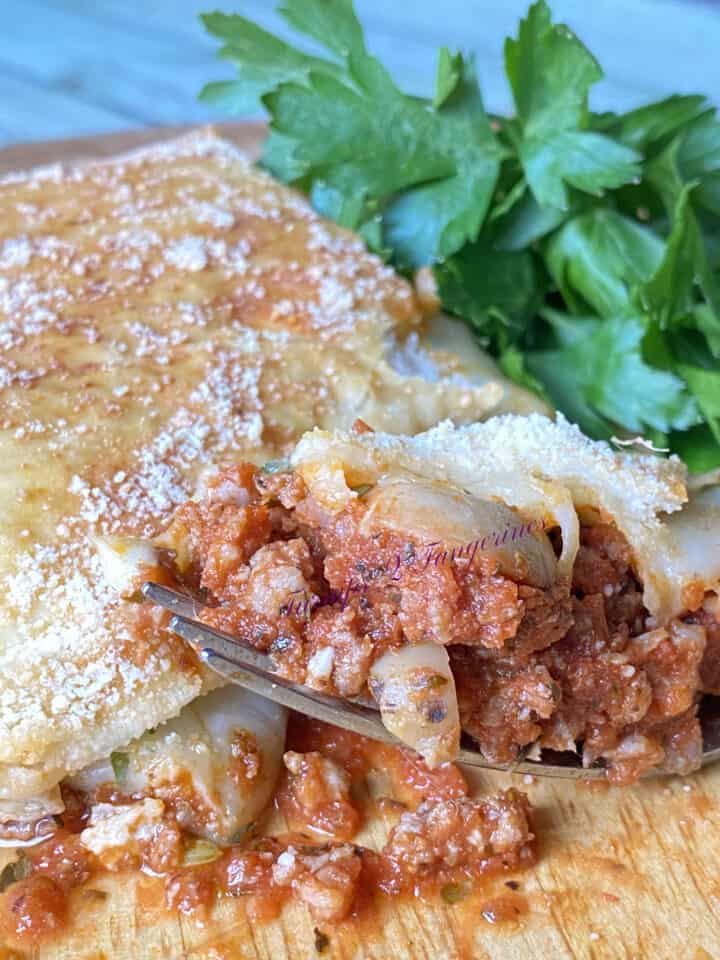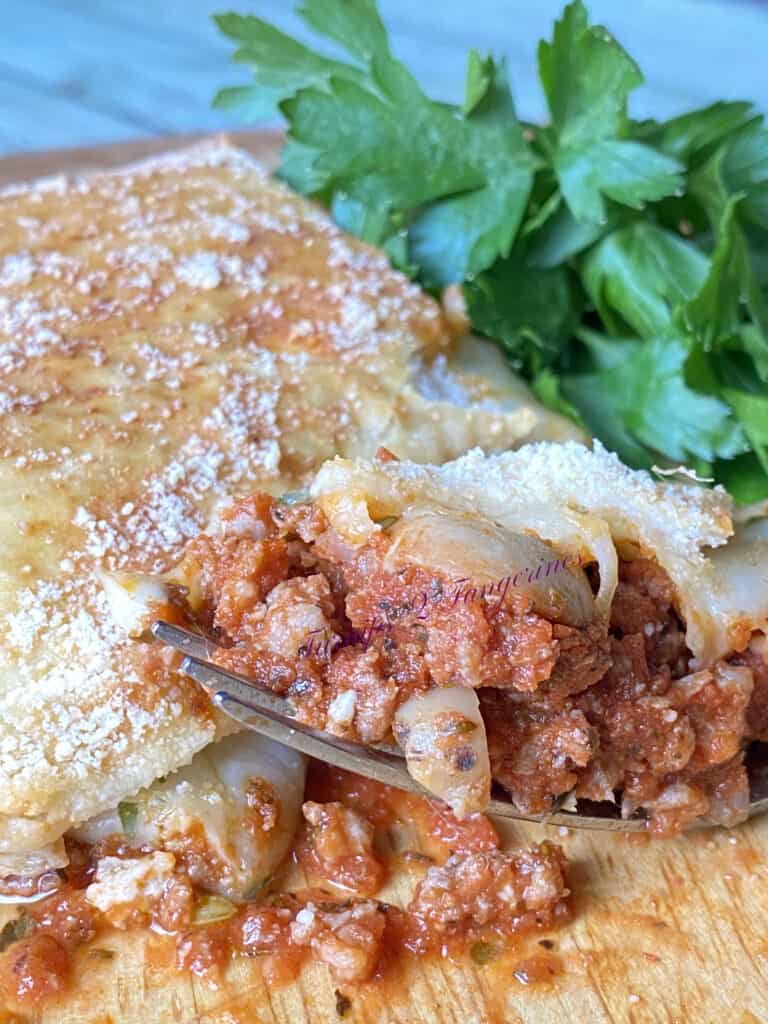 Back then our Friday nights consisted of renting a movie at Blockbuster, picking up a pizza at one of said places above and purchasing some alcoholic beverages for the adults. When the kids became teen-agers, and weren't home on Friday nights, the hubby and I would venture out occasionally for pizza and a pitcher of beer. Our favorite haunts, Frank's Pizza Palace and Butch's Pizza. Now-a-days it's just the hubby and me eating frozen pizza on Friday night, minus the movie and alcoholic beverages.
Pizza At Home
Once in awhile we do make homemade pizza but not as often as we should I'm afraid. Making pizza at home is really easy to do and it does taste so much better than frozen. Here are some of our homemade favorite recipes: Homemade Sausage Pizza , Homemade Pizza with Sourdough Crust and Roasted Garlic Pizza Dough.
Pizza Pot Pie
Ingredients
1

lb.

ground beef

1

lb.

bulk Italian sausage

2-

6 oz cans

tomato paste

2

teaspoons

dried oregano

2

teaspoons

dried basil

1

teaspoon

dried Italian seasoning

1-

4 oz can

mushrooms, drained

4 - 6

cups

shredded mozzarella cheese

1/2

cup

grated Parmesan cheese

1/4

cup

chopped fresh Italian flat leaf parsley

1-

10 oz can

Pillsbury All Ready Pizza Crust

1

egg, beaten

1

tablespoon

Parmesan cheese
Instructions
Heat oven to 375° In a large skillet brown sausage and ground beef; drain well. Stir in tomato paste and spices. Spoon evenly into ungreased 13 x 9-inch pan. Top with mushrooms.

In medium bowl, combine mozzarella cheese, 1/2 cup Parmesan cheese and parsley. Spoon over meat and mushroom mixture. Unroll pizza crust; press or roll to 13 x 9-inch rectangle. Place crust over cheese mixture; seal edges. With a sharp knife, cut 1-inch slit in top of crust. Brush with egg; sprinkle with 1 tablespoon Parmesan cheese. Bake at 375 degrees for 30 to 40 minutes or until crust is golden brown. Let stand 5 minutes before serving. 12 servings.