Pistachio Cranberry Crystallized Ginger Cookies
We may earn money or products from the companies mentioned in this post.
Pistachio Cranberry Crystallized Ginger Cookies
Pistachio Cranberry Crystallized Ginger Cookies are made with chopped pistachio's, dried cranberries, crystallized ginger and almond butter. Combined together, they produce a tasty and crunchy cookie that are super delicious. If you're a fan of 'crunchy cookies, like I am, you are gonna fall in love with these. If you've been reading my blog for any length of time, then you certainly are well aware of my love for cookies and ice cream. These cookies rats right up there on my list of favorites.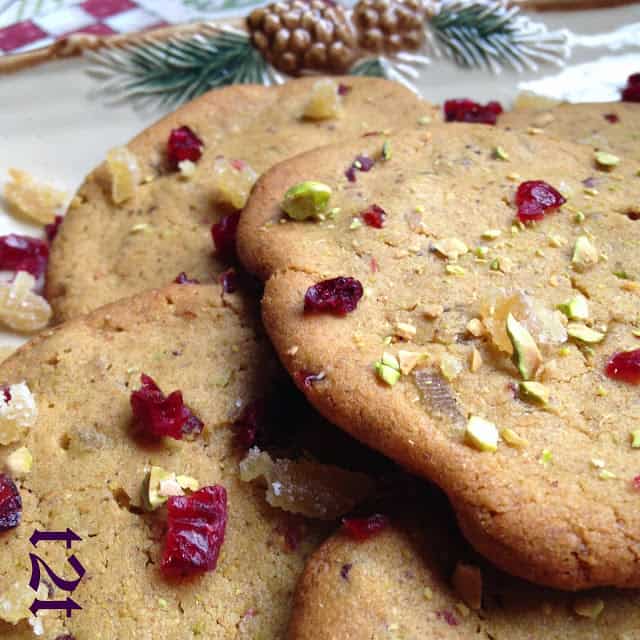 Almond Butter
A while back I purchased 3 jars of almond butter at Trader Joe's and have been on a "almond butter roll" ever since. I love peanut butter and now I've fallen in love with almond butter too. In my humble culinary opinion, I think I like almond butter better for baking than peanut butter. It seems to me that almond butter is more versatile and therefore can be used in more recipes. The almond butter really makes these pistachio cranberry crystallized ginger cookies light and super crispy. I love crunchy cookies so they are definitely a favorite.
Holiday Cookie Tray
A unique blend of flavors make up these delicious and crispy cookies. They are the perfect addition to your holiday cookie tray. The red color from the dried cranberries along with the green from the pistachios give these cookies that festive touch. Even though we made them for the holidays, you can certainly make them whenever you like. After all, cookies are super good anytime! Cookie anyone:)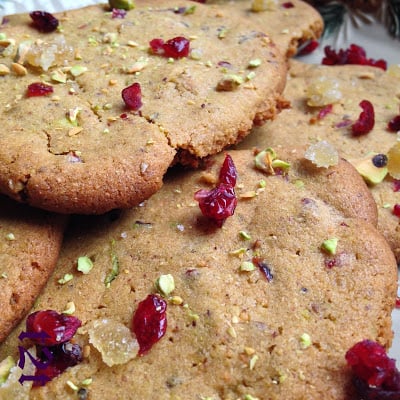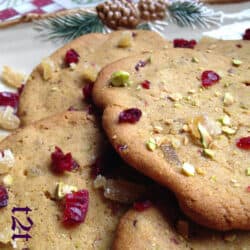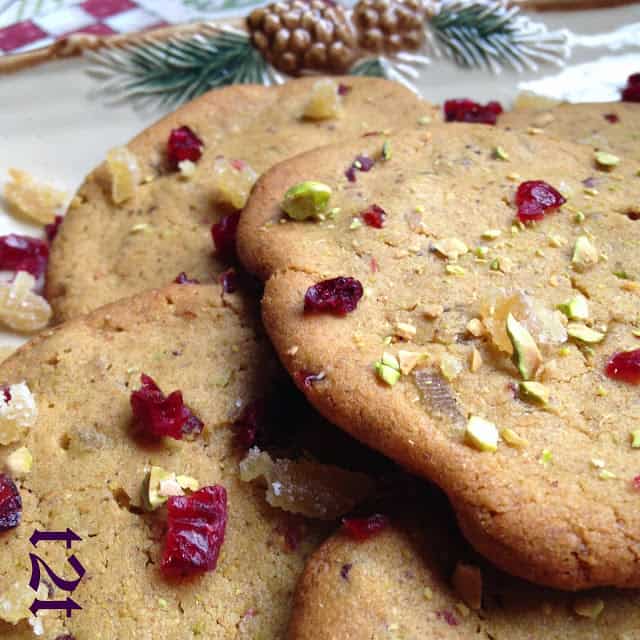 Pistachio Cranberry Crystallized Ginger
Ingredients
3/4

cup

pistachios

1

tablespoon

vegetable oil

1/4

cup

almond butter

4

tablespoons

unsalted butter

,

room temperature

1/2

cup

light brown sugar

,

packed

1

egg yolk

,

room temperature

1/2

teaspoon

vanilla extract

1/2

cup

plus 4 tablespoons flour

1/4

teaspoon

baking soda

1/4

cup

dried cranberries

,

diced

1/4

cup

crystallized ginger

,

diced
Instructions
In a food processor, (set aside 3 tablespoons pistachiogrind remaining pistachios with 1 tablespoon vegetable oil. Add almond butter, combine well. Coarsely chop remaining 3 tablespoons pistachios, set aside.

In a bowl with an electric mixer, combine the butter and sugar until fluffy. Add the egg yolk and vanilla. Beat in the pistachio mixture until incorporated.

In a separate bowl, whisk together flour and baking soda. Slowly add to butter/pistachio mixture. Mix in remaining pistachios, dried cranberries and ginger.

Divide into a log. Wrap in plastic wrap. Chill for 30 minutes. (I chilled the dough for several hourSlice the dough into pieces and shape or press into a circular shape.

Place 2 inches apart on a baking sheet lined with parchment paper.

Bake at 350º for 12 to 15 minutes.

Let cool on pan for 5 minutes, transfer to a cooling rack.
Garnish with chopped pistachios, dried cranberries and crystallized ginger, if desired. For this recipe we used crystallized ginger from Paradise Fruit.