Pinto Beans with Smoked Ham Hocks
We may earn money or products from the companies mentioned in this post.
Pinto Beans with Smoked Ham Hocks 
This is another recipe using Smoked Ham Hocks. Smoked Ham Hocks are economical and delicious. They're great to use when making soup, stews or in bean recipes like this one. Another great plus with this recipe, it's made in the slow cooker. This recipe is comfort food at it's best. Combining smoked ham hocks and pinto beans together in a crock pot turns them into a sensational and memorable meal. Pinto Beans with Smoked Ham Hocks will soon become your go to meal.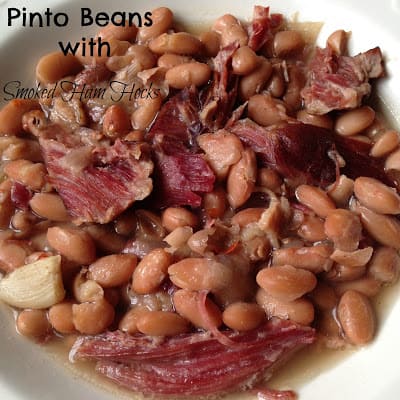 Pinto Beans
A small, flavorful bean with reddish-brown streaks on a pale pink background. Pinto is Spanish for "painted." Pinto beans are popular throughout the United States and most Spanish-speaking countries. They're often served with rice or used in soups and stews. The pinto can be used interchangeably with the pine bean, which is lighter in color before cooking but looks the same afterwards.
Both the pinto and pink beans are commonly used in the preparation of refried beans and chili con carne. Pintos are available canned and dried year-round. They are also called red Mexican beans. Dried beans are available prepackaged or in bulk. Dry beans usually need to be soaked in water for several hours or typically overnight to rehydrate them before cooking. Beans labeled 'quick-cooking' have been pre-soaked and re-dried before packaging.
Ham Hocks
Bavarian ham hocks is a traditional and authentic German Bavarian specialty or 'comfort food.' In Germany, the dish is call "Schweinshaxe." Haxe is another name for "leg" and Schwein means "pig. The German pork knuckle or ham hock, is served in the Inns of Bavaria and it's popular during German Oktoberfest. In German cuisine, ham hocks are roasted and allowed to simmer for hours in broth.
The ham hock is the end of the pig's leg, just above the ankle and below the meaty ham portion. In parts of Germany, ham hocks are usually slightly boiled and pickled. Schweinshaxe is one of the typical peasant foods or comfort foods served in Germany. Recipes were developed to make inexpensive and tough cuts of meat more tender. Such inexpensive cuts usually require long periods of preparation.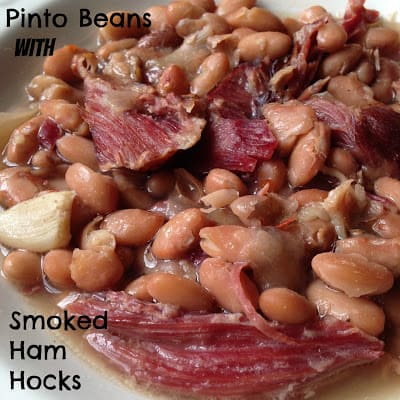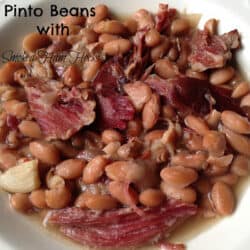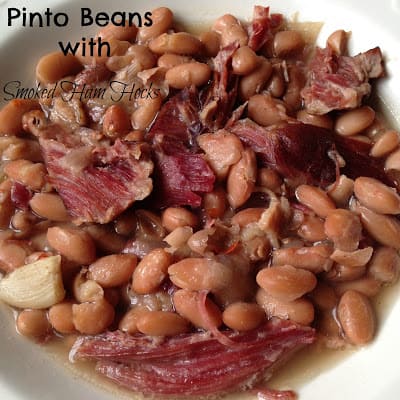 Pinto Beans with Smoked Ham Hocks in Slow Cooker
Comfort food at it's best!
Ingredients
1

pound dry

pinto beans, soaked overnight

2

tablespoons

olive oil

1

large

sweet onion, sliced

4

cloves

garlic, minced

salt to taste

1/2

teaspoon

freshly ground pepper

2

meaty smoked ham hocks

7

cups

water or stock (chicken, pork or vegetable)

1/4

teaspoon

garlic powder

1/2

teaspoon

red pepper flakes

1

teaspoon

ground cumin
Instructions
In a large skillet over medium high heat, add olive oil, onions, garlic, salt and pepper.

Cook, stirring frequently, for about 10 minutes.

Place the onion mixture, ham hocks, beans, water or stock, and remaining seasonings in a 6-quart slow cooker. Cook on low for 8 hours. About two hours before the cooking time is completed, remove the ham hocks from the slow cooker and let them cool until they can be handled. Remove and discard the bones, fat and skin from the ham hocks. Chop or shred the meat and return it to the slow cooker, cook until the beans are completely tender.

Serve with thick slices of thick buttered sourdough bread.
More Recipes with Smoked Ham Hocks, Slow Cooker White Beans and Smoked Ham Hocks, Smoked Ham Hocks with Black Beans, and Old Fashioned Ham Bean Soup. For this recipe, we used Goya Dry Pinto Beans