Pineapple Upside Down Bundt Cake
We may earn money or products from the companies mentioned in this post.
Pineapple Upside Down Bundt Cake
Pineapple Upside Down Bundt Cake is a true classic cake. It's been around for a very long time. Traditionally made in a 9-inch cast iron skillet and usually made on top of the stove. Called skillet cakes because they were often made over an open wood fire in a cast iron skillet. Thus making them a special treat for pioneers and cowboys alike. Most pineapple upside down cakes are made from scratch but over the years that has changed.
Cake Mixes
For this recipe, we used a classic yellow cake mix but you can substitute a white cake mix or a butter recipe cake mix. To add an extra layer of flavor substitute any of the 'new' flavored cake mixes that are now popular. Coconut, orange, lemon or even a 'velvet' flavor would be terrific in this recipe. Experiment with cake mix flavors and fruits. Try peaches, pears, plums, and see what you like best. Add flavored extracts to the batter too.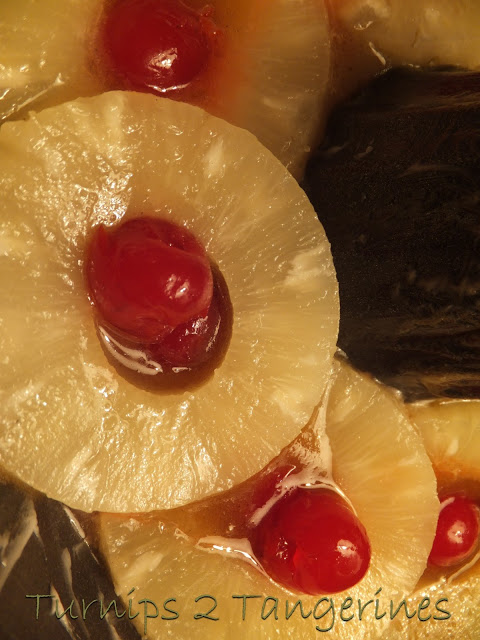 Traditional Pineapple Upside Down Cake
Traditional upside down cakes have very little cake vs pineapple topping. After all, pineapple upside down cake is all about the gooey, caramel, buttery, fruit topping. Add a scoop of ice cream or whipped cream, who needs cake! Pineapple Upside Down Cake along with Bundt cakes, which were so popular in the 1950's and 1960's are making a comeback. Another generation will be enjoying these super delicious cakes.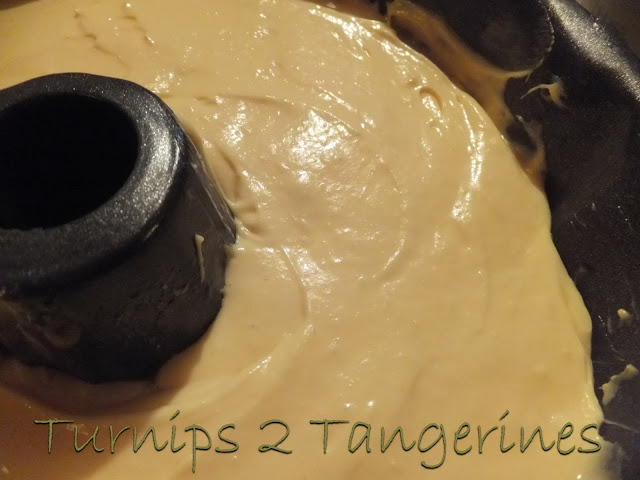 Cake History
In the late 1800's, the term 'upside down cake' first began appearing. Until then, this type of cake was referred to as skillet cakes. Skillet cakes came about out of practicality. Cakes were made in cast-iron skillets on top of stoves due to ovens being unreliable. Cast-iron skillets have been around since the beginning of time. (Well not really, but darn close!) Inverting a cake to reveal the fruit topping dates back as far as the Middle Ages.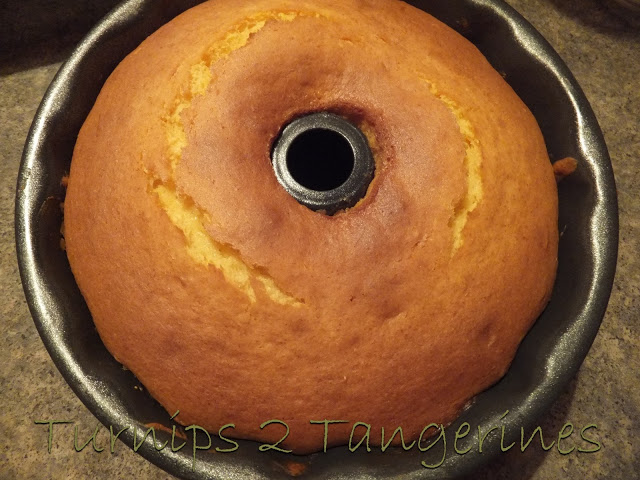 Hawaiian Pineapple Company
The first upside-down cakes were not even made with pineapple but with seasonal fruits such as apples, peaches and cherries. Canned pineapple had not yet been 'invented.' Canned pineapple manufacturing didn't begin until 1901 when Jim Dole established the Hawaiian Pineapple Company, now called the Dole Company. Dole began producing/marketing large quantities of canned pineapple. Canned pineapple from Hawaii was a real luxury back in the day.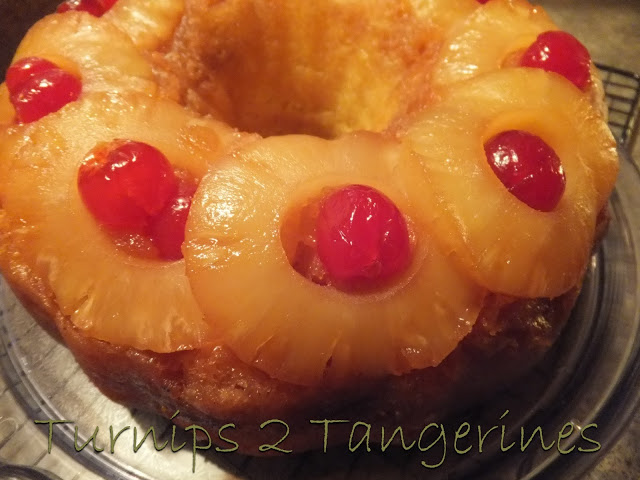 Pineapple Contest
In 1928, the Hawaiian Pineapple Company sponsored a contest for pineapple recipes. The judging panel consisted of judges from Fannie Farmer's School, Good Housekeeping and McCall's Magazine. It's said that 2,500 of the 60,000 submissions were recipes for pineapple upside-down cake. The company decided to run an ad about the flood of pineapple upside-down cake recipes it received and the cake's popularity soared.
For this Recipe
In the 1920's, pineapple upside-down cakes began appearing in magazines, cookbooks and advertisements. This trend has continued. To this day you can open up any magazine and find a recipe for pineapple upside-down cake printed amongst its pages. For this recipe we used 
Dole Pineapple Slices
 and 
Mario Cherries
. We also used a classic yellow cake mix from 
Duncan Hines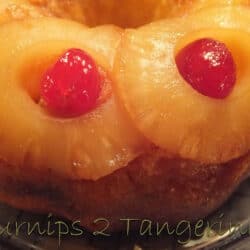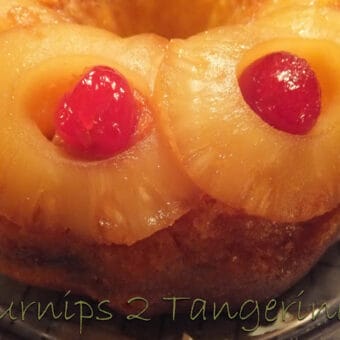 Pineapple Upside Down Bundt Cake
A new twist on an old classic.
Ingredients
2/3

cup

packed brown sugar

8

tablespoons

butter

1

15-20 oz can

pineapple slices

1

6-8 oz jar

whole maraschino cherries

1

15.25 oz box

classic yellow cake mix, plus eggs and oil called for on box
Instructions
Preheat oven to 350º Drain pineapple slices, reserving juice. Set pineapple slices aside

In a small saucepan, melt butter over low heat, add brown sugar and stir until sugar is melted. Remove from heat and set aside.

In large bowl prepare cake mix according to package directions, except use reserved pineapple juice instead of water called for in recipe. If you don't have enough pineapple juice, make up the difference with water.

Spray bundt pan with cooking spray. Pour melted butter/brown sugar mixture in bottom of bundt pan. Arrange as many pineapple slices as will fit in bottom of pan, overlap slices if needed; save remaining slices for another use. Place 1 or 2 cherries in the center of each ring. Carefully pour batter over pineapple/cherry studded slices.

Bake according to package directions for bundt pan. About 40 minutes.

When cake is done, remove from oven and let cool on a wire rack for 5 minutes.

Place dinner plate over top of bundt pan and flip cake over and out onto a serving plate.
Serve Roasted Garlic Pizza Crust for dinner and Pineapple Upside-down Cake for dessert.