Pineapple Macadamia Pinwheel Cookies
We may earn money or products from the companies mentioned in this post.
Pineapple Macadamia Pinwheel Cookies
I'm back with another cookie recipe! Once again featuring  candied fruit provided by my favorite company Paradise Fruit. Candied dried pineapple teams up with macadamia nuts and flaked sweetened coconut to bring you a cookie with a taste of the tropics. Pineapple Macadamia Pinwheel Cookies are easy to make and even easier to eat. Make a batch today and watch them disappear into the sunset.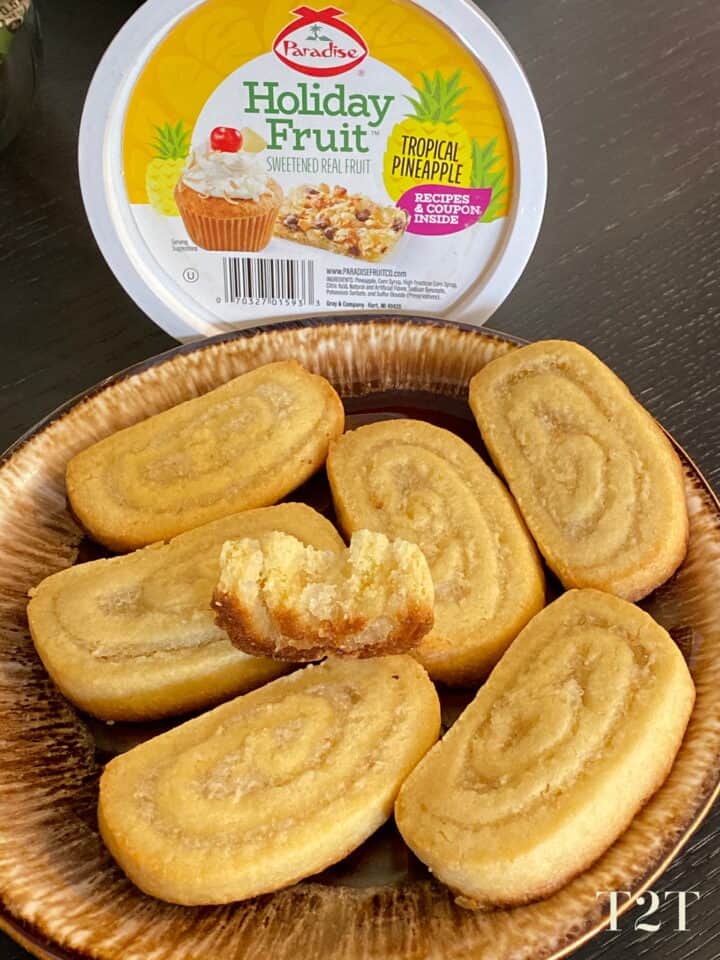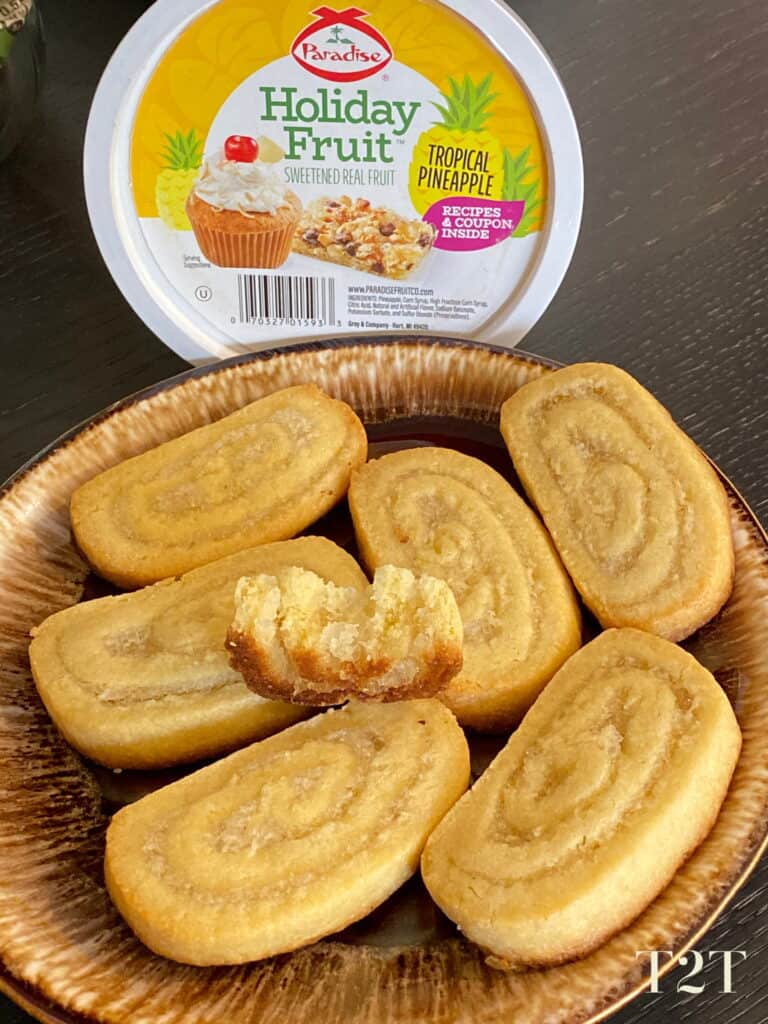 One Recipe, Three Ways
This recipe is the same recipe that I used to make and Chocolate Orange Pinwheel Cookies . The only difference is obviously the obvious! Candied cherries and walnuts replace the candied pineapple and macadamia nuts in the cherry pinwheel cookies. The chocolate orange pinwheel cookies are made with candied orange peel and a few tablespoons of baking cocoa. This of course replaces the candied pineapple and macadamia nuts.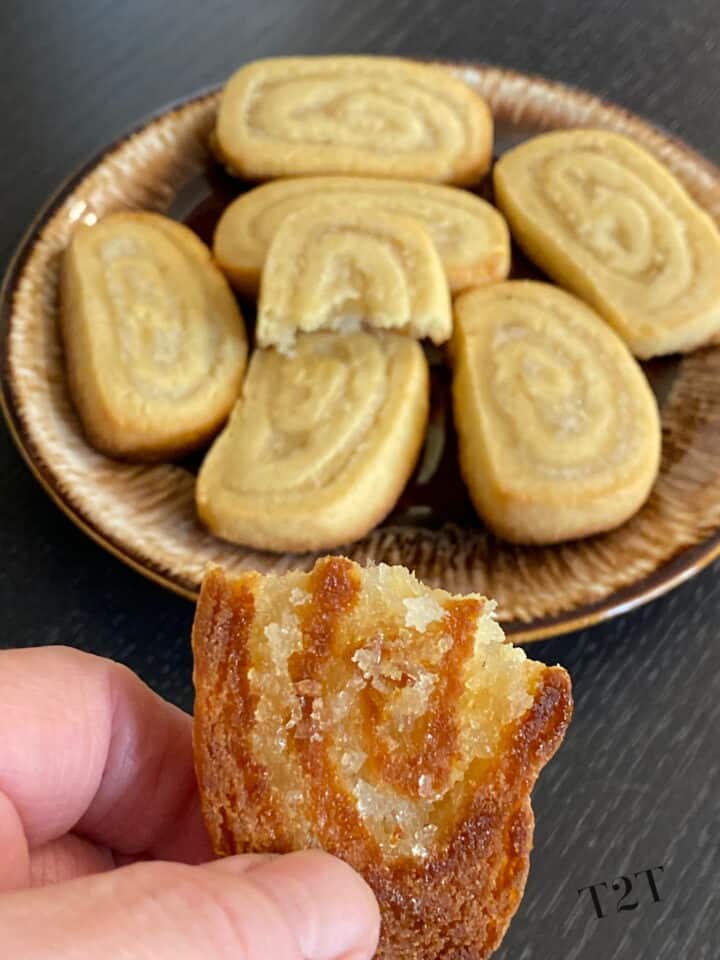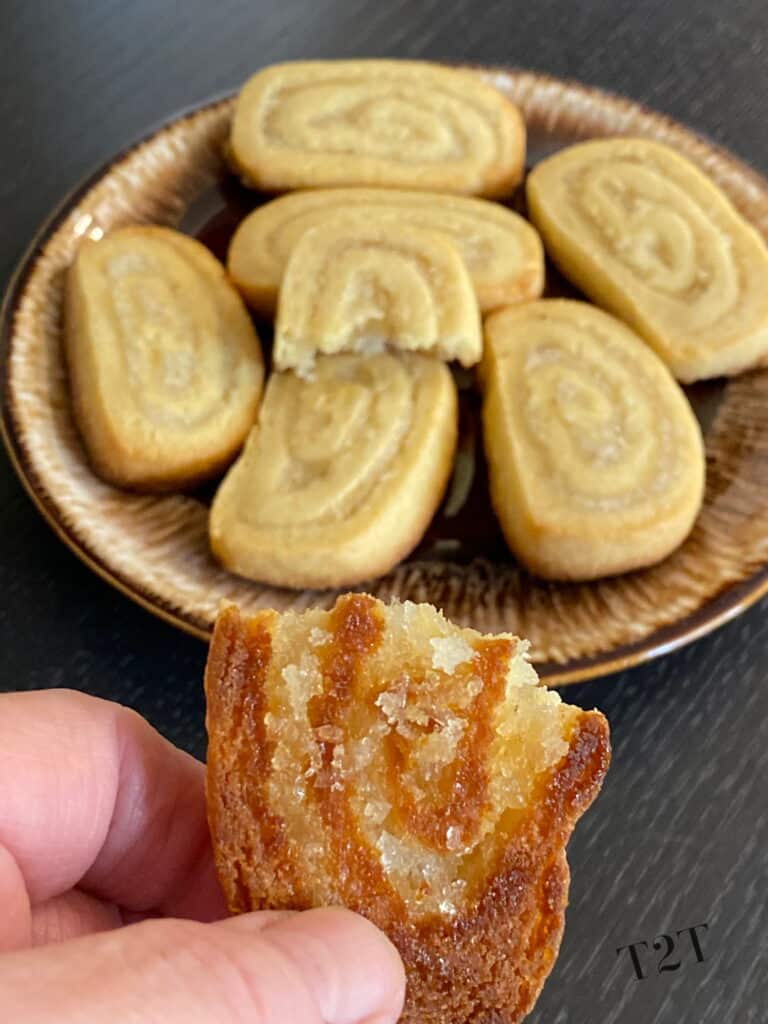 What is needed to make Pineapple Macadamia Pinwheel Cookies? Here is a list of ingredients.
flour
sugar
butter
salt
baking powder
ground candied pineapple
ground macadamia nuts
sweetened flaked coconut
Tropical Flair
I love macadamia nuts and I will confess that I don't use them as often as I should. Macadamia nuts are the perfect nut when you want to add a tropical feel to a recipe. Especially when you team them up with candied pineapple and flaked coconut. If you don't care for macadamia nuts, substitute pecans. Don't like coconut? Leave it out! This simple recipe is very forgiving, literally any combination will work. Dates and walnuts are tye tradition 'pinwheel' cookie filling but this recipe proves that you can use just about anything and still come up with the right ingredients.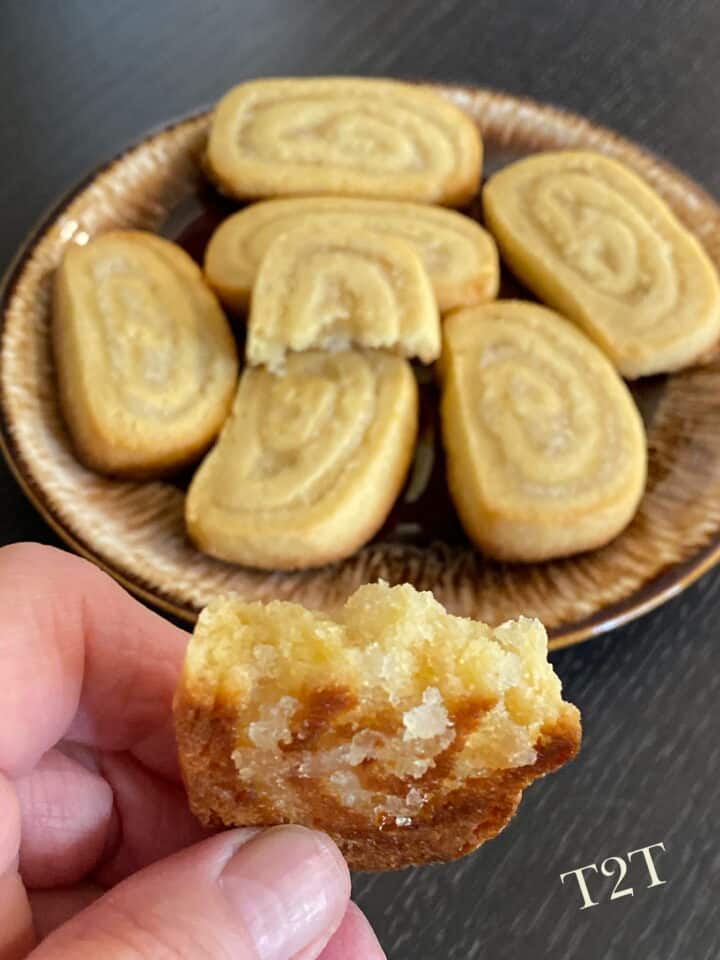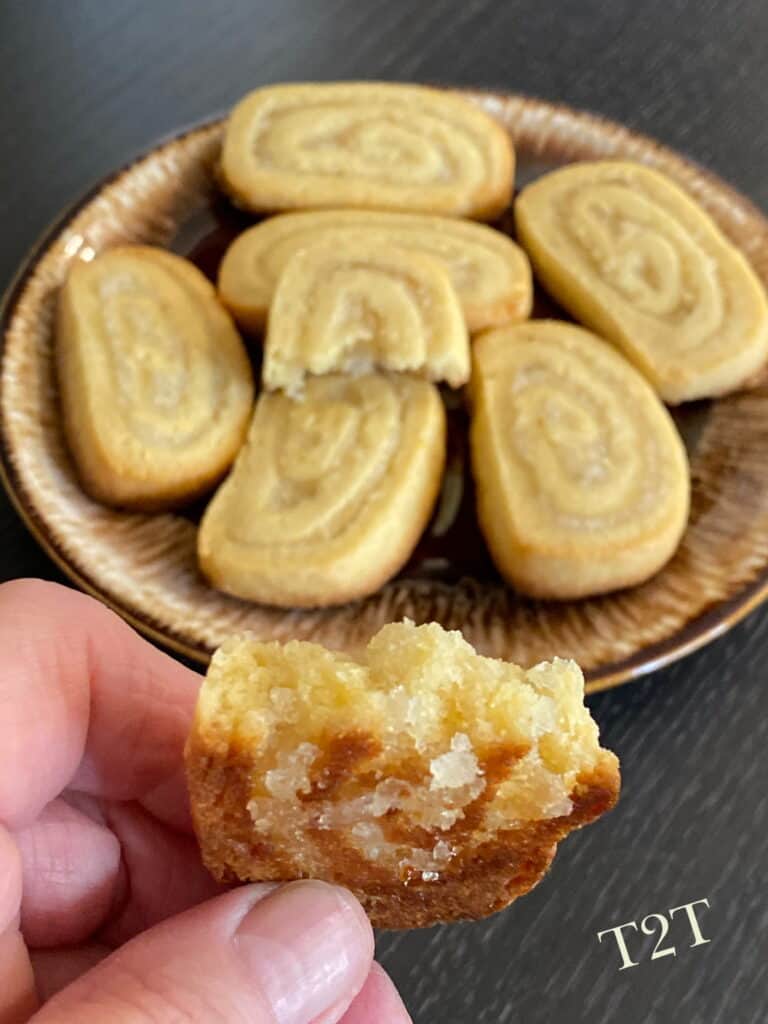 Nuts
Macadamia nuts are tree nuts that have a subtle, butter-like flavor and creamy texture. Native to Australia, macadamia trees are now grown in various places around the world such as Brazil, Costa Rica, Hawaii, and New Zealand. Like most other nuts, macadamia nuts are rich in nutrients and beneficial plant compounds. They're also linked to several benefits, including improved digestion, heart health, weight management, and blood sugar control. Macadamia nuts are wonderful roasted too. Use macadamia nuts in any recipe that you'd use pecans or walnuts.
UP NEXT: Devilish Deviled Egg Recipe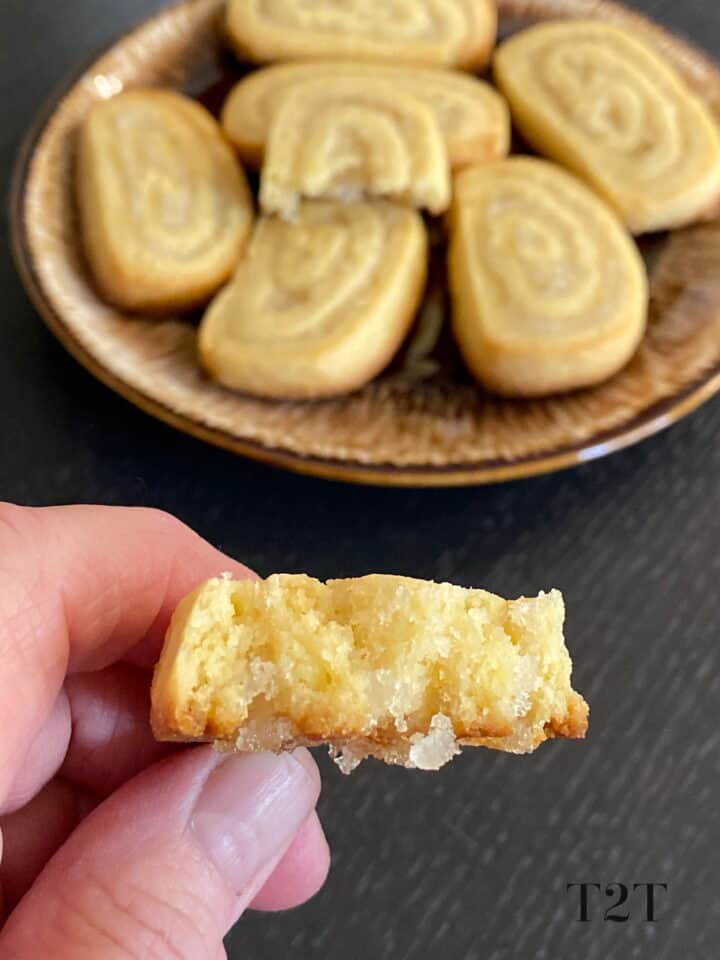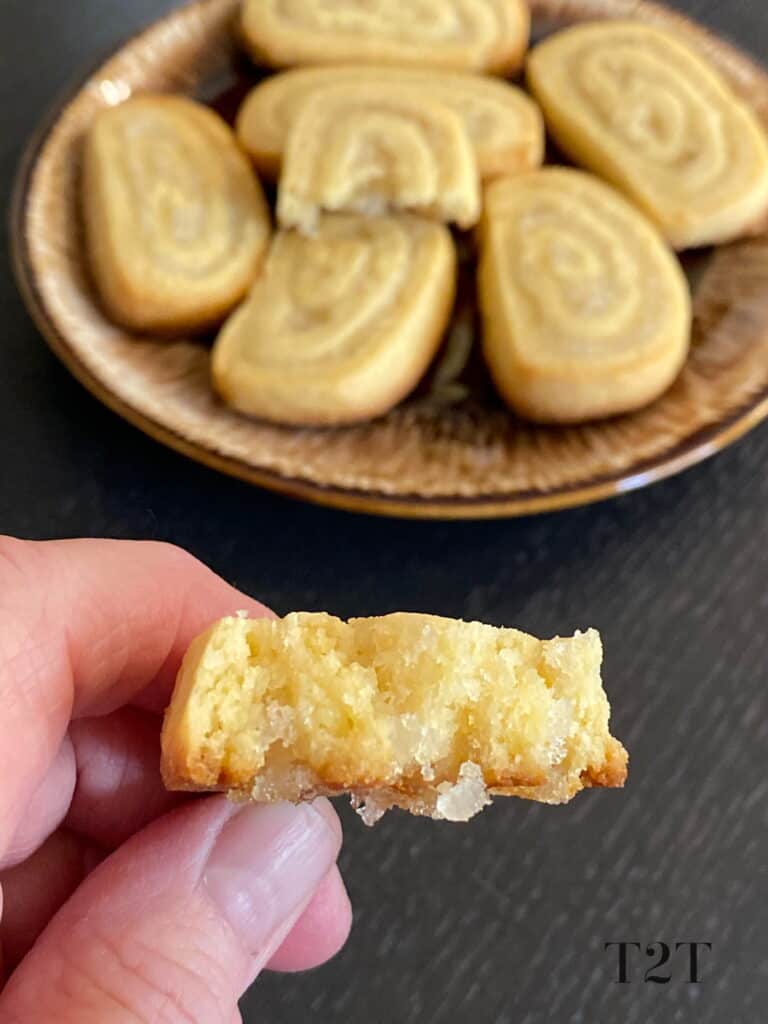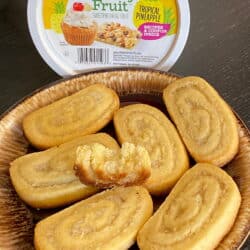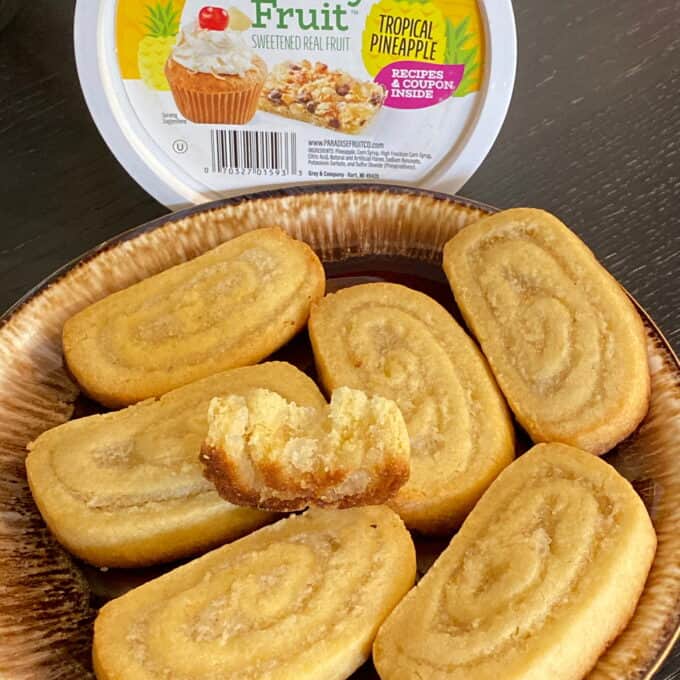 Pineapple Macadamia Pinwheel Cookies
A pinwheel cookie with a tropical flair.
Ingredients
1/2

cup

butter

3/4

cup

sugar

2

egg yolks

1

teaspoon

vanilla extract

1 1/4

cups

sifted all-purpose flour

1/2

teaspoon

baking powder

1/4

teaspoon

salt

1

cup

ground candied pineapple

1/2

cup

ground macadamia nuts

1/3

cup

sweetened flaked coconut
Instructions
Preheat oven to 375 degrees. Line cookie sheets with parchment paper. Set aside.

Cream butter; add sugar gradually; beat in egg yolks and vanilla. Blend in sifted dry ingredients.

Roll dough on a floured surface into a 12-inch square.

Mix together ground pineapple, macadamia nuts and coconut. Spread on dough. Roll as for jelly roll; wrap in plastic wrap and chill overnight.

Cut dough into 1/8 inch slices. Place cut side down on prepared baking sheets. Bake at 375 degrees for 12 minutes or until cookies are golden brown and slightly puffed. Cool on baking sheets for 5 minutes. Remove and let cool on wire racks.