Pimento Macaroni and Cheese
We may earn money or products from the companies mentioned in this post.
Pimento Macaroni and Cheese
This recipe is my take on Cook's Country, Pimento Macaroni and Cheese recipe. It's super delicious and made with jarred pimentos. When most people think of pimentos they think of Southern cooking. Pimento cheese is a staple in the South and is most often served on crackers or used to make super sandwiches. Here in my Northern neck of the woods, pimentos are most often seen stuffed into pitted green olives and served in a cocktail.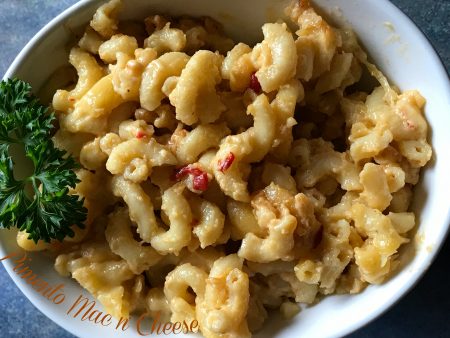 What are Pimentos?
What exactly are pimentos? Pimentos are large red, heart-shaped sweet peppers, that measure 3 to 4 inches long. The flesh of the pimento (Spanish for "pepper") is sweet, succulent and aromatic therefore shouldn't be confused with red bell peppers. Bottled pimentos, (halved, strips or pieces) are available year round and can be found by the other canned vegetables in grocery stores. Much of the pimento crop is used to make paprika.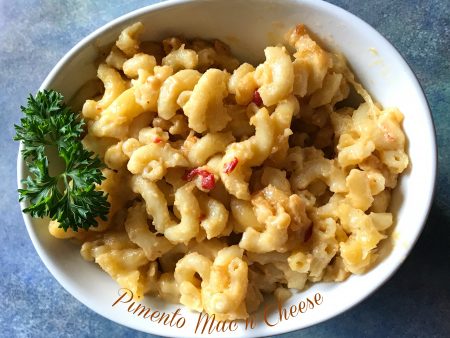 The Cheese
You certainly can't mention macaroni and cheese without mentioning the cheese. After all, you can't have mac n' cheese without the cheese. The best mac n' cheese is made with a béchamel sauce. A béchamel sauce is a quick, flour-thickened milk sauce that when combined with cheese, creates a smooth and silky cheese sauce that doesn't break down. We like to use two of our favorite cheeses; shredded Gouda and shredded extra-sharp cheddar cheese.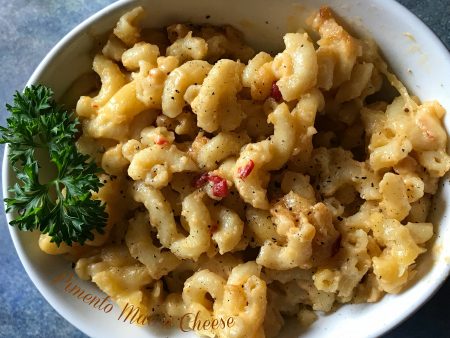 Elbow Pasta
The remaining ingredients in this recipe are as important as the pimientos and cheese. Elbow macaroni seems to be the classic noodle to use. I'm not sure why but it seems to me that elbow macaroni works the best in mac and cheese recipes. Elbow macaroni holds its shape the best and absorbs even when reheated. Cook the elbow pasta in boiling water just until al dente. Drain and set aside while making the sauce. The pasta will finish softening up while cooking in the oven.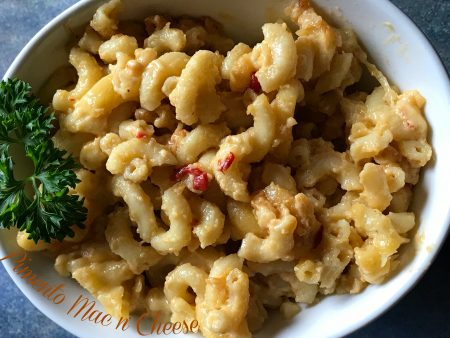 Add Some Heat
Keen's dry mustard, Worcestershire sauce, Franks RedHot sauce and a few good grinds of black pepper give this recipe for mac and cheese a big punch of flavor. You can certainly adjust the amount of heat per personal preference. I started topping my mac n' cheese with hot sauce after I saw a few people at Noodles and Company doing it. A few drops of hot sauce added to my Wisconsin Mac n' Cheese bowl added that extra somethin' somethin'. I've been adding hot sauce to all of my mac n' cheese recipes ever since.
As I stated, this recipe originated in the Cooks Country Magazine, June/July 2017. I've changed the recipe somewhat to suit our tastes but the end results are super delicious. This recipe makes a  13 x 9-inch baking dish, and will make a fantastic main dish or side dish. My hubby and I ate pimento mac n' cheese for our dinner and as a side dish for the next two days. It reheats beautifully! Pimento macaroni and cheese will make a delicious side dish to serve with your Thanksgiving Dinner.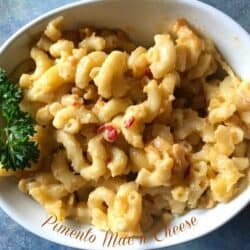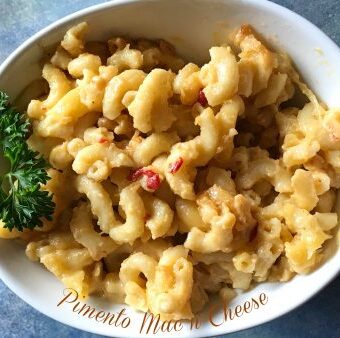 Pimento Macaroni and Cheese
Super creamy and delicious!
Ingredients
1

pound

elbow macaroni

4

tablespoons

unsalted butter

3

tablespoons

all-purpose flour

1

tablespoon

dry mustard

2

cups

whole milk

2

cups

heavy cream

2 1/2

cups

shredded extra-sharp cheddar cheese

2 1/2

cups

shredded Gouda cheese

2

ounces

cream cheese or sour cream

2

tablespoons

hot sauce

1

tablespoon

Worcestershire sauce

2

4-ounce jars

chopped pimentos, drained
Instructions
Adjust oven rack to upper-middle position and heat oven to 375° Bring 4 quarts water to boil in Dutch oven. Add macaroni and 1 tablespoon salt. Cook for 5 minutes. Drain macaroni; set aside.

Add butter to now empty pot and melt over medium-high heat. Stir in flour, mustard, 3/4 teaspoon pepper, and 1/2 teaspoon salt. Cook until mixture is fragrant and bubbling, about 30 minutes. Slowly whisk in milk and cream. Bring to a boil. Reduce heat to medium-low and simmer until sauce is thick enough to coat back of spoon, about 2 minutes, whisking frequently.

Remove pot from heat. Add 2 cups sharp cheddar cheese and 2 cups Gouda cheese, cream cheese or sour cream, hot sauce, Worcestershire sauce and whisk until cheese is melted. Add pimentos and macaroni. Stir until macaroni is thoroughly coated in sauce. Transfer to a 13 x 9-inch baking dish. Sprinkle with remaining 1/2 cup cheddar cheese and 1/2 cup Gouda.

Bake until edges are lightly browned and filling is bubbly, 25 to 35 minutes. Let rest 10 minutes before serving.
Get a head start on those Thanksgiving left-overs. Here is a list of some of our most loved turkey left-over recipes. We you're out and about buying your Thanksgiving dinner ingredients, don't forget about the left-overs. Pick up what you'll need to make any of the fantastic turkey left-over meals that made our list:) Turkey Recipes with Left Overs
Recent Recipe: Green and Gold White Chocolate Fudge