Pickled Shrimp with Fresh Basil
We may earn money or products from the companies mentioned in this post.
Pickled Shrimp with Fresh Basil
This simple shrimp recipe is the perfect summertime appetizer. It can easy double as a light lunch or dinner meal. As an appetizer, simply serve with a large slotted spoon. As a light meal, serve pickled shrimp over a bed of lettuce or mixed greens. Feel free to use lemons instead of the limes used in this recipe. I had extra limes on hand so that's what I went with. Have one of each? Then use one lemon and one lime.  Recipe Tip: When taking this appetizer to bring to a party or if you've invited friends over, double the recipe for Pickled Shrimp with Fresh Basil. Combine all ingredients in a large glass jar* with a screw top. Serve with a long-handled slotted spoon.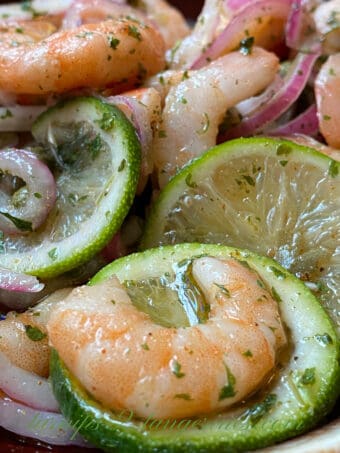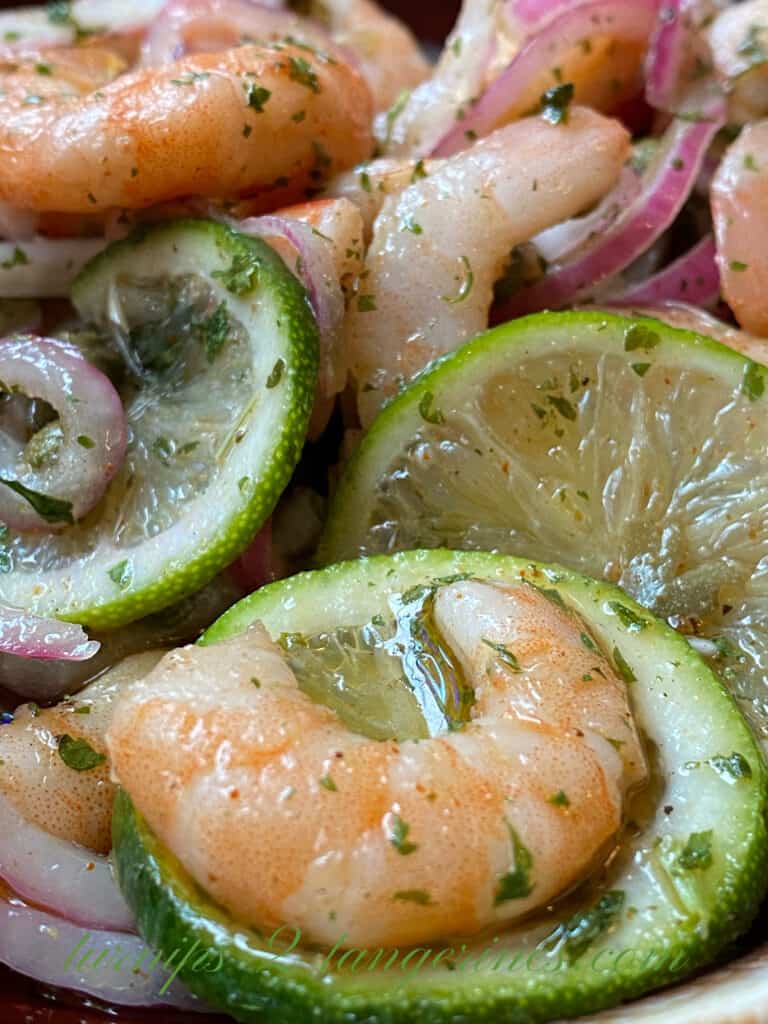 Medium Shrimp or Larger
The secret to the success of this recipe is an easy one; use medium (pre-cooked) shrimp or larger. Leave the small or tiny shrimp for a salad recipe. The shrimp is an essential part of this recipe. The larger the better and preferably the fresher the better. This will depend greatly on which part of the country you leave in. If you live on the Gulf of Mexico and have access to fresh shrimp, then consider yourself lucky! (BTW, I'm extremely jealous:) Here in Wisconsin we have to rely on fresh/frozen shrimp or as the sign says at the grocery store, fresh, but previously frozen shrimp?!? However, this type of shrimp responds very well to any recipe for pickling or marinating.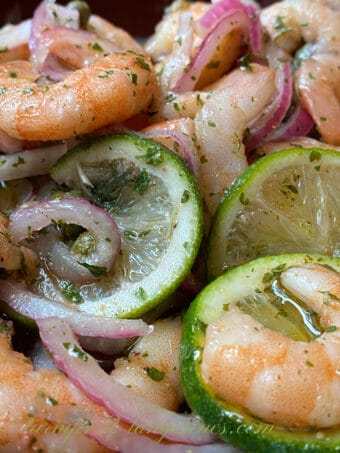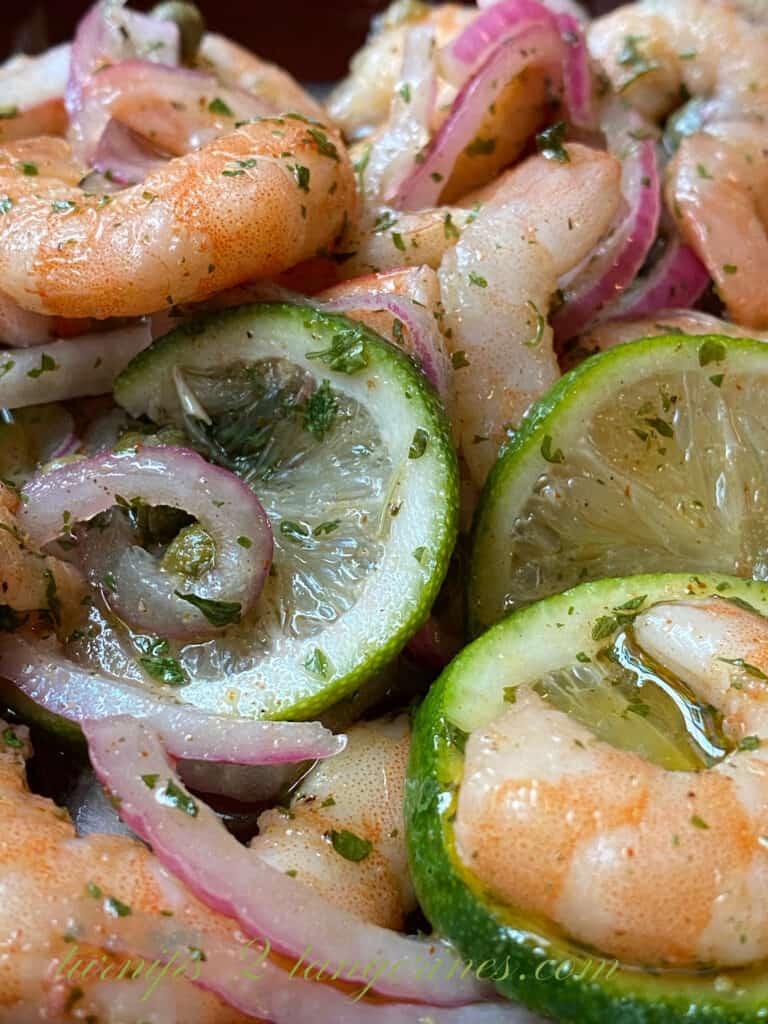 Fresh Basil
Basil is just as important in this recipe as the shrimp. Fresh basil, sliced into thin ribbons or "to chiffonade" is a must have ingredient. Dried just won't cut it. If you have trouble finding basil in your area, which sometimes I have, consider growing a small container of basil. A few leaves of fresh basil adds so much flavor to whatever you add it too. Its relatively easy to grow and you will reap the rewards. Another option would be to head to the nearest Trader Joe's where I know for a fact that they sell fresh basil plants. In fact, while your there pick up the ingredients for this recipe, head on home and whip it up.
UP NEXT: Barbecue Chicken Nuggets in Air Fryer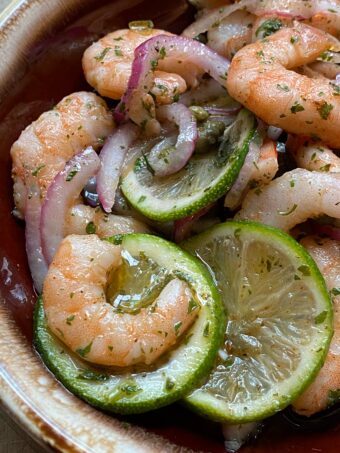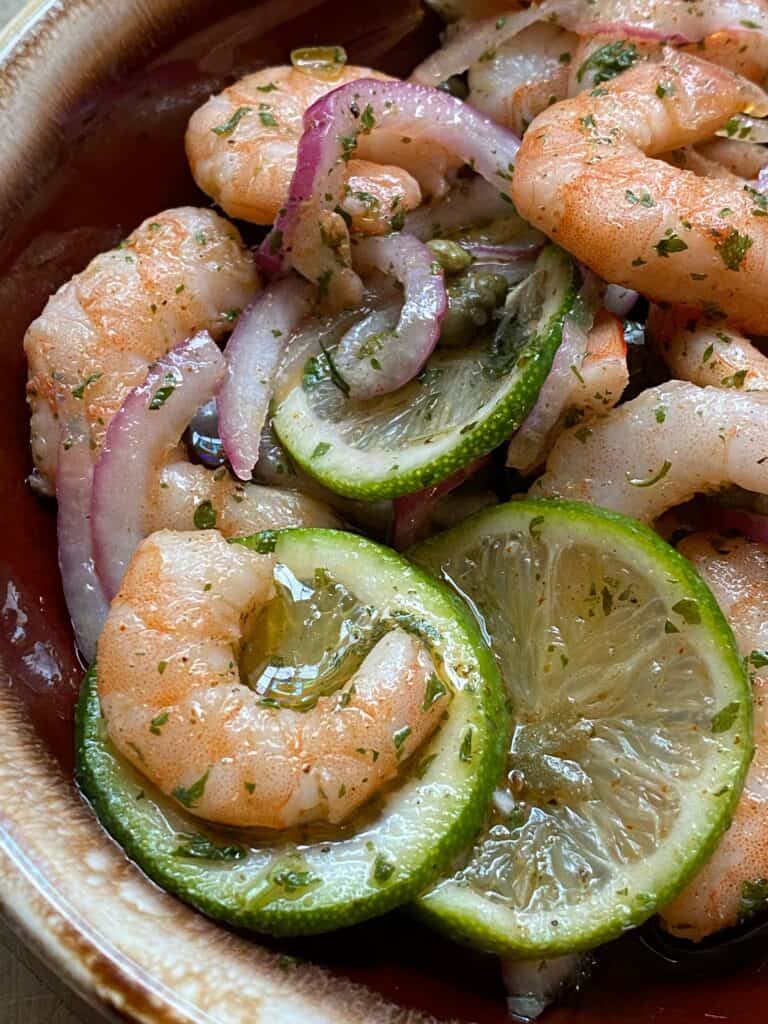 Here are a few more shrimp recipes we know you'll love.
*Side Note: Anchor Hocking has the perfect jar to serve Pickled Shrimp with Fresh Basil. It's a clear gallon size glass jar that is fashioned after the old pickle jars from days gone by. It has a screw top with a wooden handle. I found the jar at the Webstaurant Store. Check it out! After you're finished using the jar to serve pickled shrimp from, you'll have a super cool gallon size glass jar with a screw top and wooden handle.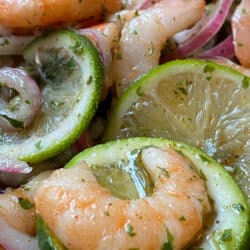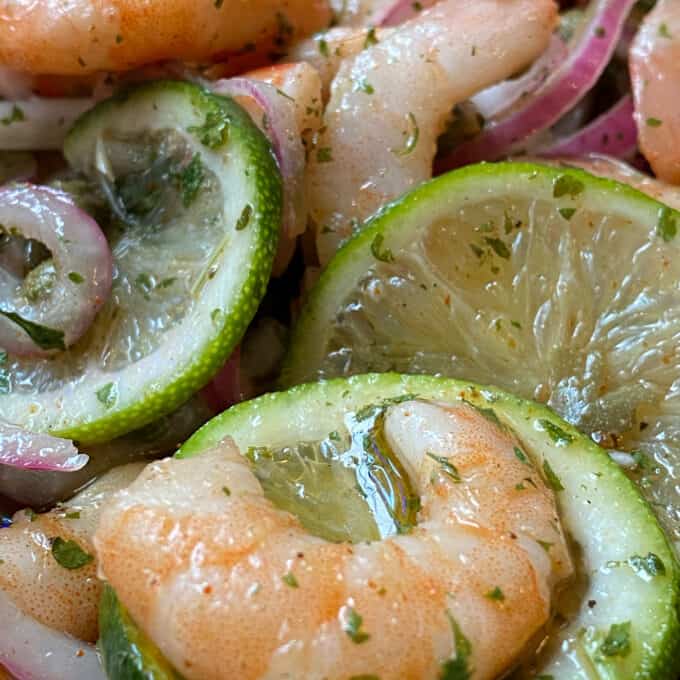 Pickled Shrimp with Fresh Basil
Perk up pickled/marinated shrimp with the fresh citrus and basil.
Ingredients
1/2

cup

red wine vinegar

1/2

cup

olive oil

2

teaspoons

seafood seasoning

2

teaspoons

stone-ground mustard

1

clove

garlic, minced

2

lbs.

peeled and deveined cooked shrimp (31-40 per pound)

2

limes, thinly sliced

1/2

medium

red onion, thinly sliced

1/4

cup

thinly sliced fresh basil

2

tablespoons

capers, drained

1/4

cup

minced basil

1/2

teaspoon

salt

1/4

teaspoon

ground pepper
Instructions
In large bowl, whisk the first five ingredients. Add shrimp, lime, onion, sliced basil and capers; toss to coat.

Refrigerate, covered, up to 8 hours, stirring occasionally.

Just before serving, stir minced basil, salt and pepper into shrimp mixture. Serve with a slotted spoon.