Pickled Pearl Onions
We may earn money or products from the companies mentioned in this post.
Pickled Pearl Onions
Today when I stopped at my favorite farm, Nicolet Farms, to see what they had available I found these cute little pearl onions. I love these little pearl onions. I usually freeze a full baggie or two. Perfect to put in Beef Stew (my favorite way to use them) and they're great to use in any crock pot meal. This year I decided to pickle a few jars. Pearl onions are really easy to pickle, the hardest part is cleaning and peeling the onions and getting them ready. I cleaned and peeled roughly 6 lbs. of pearl onions. Next time I decided to pickle pearl onions, I'm going to employ the help from my grand kids!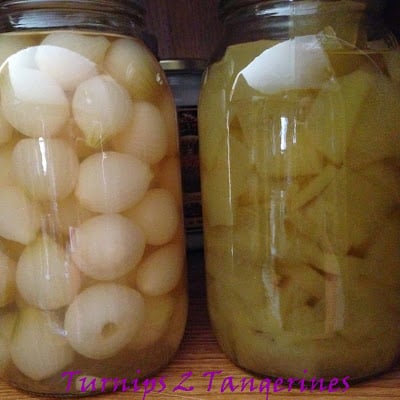 Pearl Onions
Tiny pearl onions are mild-flavored and roughly about the size of a large marble. They can be cooked or creamed and served as a side-dish. Or many times, pearl onions are pickled. When pickled they are used as a condiment or as a garnish. They're used as a garnish in the famous cocktail, the Gibson.
The Gibson
The Gibson cocktail is so named for the famous American "Gibson Girl" illustrator, Charles Dana Gibson. This cocktail is identical to the Martini made with gin and dry vermouth. The two differ only in that it is served garnished with a tiny white pearl onion instead of an olive. Hmm, I had no idea that a tiny white pearl onion could have such an impact on a cocktail:)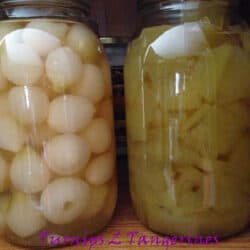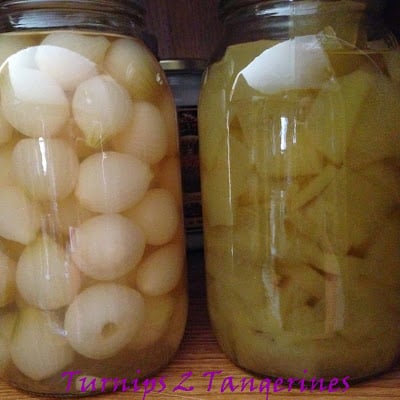 Pickled Pearl Onions
Pickled Pearl Onions are super delicious as an appetizer or in a cocktail called a Gibson.
Ingredients
8

cups

peeled white pearl onions

5 1/2

cups

white vinegar

1

cup

water

2

teaspoons

canning salt

2

cups

sugar

2

tablespoons

pickling spice, prepare a bouquet garni
Instructions
To peel onions:

Place a few at a time in a wire mesh basket or strainer, dip into boiling water for 30 seconds. Remove and place in cold water for 30 seconds. Cut a small slice from root end, to top of onion, and then remove peel, rinse.

Wash and rinse 3 quart canning jars. Keep hot until ready to use. Prepare lids and bands.

Combine vinegar, water, salt and sugar in a 8 quart dutch oven. Bring to a boil and boil gently for 3 minutes. Add peeled onions and bouquet garni, bring back to a boil. Reduce heat to a simmer and heat until the onions are half-cooked (5 minutes). Remove bouquet garni.

Fill hot jars with the hot onions, leaving a 1-inch headspace. Cover with hot pickling liquid, leaving a 1/2 inch headspace. Remove air bubbles. Wipe rims of jars with a damp cloth. Adjust two piece metal canning lids. Process in a boiling water canner for 10 minutes.

Let cool, check seals.
Nutrition
Serving:
1
g
,
Calories:
161
kcal
,
Carbohydrates:
36
g
,
Protein:
1
g
,
Fat:
1
g
,
Saturated Fat:
1
g
,
Sodium:
393
mg
,
Potassium:
40
mg
,
Fiber:
1
g
,
Sugar:
34
g
,
Vitamin A:
5
IU
,
Vitamin C:
1.9
mg
,
Calcium:
18
mg
,
Iron:
0.2
mg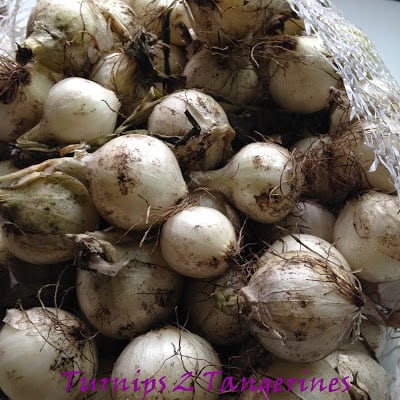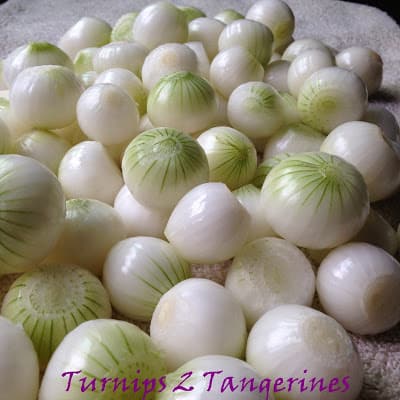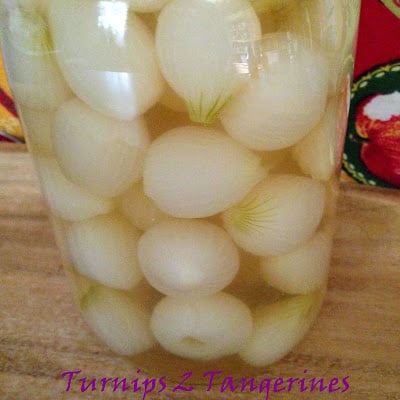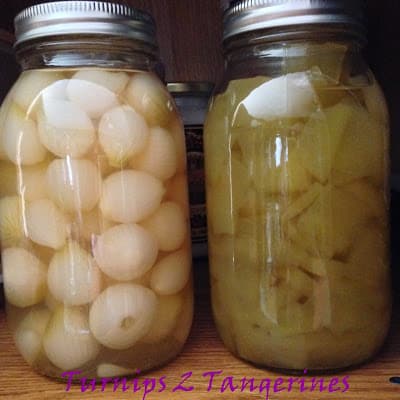 Try this delicious recipe using Pearl Onions: Perfect Crock-pot Beef Roast
Recent Recipe: Home Style Fried Corn