Philadelphia Cream Cheese Cheesecake
We may earn money or products from the companies mentioned in this post.
Philadelphia Cream Cheese Cheesecake
What better way to say goodbye to this bizarre year than with a piece of cheesecake. Some of you will ring in the New Year with a glass of bubbly but I'm going to say goodbye to 2020 with cheesecake! Philadelphia Cream Cheese Cheesecake is the Queen of all Cheesecakes, in my opinion. We love any type or flavor of cheesecake but I still prefer plain old cheesecake and New York Style Cheesecake. Now my hubby on the other hand likes his cheesecake piled high with cherry pie filling and non-dairy whipped topping. To each their own, as the old saying goes.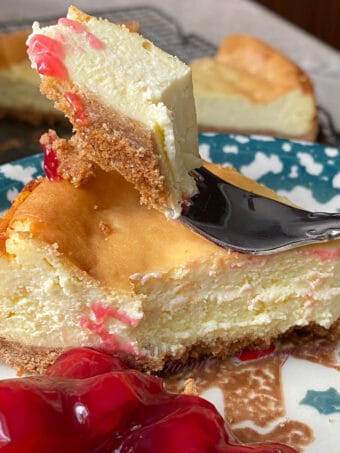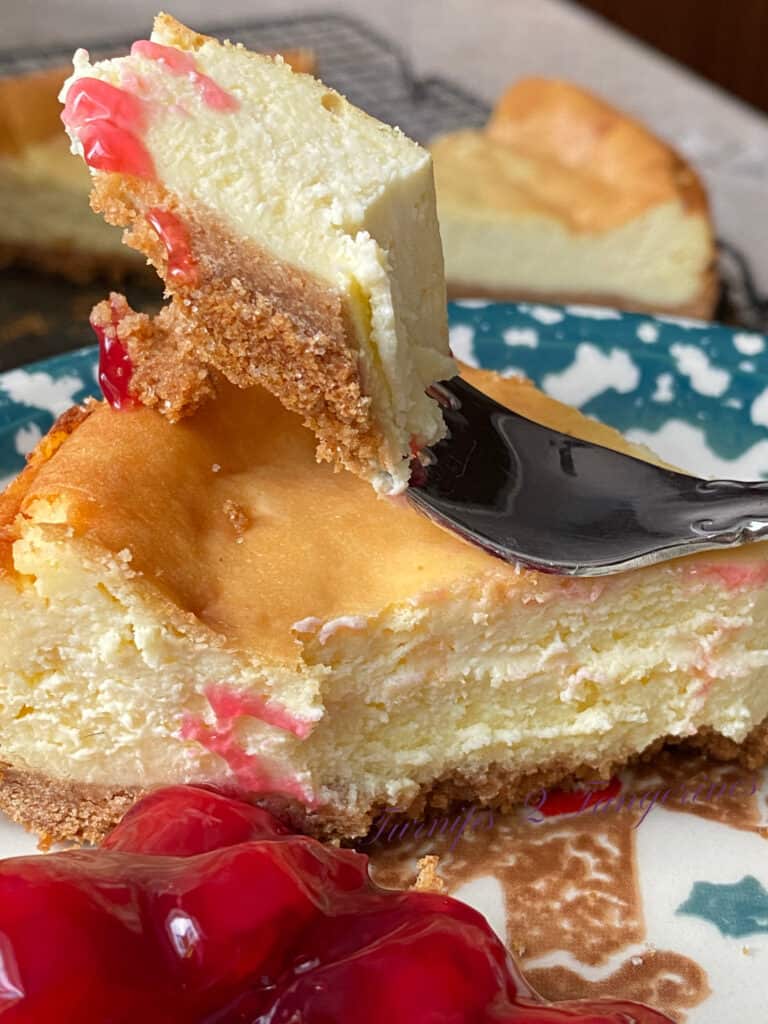 Philadelphia Cream Cheese History
What is arguably the world's most popular brand of cream cheese did not originate in Philadelphia. In fact it's not produced there and has never been manufactured in the Philadelphia or in the state of Pennsylvania for that matter. If Philadelphia cream cheese isn't from Philly, then why is it even called that?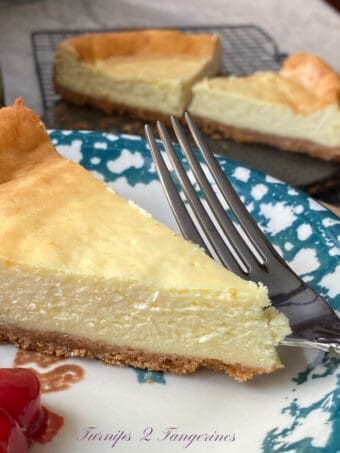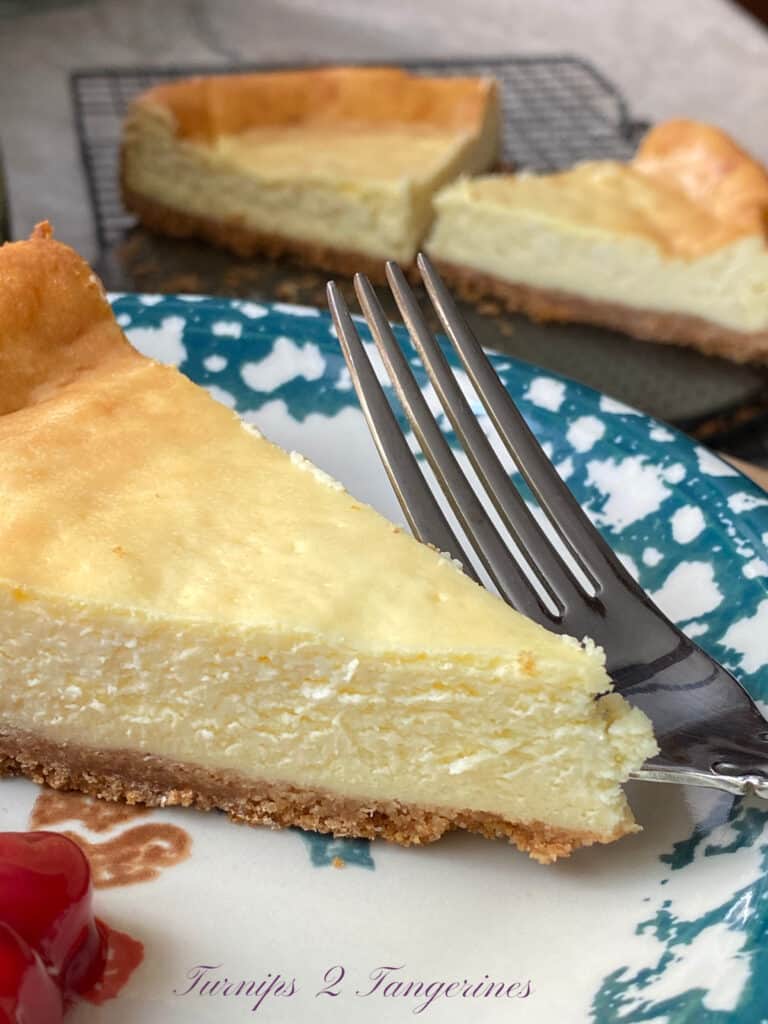 Philadelphia Cream Cheese which was founded by a man named William Lawrence, has been making its cream cheese in New York since 1872. Lawrence, a dairyman from Chester, New York, was attempting to make Neufchâtel cheese, a tangy, crumblier cheese product that was popular in Europe at the time. He accidentally added too much cream and created a richer, more spreadable cheese. Lawrence wouldn't start selling his cream cheese under the name "Philadelphia" for a few more years.
In the 80's snd Beyond
In 1880, he partnered with A.L. Reynolds (a larger cheese distributor in the state) to sell larger quantities of cream cheese. At the time, Pennsylvania had a reputation for its high-quality dairy farms. This led to them putting the name "Philadelphia" on the foil-wrapped blocks of cream cheese. Reynolds wanted people to know the cheese was high quality and Philadelphia was associated with high quality dairy products at the time.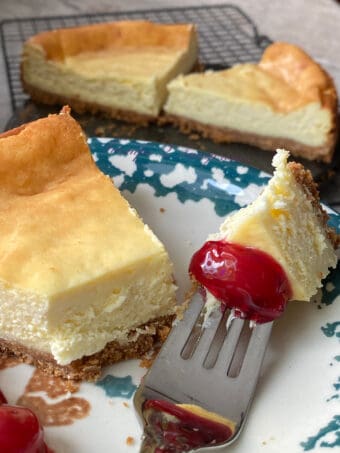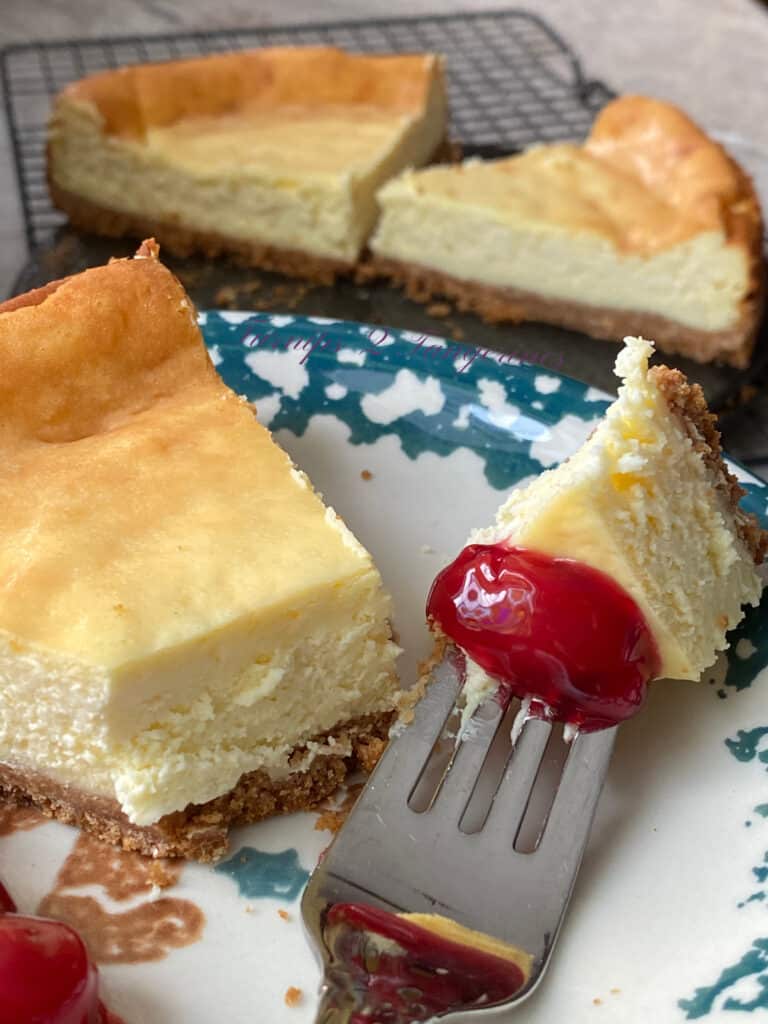 Over the years, the company went through a few changes and Reynolds eventually sold the trademarked name Philadelphia to the Phenix Cheese Company. Philadelphia truly became a household name in 1928, when Phenix merged with the wholesale cheese-delivery business Kraft to form the Kraft-Phenix Cheese Company.
Loved By All
Today, Philadelphia Cream Cheese is loved by chefs and home cooks, as a base for desserts, dips and sauces. Just sit and think for a moment…what if we didn't have cream cheese? Think of all of the recipes we wouldn't have if it wasn't for cream cheese! The horror of it! No cheesecake, dips, sauces or The "star ingredients," are milk and cream from Beaver Dam, Wisconsin, and Lowville, New York. I might be bias but Wisconsin milk, cream, cheese, ice cream and butter is by far is the absolute best. Hats off to Wisconsin Dairy Farmer's for making Wisconsin America's Dairyland.
UP NEXT: Grilled Plums with Caramel Sauce
Easier Than You Think
One of my all thyme favorite desserts is cheesecake. For Thanksgiving this past year I made a delicious pumpkin cheesecake with a windmill cookie crust. We devoured it before I was able to take a few pictures so I haven't posted the recipe yet! I guess I'll have to make another one and snap a few pictures before we dive in. Believe it or not, cheesecake is really easy to make. Take a look at the recipe, nothing to it! The first cheesecake I ever made was Raspberry Swirl White Chocolate Cheesecake . The recipe was in one of my many Taste of Home cookbooks and it's truly decadent.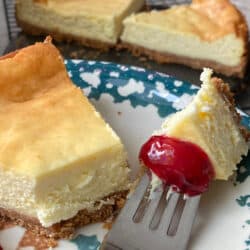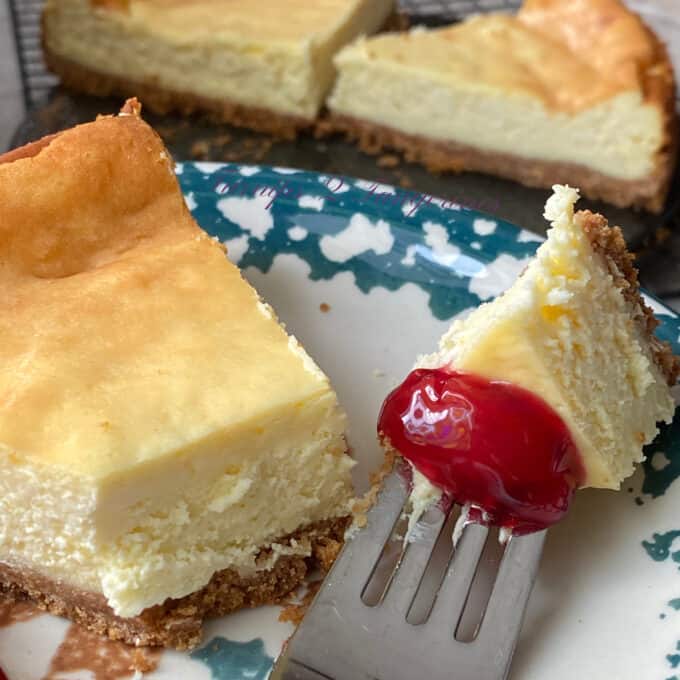 Philadelphia Cream Cheese Cheesecake
Super Delicious and So Easy
Ingredients
1 ½

cups

HONEY MAID Graham Cracker Crumbs

3

tablespoons

sugar

⅓

cup

butter, melted

4

8 oz packages

PHILADELPHIA Cream Cheese, softened

1

cup

sugar

1

teaspoon

vanilla

4

large

eggs
Instructions
Preheat oven to 325 degrees F.

Mix crumbs, 3 tablespoons sugar and butter; press firmly onto bottom of 9 inch springform pan.

Beat cream cheese, 1 cup sugar and vanilla with mixer until well blended. Add eggs, 1 at a time, mixing on low speed after each just until blended. Pour over crust.

Bake for 55 min. or until center is almost set.

Cool cheesecake on wire rack for 15 minutes. Loosen cake from rim of pan; cool before removing rim. Refrigerate 4 hours or overnight before serving.
HAPPY NEW YEAR!