Peppers Pepperoni Mushroom Stromboli
We may earn money or products from the companies mentioned in this post.
Peppers Pepperoni Mushroom Stromboli
Let me reassure you. Peppers, Pepperoni, Mushroom Stromboli tastes much, much better than the photos suggest. Made with peppers, fresh mushrooms, garlic, roasted red peppers, sliced black olives, pepperoni and a whole lotta cheese! Oh and did I mention that this delicious Stromboli is made with a loaf of frozen (thawed) whole wheat bread dough. Peppers, pepperoni, mushroom Stromboli turned out fantastic!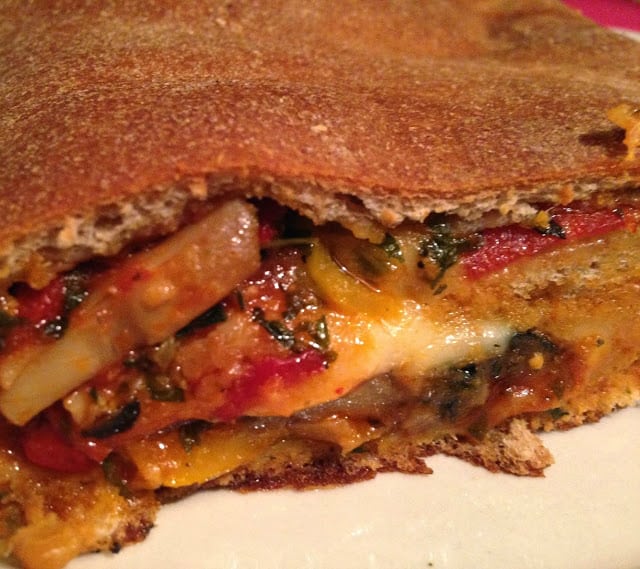 Why Stromboli?
All this Stromboli making, got me thinking, "Why haven't I made Stromboli more often?" After all, its a great way to use up left-overs, it's easy to make and it doesn't really matter what ingredients you use because let's face it, anything enclosed in bread dough is going to taste good.
What is Stromboli?
A Stromboli is a calzone-like enclosed sandwich, made with cheese, usually mozzarella, pepperoni or sliced cold cuts, spaghetti or pizza sauce, onions, mini peppers and/or mushrooms, all wrapped up in a pizza or bread dough. It's then baked until everything is nice and melted and the dough is golden brown. There are so many variations of Stromboli that the possibilities are endless.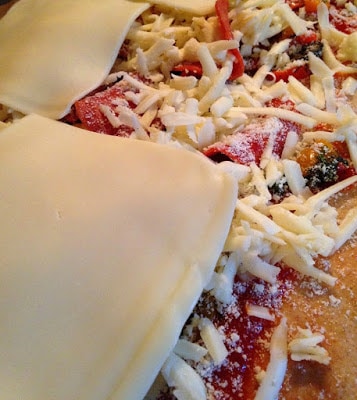 Recent Recipe: Roasted Cauliflower with Tomatoes, Garlic, & Onions  and Jeweled Almond Thumbprint Cookies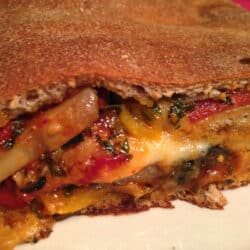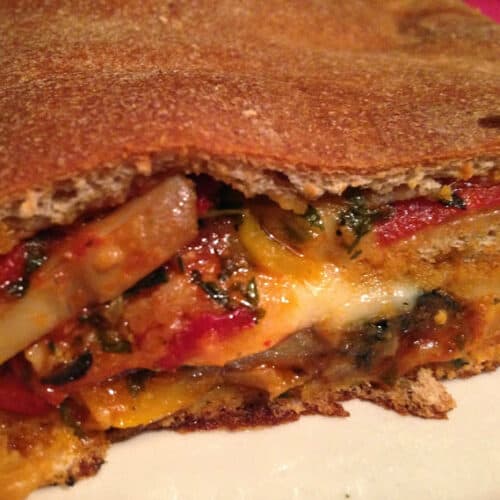 Peppers Pepperoni Mushroom Stromboli
A delicious Italian sandwich.
Ingredients
1

loaf frozen

whole wheat bread dough, thawed

,

thawed

1

cup or more

spaghetti or pizza sauce of your choice

3

tablespoons

olive oil

6

mini sweet peppers, sliced

1

4 oz can

sliced mushrooms, drained

2

cloves

garlic, minced

1/2

cup

jarred roasted red peppers, chopped

1/2

cup

sliced black olives

1/2

teaspoon

each garlic powder, onion powder, basil, parsley, oregano and pepper.

1

3 oz package

sliced pepperoni

1 to 2

cups

shredded mozzarella cheese

6

ounces

sliced provolone cheese

1/3 to 1/2

cup

grated Parmesan cheese

1

egg, slightly beaten
Instructions
Place bread dough in a large greased bowl, turning once to grease top. Cover and let rise in a warm place until doubled in size, about 45 minutes.

Heat oil in a large skillet on medium heat. Add sweet peppers, mushrooms, garlic, roasted red peppers, black olives and all of the seasonings. Stir constantly until veggies tender. Remove from heat. Set aside.

Preheat oven to 375º

Punch dough down. Roll loaf into a 15 x 12-inch rectangle on a lightly floured surface. Spread spaghetti or pizza sauce over dough to within 1/2 inch from the edge. Layer pepper mixture, pepperoni, Provolone cheese and mozzarella cheese. Sprinkle with Parmesan cheese.

Fold ends inward towards middle, about an inch in, fold one long side in towards middle, fold remaining long side in towards middle, pinching ends together. Place seam side down on greased baking sheet. Lightly brush beaten egg over top. Sprinkle with Parmesan cheese and dried herbs.

Bake for 30 to 35 minutes or until lightly browned.

Let stand 5 to 10 minutes before cutting
*Broccoli Bacon Cherry Salad is a super delicious salad made with a mixture of broccoli, onion, bacon, dried cherries, cheese and sunflower seeds. A light mayonnaise, sugar and vinegar dressing is poured over the broccoli mixture and tossed together.