Peppermint Patty Fudge Brownies
We may earn money or products from the companies mentioned in this post.
Peppermint Patty Fudge Brownies
What can I say about these brownies, they're perfect! Minty, Chocolaty, Fudgy and Decadent. They taste like a cool, minty piece of chocolate fudge. Peppermint Patty Fudge Brownies are frosted with peppermint cream cheese frosting. Doesn't get much better than that in my eyes. They're perfect for St. Paddy's Day too.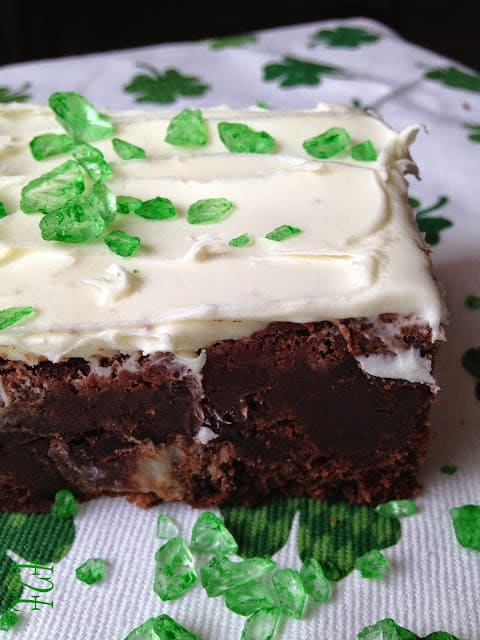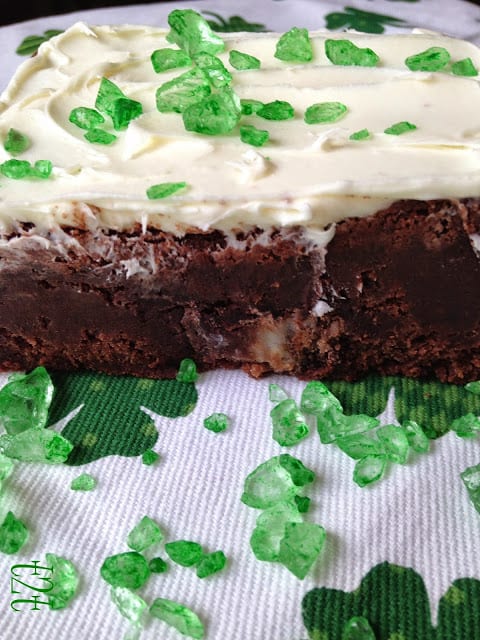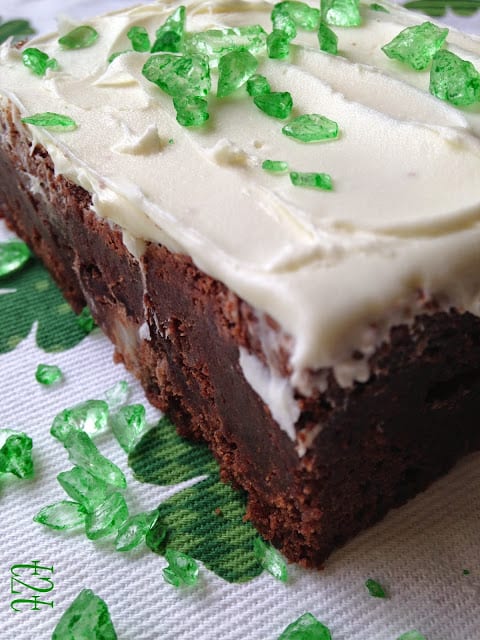 Mint and Chocolate 
Mint and Chocolate, a match made in flavor combination heaven. This classic flavor duo has been around ever since peppermint patties became popular way back when. I can remember a time when individually wrapped peppermint patties were sold everywhere for 5¢ a piece. You could buy peppermint patties at checkout counters in every grocery store, gas stations and restaurants. Peppermint patties were sold at the bank, Doctor offices, beauty salons, taverns and pharmacies. They were sold literally everywhere, and I always made sure to buy a quarters worth.
Peppermint Patties
In 1940, peppermint patties were first produced in York, Pennsylvania by Henry Kessler at his York Cone Company. In 1972, the York Cone Company was acquired by Peter Paul, which launched the York Peppermint Patty nationally in 1975. In 1978, Peter Paul merged with Cadbury. York passed to the Hershey Foods Corporation when it acquired the US operations of Cadbury Schweppes in 1988. During the 1970's and continuing in the present, Peter Paul launched a memorable advertising campaign for the candy with the tagline "Get the Sensation."
More Peppermint Patties
Peppermint patties are basically a dark chocolate disc with a cool mint center. Many chocolate-covered peppermints had been made before the York Peppermint Patty. Each patty went through a "snap test" to make sure the patties were up to par. If the candy didn't break clean in the middle, it was considered a factory second.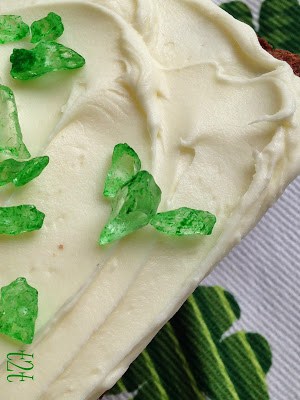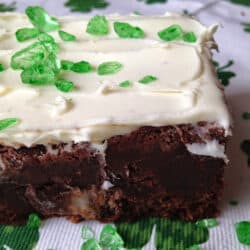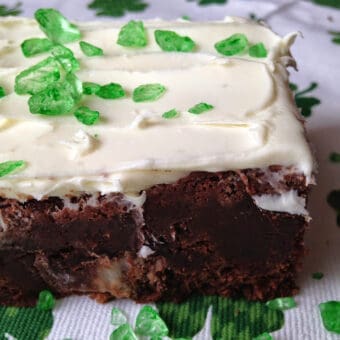 Peppermint Patty Fudge Brownies
Ingredients
28

small

peppermint patties, 1 1/2-inch diameter

1 1/2

cups

butter, melted

3

cups

sugar

2

teaspoons

vanilla extract

5

eggs

2

cups

flour

1

cup

baking cocoa

1

teaspoon

baking powder

1

teaspoon

salt

1/2

cup

chopped walnuts

1

8 oz package

cream cheese, softened

1

cup

butter

2

pounds

powdered sugar

2

teaspoons

peppermint extract

green rock candy, optional
Instructions
Heat oven to 350° or 325° for glass. Remove wrappers from peppermint patties. Grease 13 x 9 x 2 baking dish. Stir together butter, sugar and vanilla in large bowl. Add eggs; beat until blended. Stir in flour, cocoa, baking powder and salt. Blend well. Remove 2 cups batter, set aside.

Spread remaining batter in prepared pan. Arrange peppermint patties about 1/2 inch apart in a single layer over batter.

Spread reserved batter over patties. Bake 45 to 50 minutes or until brownies begin to pull away from the sides of dish/pan. Let brownies cool in pan on a wire rack until completely cooled. Refrigerate overnight. Remove from refrigerator and cut into squares.

Make mint cream cheese frosting:

Beat cream cheese and butter on medium speed with an electric mixer until creamy. Gradually add sugar, beating on low speed until smooth. Add peppermint extract. Beat until smooth and creamy. Frost cooled brownies with mint cream cheese frosting. Decorate with green rock candy if using.
Recent Recipes: