Peppermint Biscotti
We may earn money or products from the companies mentioned in this post.
Peppermint Biscotti
Peppermint Biscotti are the perfect holiday "cookie." Made with crushed peppermint disc candies or crushed candy canes, peppermint biscotti are cool, minty and refreshing. A light drizzle of melted chocolate adds the right amount of sweetness. They'll definitely stand out on your holiday cookie platter this season. When baking with hard candy of any kind, be very careful when removing from the baking sheet. Melted candy becomes very hot and sticky!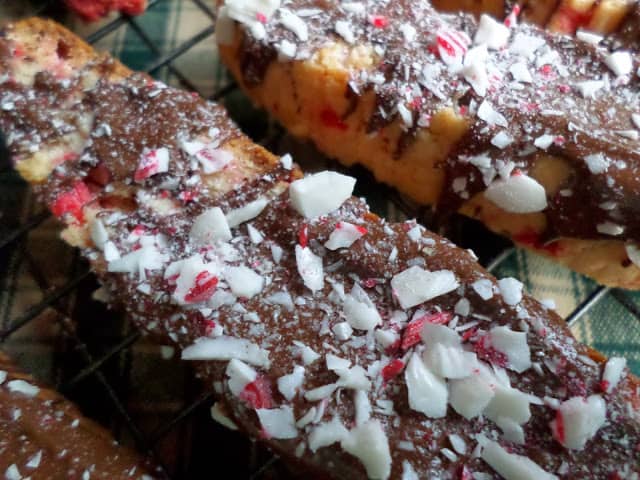 What is Biscotti?
Biscotto; pl. Biscotti [bee-SKAWT-toh; bee-SKAWT-tee] is a twice-baked Italian biscuit (cookie) that's made by first baking it in a loaf shape, then slicing the baked loaf and baking the slices. The end result is an intensely crunchy cookie that is perfect for dipping into dessert wine or coffee. Biscotti can be in many different ways. The most popular additions are anise seed, hazelnut or almonds.
Cookies
A cookie can be any of various hand-held, flour-based sweet cakes, either crisp or soft. The word cookie comes from the Dutch koekje, meaning "little cake." There are six basic cookie styles, any of which can range from tender-crisp to soft. Drop cookies are made by dropping spoonfuls of dough onto a baking sheet. Bar cookies are created by spooning a soft dough into a shallow pan, baked, cooled and cut into bars.
More Cookies
Hand-formed or mold cookies are made by shaping dough by hand into small balls, logs, crescents and other shapes. Pressed cookies are formed by pressing dough through a cookie press to form fancy shapes and designs. Refrigerator or ice box cookies are made by shaping the dough into a log, which is refrigerated until firm, then sliced and baked.
Rolled Cookies
Rolled cookies begin by using a rolling pin to roll the dough out flat; then it is cut into decorative shapes with cookie cutters or a pointed knife. Other cookies, such as the German Springerle, are formed by imprinting designs on the dough. Either by rolling a special decoratively carved rolling pin over or by pressing the dough dough into a carved cookie mold. In England, cookies are called biscuits, Spain they're called galletas, Germans call them keks, and in Italy they're called biscotti.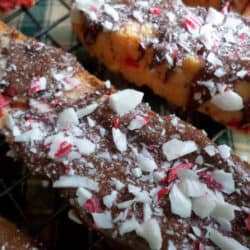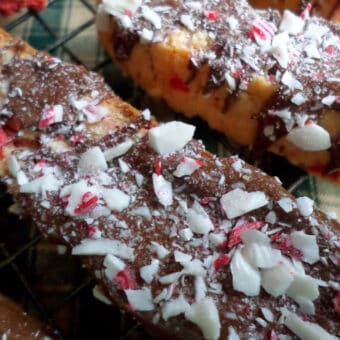 Peppermint Biscotti  
The perfect holiday biscotti
Ingredients
3/4

cup

butter, softened

3/4

cup

sugar

3

eggs

2

teaspoons

peppermint extract

3 1/4

cups

flour

1

teaspoon

baking powder

1/4

teaspoon

salt

1

cup

crushed peppermint candy

2

cups

semi-sweet chocolate chips

2

tablespoons

shortening

1/2

cup

crushed peppermint candy
Instructions
In a large bowl, cream butter and sugar. Add eggs, one at a time, beating well after each addition. Beat in extract. Combine the flour, baking powder and salt; stir in peppermint candy. Gradually add to creamed mixture, beating until blended. Mixture will be stiff. Divide dough in half.

On an ungreased baking sheet, roll each portion into a 12-inch x 2-1/2 inch rectangle. Bake at 350º for 25 to 30 minutes or until golden brown. Carefully remove to a wire racks; cool for 15 minutes. Transfer to a cutting board; cut diagonally with a sharp knife into 1/2 inch slices.

Place cut side down on ungreased baking sheets.

Bake for 12 to 15 minutes or until firm. Remove to wire racks to cool.

In a microwave-safe bowl, melt chocolate chips and shortening; stir until smooth. Drizzle chocolate over biscotti and sprinkle with crushed candy.

Place on wax paper until set. Store in airtight container.
More holiday cookie recipes; Belgian Tuile Cookies and Moravian Spice Crisp Cookies.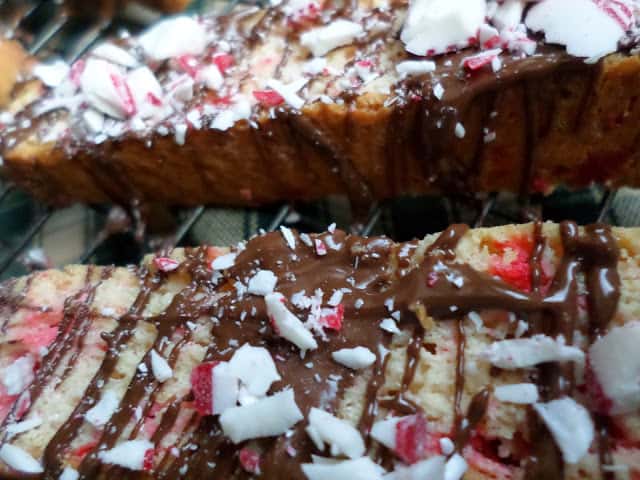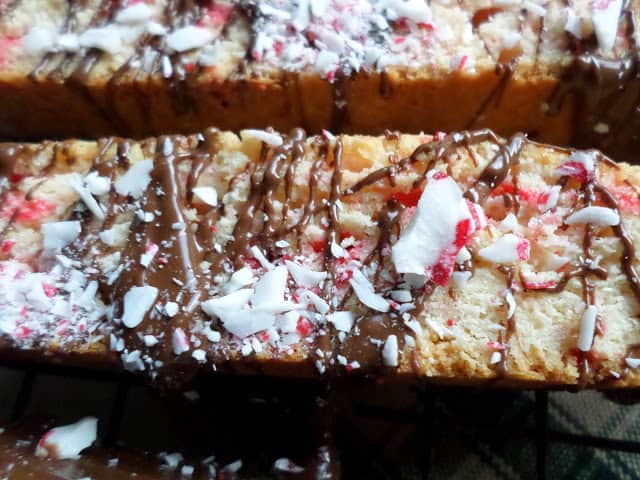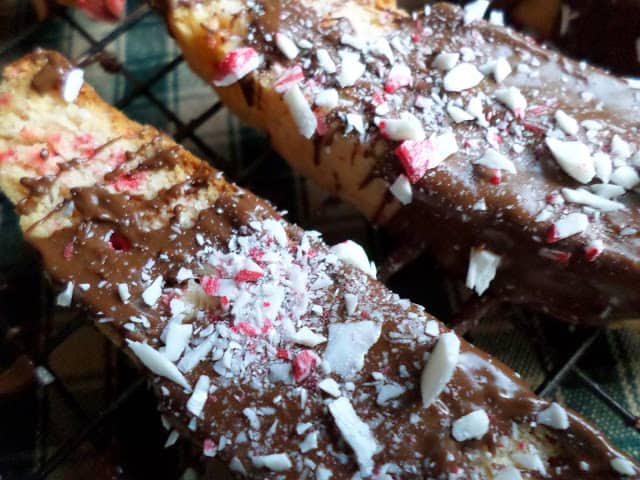 Peppermint Biscotti is made with peppermint disc's from 
Brach's Candy