Pear Sauce
We may earn money or products from the companies mentioned in this post.
Pear Sauce
If you have not yet made a batch of pear sauce, you need too. I was lucky enough to be given an abundance of pears and decided to make pear-sauce. Some of you might be thinking, "Isn't pear sauce a bit on the 'grainy' side?" Yes and No. It's not as smooth as applesauce but it was smoother than I expected. The grainy texture didn't bother me and since I had planned to use it as a substitute for oil in recipes, it was fine. Give it a try and see what you think.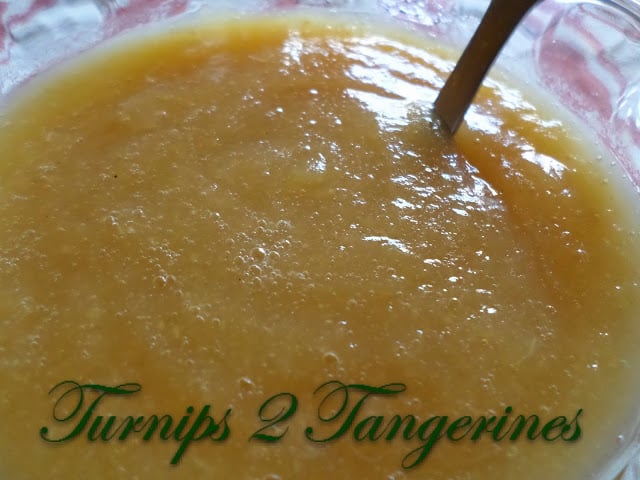 Apple Orchard
Last week-end, I stopped at my local apple orchard to pick up some apples. The name of the orchard is Everflow Orchard  The owner and I were talking and I asked him if he had any pears left. He said, "Wait right here, I'll be right back." A few minutes later, the owner returned with 2 huge bushel baskets full of pears. He asked me how many pears I needed and then said, "I'll give you all of them for $5.00. Do you want them?"
Well, heck yeah! I came home with 2 bushel baskets full of pears and a bag of apples. Most of the pears were ripe and needed to be used right away. "Sauce" immediately came to mind. Applesauce or pear sauce is a cooked purée ranging in texture from smooth to chunky. I generally don't add any extra sugar to the sauce. This is a personal preference, so take a taste of the sauce while it's simmering and go from there.
Pears
There are over 5,000 varieties of pears grown throughout the world in temperate climates. France is known for its superior pears and in the US most of the pear crop comes from California, Oregon, and Washington. Mother Nature protected the easily bruised pear by making it better when picked while still hard. Unlike most fruit, it improves in both texture and flavor after it's picked. Pears range in color from celadon green to golden yellow to tawny red.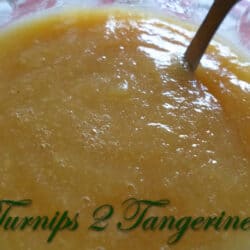 Pear Sauce
Pear Sauce is a super alternative to applesauce.
Ingredients
10 to 20

pears peeled, cored and cut into chunks

1/4

cup

water or apple juice

1

tablespoon

lemon juice

1/2

teaspoon

ground cinnamon

1/2

teaspoon

ground ginger

1/4

teaspoon

vanilla extract, optional
Instructions
Combine pears, water or juice, lemon juice, cinnamon, ginger and vanilla extract in a large saucepan. Bring to a boil, reduce heat to medium low and simmer until pears are tender, 30 to 45 minutes. Using an immersion blender, process pears until smooth. Once cooled, pour into air-tight containers and store in the refrigerator for up to one week.
Nutrition
Serving:
1
g
,
Calories:
308
kcal
,
Carbohydrates:
82
g
,
Protein:
2
g
,
Fat:
1
g
,
Saturated Fat:
1
g
,
Sodium:
6
mg
,
Potassium:
626
mg
,
Fiber:
17
g
,
Sugar:
53
g
,
Vitamin A:
135
IU
,
Vitamin C:
23.5
mg
,
Calcium:
48
mg
,
Iron:
1
mg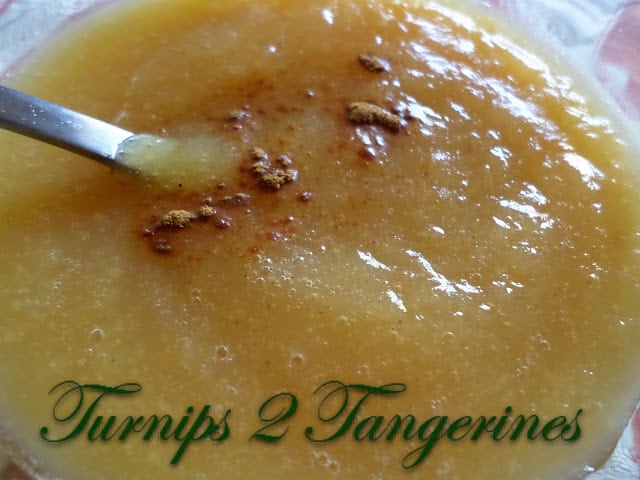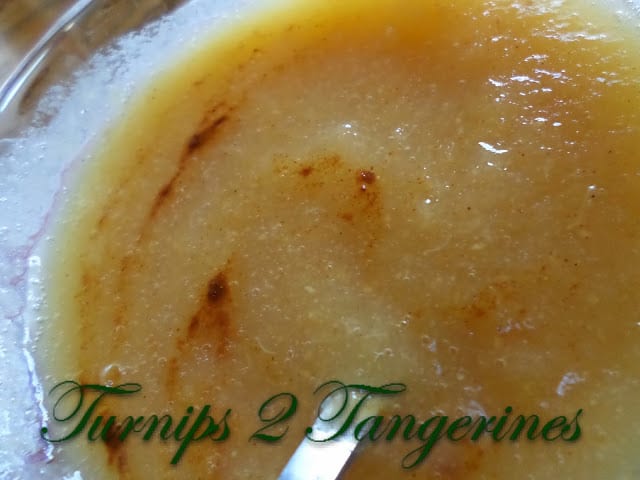 If you like applesauce and pear sauce, you'll love this recipe too. Homemade Apple Pear Sauce