Pear Ginger Upside Down Cake
We may earn money or products from the companies mentioned in this post.
Pear Ginger Upside Down Cake
Pear Ginger Upside Down Cake is super delicious. Made with juicy, sweet sliced pears and crystallized ginger from Paradise Fruit Co.. This simple, yet delicious upside down cake makes a small 8-inch square cake. Perfect to serve 4 people, each getting a hefty piece. Top this cake with whipped cream or vanilla ice cream for added yumminess. I added hazelnuts to this cake but if you can't find hazelnuts, substitute with pecans or walnuts.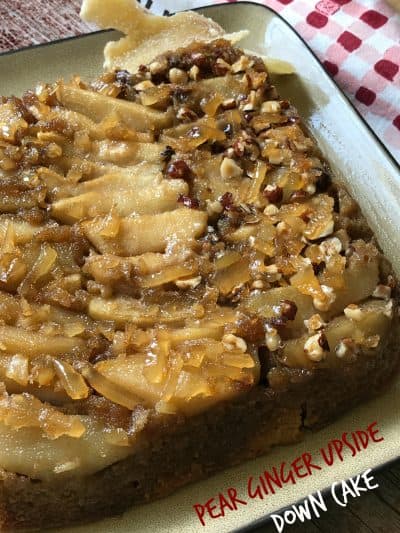 What is Crystallized Ginger?
Crystallized or candied ginger has been cooked in a sugar syrup and coated with coarse sugar. Another form called preserved ginger has been preserved in a sugar-salt mixture. These types of ginger can be found in Asian markets and many supermarkets. They are generally used as a confection or added to desserts. In recent years, crystallized ginger has become increasingly popular in all types of recipes, from sweet to savory.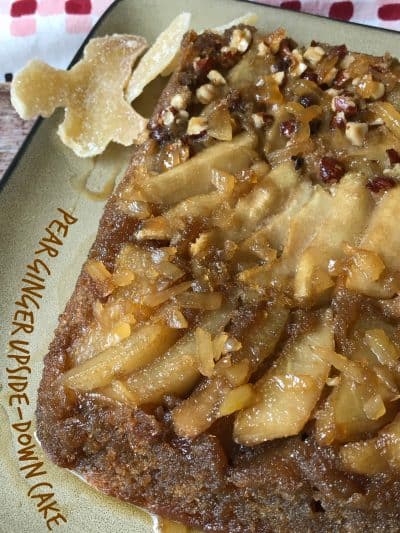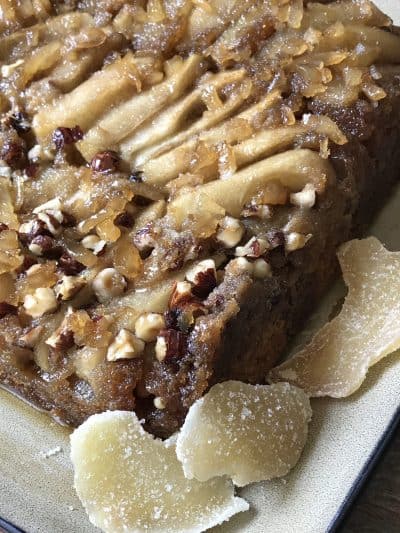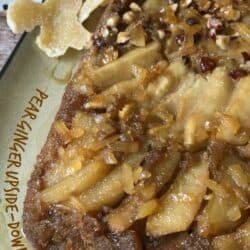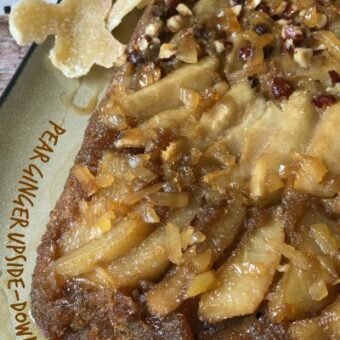 Pear Ginger Upside Down Cake
Pear Ginger Upside Down Cake is a delicious blend of crystallized ginger from Paradise Fruit Co. and sweet, juicy pears.
Ingredients
2

ripe pears

1

cup

butter, softened and divided

3/4

cup

firmly packed light brown sugar

1/2

cup

coarsely chopped hazelnuts

3

tablespoons

crystallized (Paradise) ginger, chopped

1/2

cup

sugar

1

egg

1/2

cup

dark corn syrup

1 1/2

cups

all-purpose flour

3/4

teaspoons

salt

3/4

teaspoons

baking soda

1/2

teaspoon

ground ginger

1/2

teaspoons

ground cinnamon

1/2

cup

boiling water
Instructions
Peel pears and cut each into 8 slices, set aside.

Lightly butter 8-inch square baking pan.

Combine 1/2 cup butter, brown sugar, hazelnuts and ginger; spread into pan. Arrange pear slices over mixture.

Beat remaining 1/2 cup butter at medium speed with an electric mixer until creamy; gradually add 1/2 cup sugar, beating well. Beat in egg and corn syrup.

Combine flour and next 4 ingredients. Add to butter mixture alternately with boiling water, beginning and ending with flour mixture. Beat at low speed until blended after each addition. Pour over pear slices.

Bake at 350 degrees for 35 to 40 minutes or until a wooden toothpick inserted in center comes out clean. Run a knife around edge of cake to loosen; cool in pan on a wire rack for 10 minutes. Invert onto a serving plate. Remove any foil before serving.

Serve with whipped cream or ice cream.
Here are some of our favorite recipes using Paradise Candied Fruit;Tropical Smoothie Bowl or Fruitcake Fudge.
*Thank-you for supporting Paradise Fruit Co. Without their support, these delicious recipes wouldn't be possible. Lynn