Pear, Bacon, Goat Cheese Crostini
We may earn money or products from the companies mentioned in this post.
Pear, Bacon, Goat Cheese Crostini
Pear, Bacon, Goat Cheese Crostini takes a few simple ingredients and turns them into a fantastic and memorable appetizer. Warm toasted crostini slices are spread with tangy goat cheese, topped with thin pieces of pear, crumbled crispy bacon and drizzled with honey. Talk about good!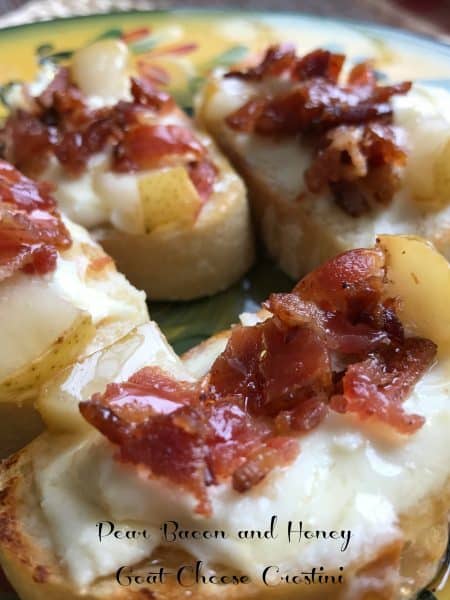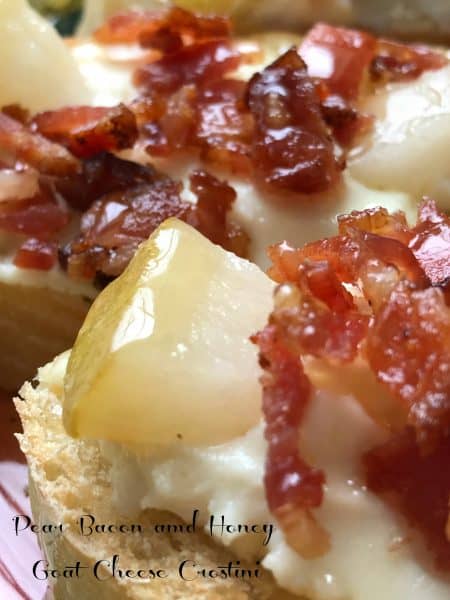 Blend of Flavors
This recipe for Pear, Bacon, Goat Cheese Crostini combines the delicate flavor of pears, with the salty, smoky flavor of bacon with the sweetness from the honey and the tangy, creaminess from the goat cheese. All are combined together to make a fantastic and wonderfully delicious appetizer that is perfect for any party. A few simple ingredients are turned into "fancy" finger foods.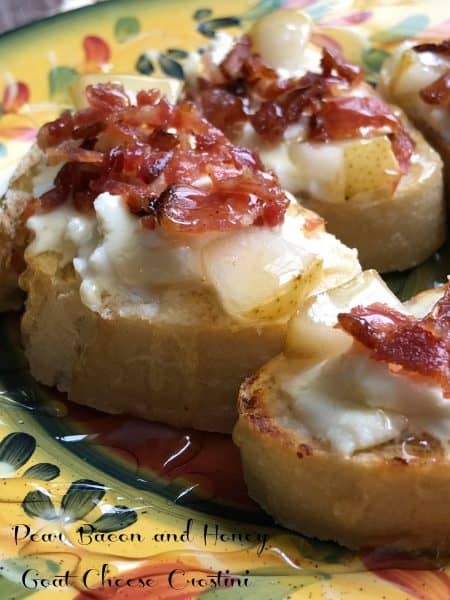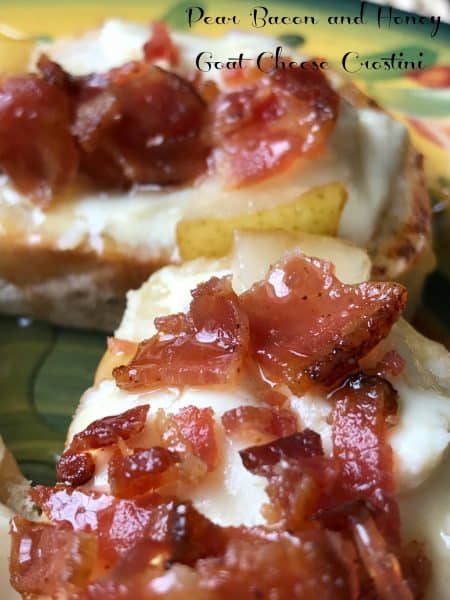 Pear Facts
There are over 5,000 varieties of pears grown throughout the world. 🇫🇷 France is known for its superior pears and in the 🇺🇸 United States most of the crop comes from California, Oregon and Washington. Mother Nature protected the easily bruised pear by making it better when picked while still hard. Unlike most fruit, pears improve in both flavor and texture after it's picked.
Crostini
Crostini [kroh-STEE-nee] meaning "little toast" in Italian, crostini are small, thin slices of toasted bread. The slices are usually brushed with a small amount of olive oil. The word "crostini" also describes Canapés consisting of small slices of toast with a savory topping such as cheese, shrimp, pâté or anchovies. Sometimes crostini refers to the equivalent of a crouton used for soups or salads.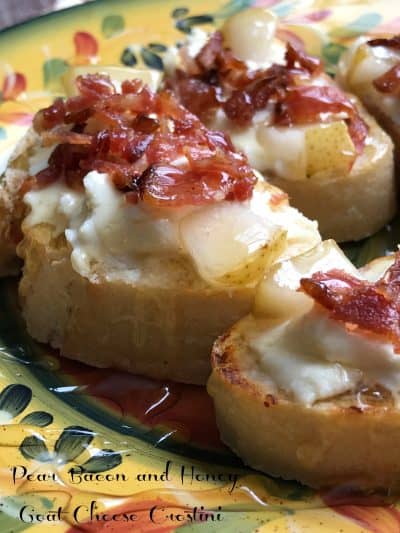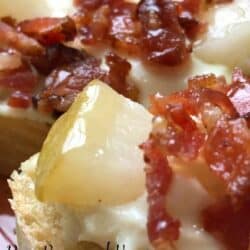 Pear, Bacon, and Honey-Goat Cheese Crostini
Delicious and Delightful Appetizer
Ingredients
2

large pears, thinly sliced

4

oz

goat cheese, softened

1

tbsp

honey

1

baguette, cut into 1/4-inch slices

6-8

strips bacon, cooked until crisp

3

green onions, thinly sliced (white part only)
Instructions
In a small bowl, mix together goat cheese and honey until smooth and uniform. Brush baguette slices with oil, place slices on parchment paper lined baking sheet. Toast in 350 degree oven until lightly toasted about 8 minutes.

Slather honey-goat cheese mixture onto each slice of toasted bread.

Layer sliced pears over the honey-goat cheese mixture on each slice of bread.

Crumble bacon and sliced green onions over cheese topped sliced
For this recipe we used pears that I received as a gift from Harry and David's. 
Recent Recipes: Sourdough Hot Cross Buns and  Johnny Cake and Custom Made Bear Naked Granola
Pear Desserts
Pear Cranberry Pie Filling is super delicious and easy to make. It makes a fantastic pie! Pear Ginger Upside Down Cake is a super delicious and easy cake. Pear and ginger go beautifully together.