Peanut Butter Cup Crunch Brownie Bars
We may earn money or products from the companies mentioned in this post.
Peanut Butter Cup Crunch Brownie Bars
Have you ever fantasized about going to Chocolate Heaven? A place where everything was made out of chocolate, brownies, peanut butter cups and rice krispie cereal?? Well I have, and Peanut Butter Cup Crunch Brownie Bars are pure Heaven!  One bite of these delicious bars and you will think you died and went to Chocolate Heaven. The only other thing I can say about these brownie bars….You need to MAKE THEM…TODAY!
Three Layers of Yum
Three layers of delicious flavors all wrapped into one. The bottom layer is your favorite chocolate chip brownie mix, the middle layer is 16 peanut butter cups, chopped (you can double this amount if using mini peanut butter cups), and the top layer is milk chocolate chips, melted with extra crunchy peanut butter and then rice krispie cereal is folded in for added crunch. Wow! That sounds so good, doesn't it. I don't think that it could be possible to improve this recipe but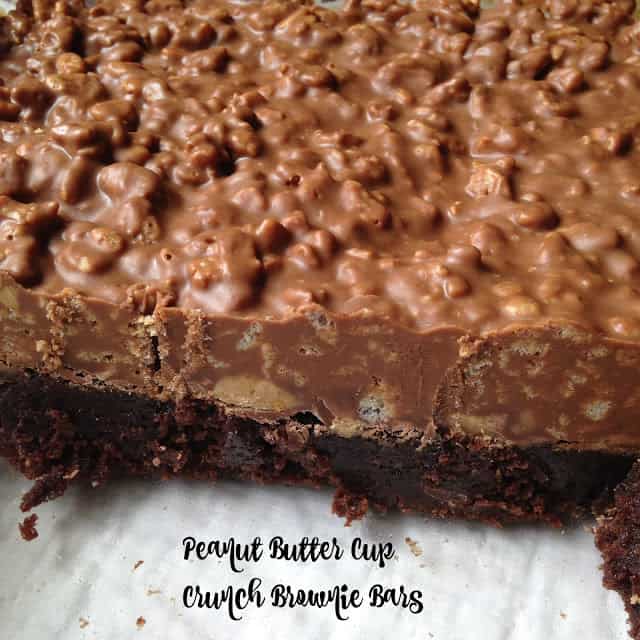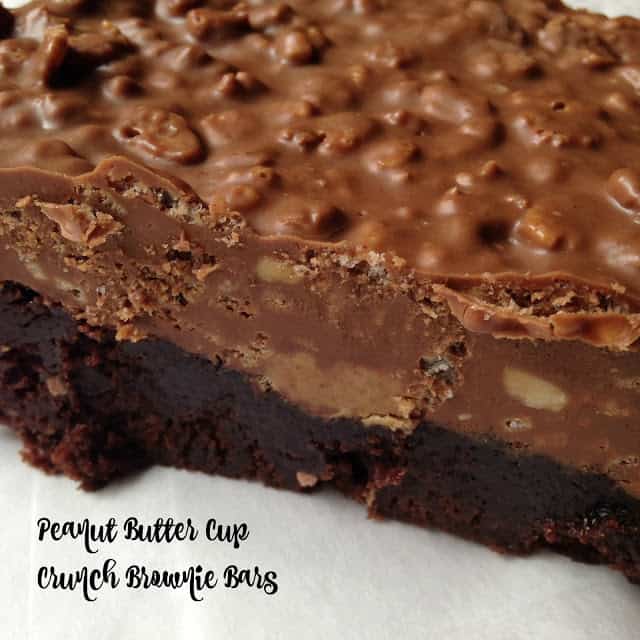 What About Caramel
When I made Peanut Butter Cup Crunch Brownie Bars, my hubby said he loved them, 'but'. My hubby usually adds the word 'but' to most sentences. He said, "These are super bars, and I think they're great but maybe next time you could add some caramel." "Oh I could, could I?" My hubby is a crazy, caramel person. He thinks everything should be covered in caramel, but his comment got me thinking? They would be good with a caramel layer. Back to the drawing board or should I say, back to the kitchen!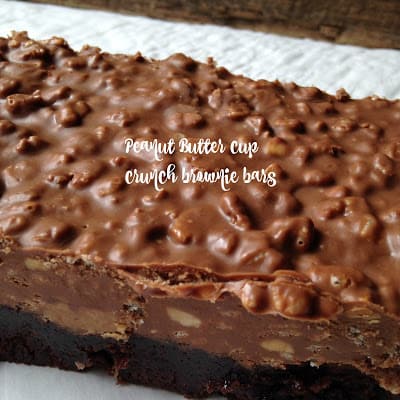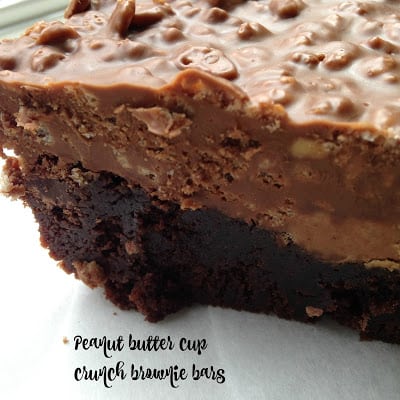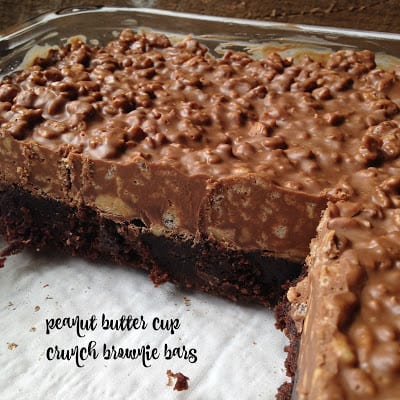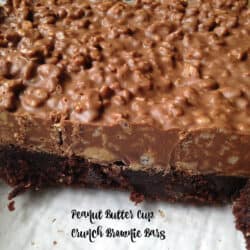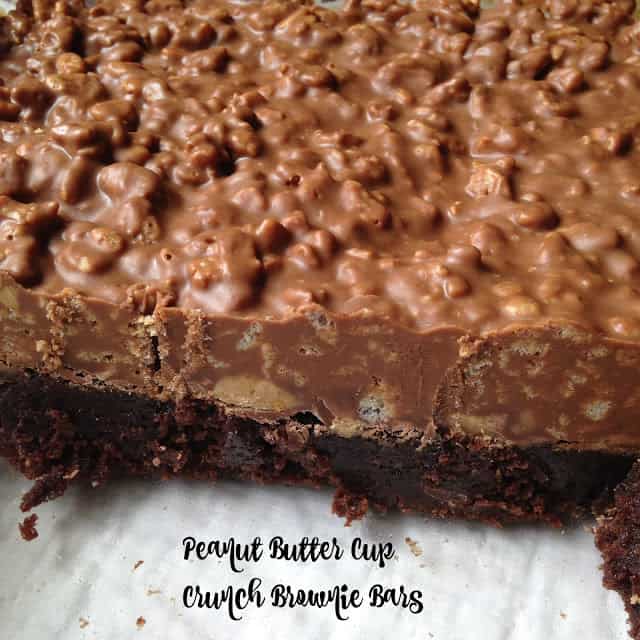 Peanut Butter Cup Crunch Brownie Bars
A delicious bar/brownie with three yummy layers.
Ingredients
1

18 oz box

your favorite brownie mix with chocolate chips

,

13 x 9-inch size

16

single

Reese's peanut butter cups, chopped

1 1/2

cups

milk chocolate chips

1 1/2

cups

extra chunky peanut butter

1

teaspoon

butter

1 1/2

cups

rice krispie cereal

water, oil and eggs needed to make brownies
Instructions
Prepare the brownies according to the directions and bake for about 5 minutes less than the recipe states. Remove from the oven and sprinkle the top with chopped peanut butter cups. Return to the oven and bake for 5 additional minutes.

While they are baking, melt the chocolate chips, peanut butter and butter in a medium saucepan over medium-low heat. Stir in the cereal, coat well. Remove the brownies from the oven and pour the chocolate and peanut butter mixture over top. Spread to cover evenly. Refrigerate for 2 hours before cutting and serving. Store in an airtight container in the refrigerator.