Peanut Butter Crunch Cake with Chocolate Frosting
We may earn money or products from the companies mentioned in this post.
Peanut Butter Crunch Cake
with Milk Chocolate Peanut Butter Frosting
Six ingredients are all that is needed to make this yummy peanut butter crunch cake. Can you believe it? Six ingredients..including the frosting. When I first saw this recipe I thought how can a boxed cake mix, chunky peanut butter, eggs and milk possibly turn out? Then top the cake with a can of chocolate frosting mixed with more chunky peanut butter. Really?
Sensational
Well folks, I'm here to tell you that you can make a sensational cake and frost it too with only six ingredients. Peanut Butter and Chocolate Lovers alike will go nuts over this cake. This cake only proves that chocolate and peanut butter are meant for each other! Now when you have a craving for something made with peanut butter and chocolate, reach for this cake recipe. Now you can have your crunch cake and eat it too!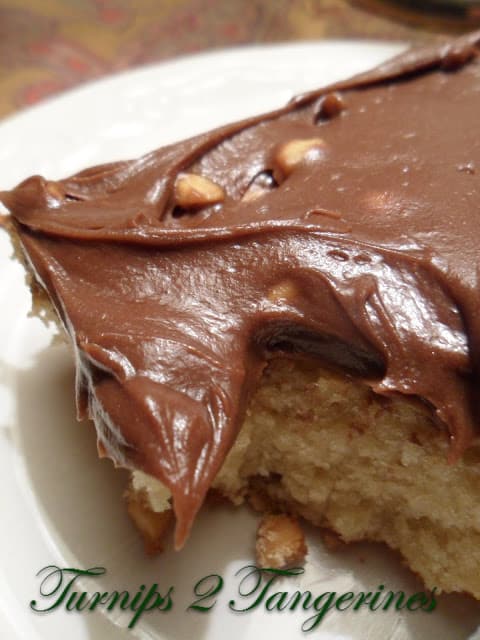 `
Peanut Butter
We do love our peanut butter here on Turnips 2 Tangerines. In fact, if I has too I could live on peanut butter. I just never, ever get tired of the stuff. But what exactly is peanut butter. Developed in 1890 and promoted as a health food at the 1904 St. Louis World's Fair. Peanut butter is a blend of ground shelled peanuts, vegetable oil and usually a small amount of salt. It takes about 850 peanuts to produce an 18-oz jar of peanut butter.
Natural Peanut Butter
Natural peanut butter uses only peanuts and oil, usually peanut oil. Peanut butter is sold in two-forms; smooth and chunky. Chunky peanut butter contains bits of peanuts and is super in peanut butter cookies. Natural peanut butter must be refrigerated after opening and can be stored in this manner for up 6 months. Peanut butter can easily be made at home using a blender or food processor.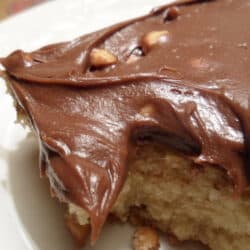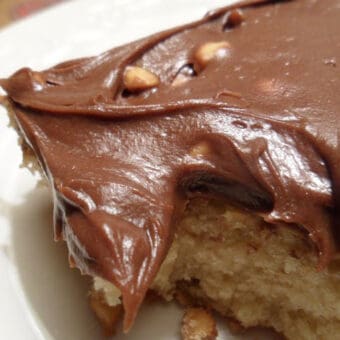 Peanut Butter Crunch Cake with Milk Chocolate Peanut Butter Frosting
A peanut butter lovers dream cake!
Ingredients
1

2-layer size box

butter golden or yellow cake mix

1/2

cup

chunky peanut butter

3

eggs

1- 2/3

cup

milk

1/4

cup

chunky peanut butter

1

16 oz container

milk chocolate frosting
Instructions
In a large mixing bowl, combine dry cake mix, 1/2 cup chunky peanut butter, eggs and milk.

Beat with an electric mixer on low speed until combined, scraping sides of bowl often.

Beat for 2 minutes at medium speed.

Spread batter into greased 13 x 9 x 2 inch baking pan.

Bake at 350º for 35 to 45 minutes or until a wooden toothpick inserted near center comes out clean. Cool cake in pan on a wire rack. Make Milk Chocolate Peanut Butter Frosting: In a small bowl, beat together peanut butter and milk chocolate frosting until creamy. Frost cooled cake.
Nutrition
Serving:
1
g
,
Calories:
132
kcal
,
Carbohydrates:
5
g
,
Protein:
6
g
,
Fat:
10
g
,
Saturated Fat:
3
g
,
Cholesterol:
44
mg
,
Sodium:
105
mg
,
Potassium:
165
mg
,
Fiber:
1
g
,
Sugar:
3
g
,
Vitamin A:
115
IU
,
Calcium:
51
mg
,
Iron:
0.5
mg
Recipe Note:
Muesli Applesauce Muffins are the perfect grab and go breakfast. For this recipe we used Skippy Peanut Butter and a boxed cake mix from Duncan Hines. You might be wondering, Where's the crunch? The crunch part in this peanut butter crunch cake is the crunchy peanut butter. If you don't have crunchy peanut butter but you do have peanut butter and peanuts, then chop up the peanuts and add them to the creamy-style peanut butter:)