PBJ Banana Grilled Cheese Sandwich
We may earn money or products from the companies mentioned in this post.
PBJ Banana Grilled Cheese Sandwich
I'm almost positive you're thinking to yourself, what the heck? Why would anyone in their right mind want to eat a pbj banana grilled cheese sandwich. Right? Because it's good, that's why!! I'm a sucker for pbj sandwiches. In fact, I love peanut butter, and I eat it whenever possible. My favorite way to eat peanut butter is on graham crackers dunked in milk. Oh boy!! Love it!
Banana Addition
I have always wanted to try the classic peanut butter and banana sandwich, the Elvis, as some call it. I was hesitant because I didn't think I'd like it but surprise, I did or do. Why did I add slices of smoky cheddar cheese?? Well, that's a relatively easy answer. Living in Wisconsin, I pretty much put/add cheese on everything. Plus I had a few slices of smoky cheese leftover from a different recipe so what the heck! When in doubt, add it:)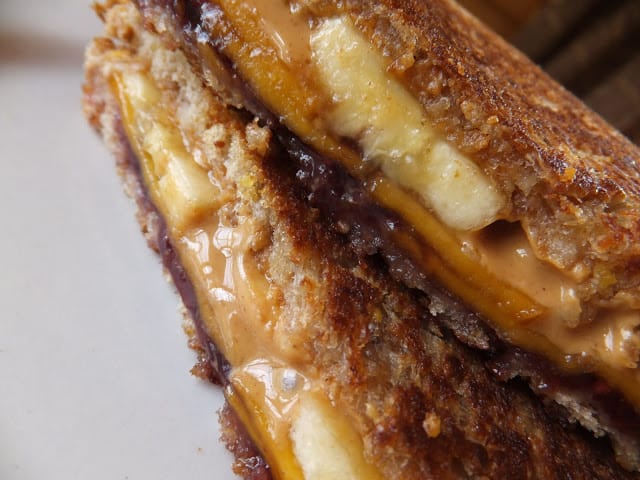 Originally
Originally when I first made up this recipe, I was thinking about entering it into the Grilled Cheese Academy grilled cheese contest. After taking a peek at some of the entries from past years, I soon realized that this sandwich was a far cry from a winner. Some of the grilled cheese sandwiches entered and past winners are a meal in itself! I gave it a go the following year with this entry Cheese Curd Grilled Cheese. It didn't qualify in the contest but it's a winner in my book! Made with a delicious whole grain bread, bacon, goat cheese and deep fried cheese curds, what's not to like:)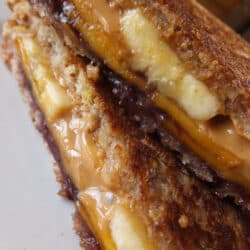 PBJ Banana Grilled Cheese Sandwich
Similar to a Fat Elvis only with the addition of cheese and jelly.
Ingredients
4

slices

healthy nut bread

2

tablespoons

butter

2

teaspoons

grape jelly

2

tablespoons

peanut butter

1

large banana, sliced

2

slices

smoky  cheddar cheese
Instructions
Butter one side of the bread. Spread the other side with peanut butter and jelly. Lay banana slices on top of peanut butter then top with cheese. Fry sandwiches buttered side down in pan heated over medium heat. Cook until golden brown and cheese is melted.
Take a trip to a farm in your area and pick up some Farm Fresh Eggs. 
We used Skippy Peanut Butter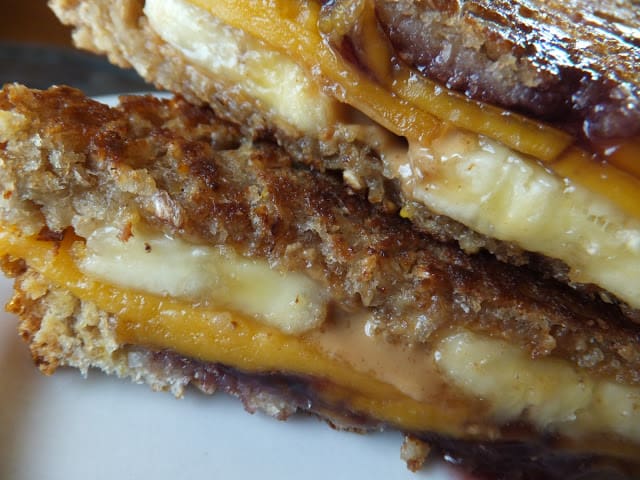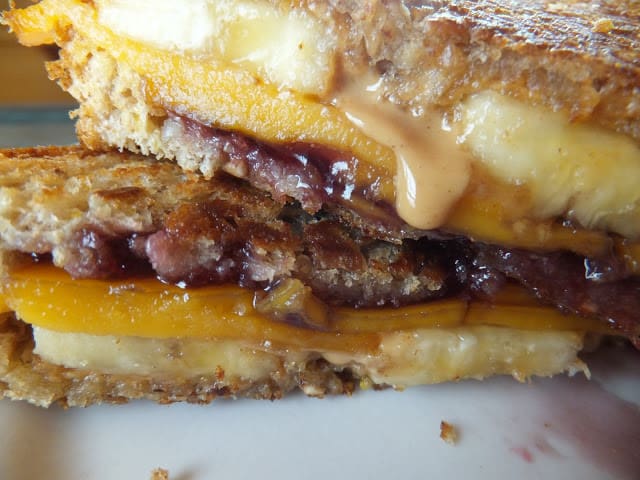 Like sandwiches? So do we! Ultimate Chicken Sandwiches, Ham Salad Sandwich  and Turkey Monte Cristo.