Paradise Ginger Peach Hand Pies
We may earn money or products from the companies mentioned in this post.
Paradise Ginger Peach Hand Pies 
I have great news! For the second year, Paradise Fruit Co has asked me to develop recipes using their wonderfully sweet dried fruit. I'm super excited to get started:) Last year I developed recipes that were geared more towards the holidays but this year my culinary fruit juices have started flowing early. I'm kicking off this second year with this super delicious recipe for Paradise Ginger Peach Hand Pies. Made with Paradise crystallized ginger and lemon peel.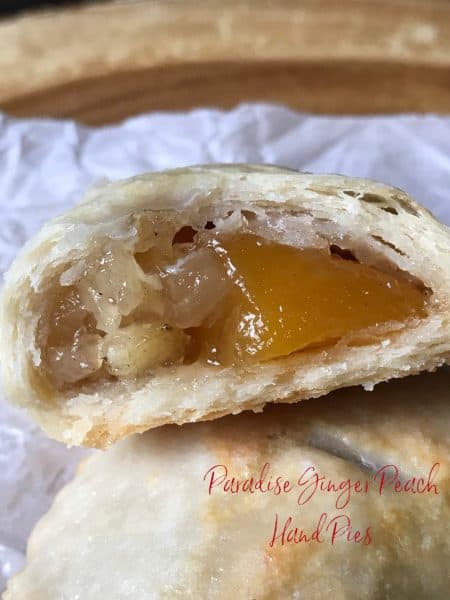 Super Easy Peach Pie Filling
This super easy pie filling is made easy with frozen sliced peaches. Yes, you read that right, frozen peaches (that are thawed of course). If you're lucky enough to get your hands on some fresh juicy peaches, then by all means use them! You will need to peel off the fuzzy skin and slice the peaches first. Fresh peaches will have more juice than frozen peaches. To compensate for this, add a couple extra tablespoons of cornstarch (then called for in the recipe) to thicken it.
[easy-image-collage id=24552]
Paradise Fruit Co
Paradise Fruit Co has been Achieving Baking Excellence for over 50 years. Since 1961 Paradise Brands has been America's favorite brand for candies fruit products. Paradise has been making glacé (candied) fruit of all kinds, including candied cherries, ingredients for fruit cake recipes and much more. Now you can find and purchase their full line of candied fruit products with their online store, powered by Amazon.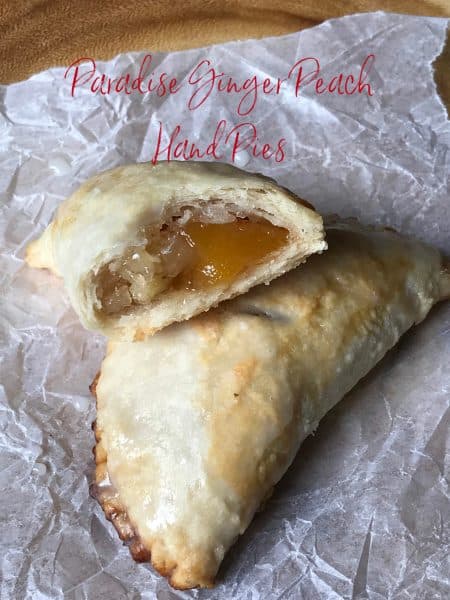 What is Glacé?
Candied Fruit also called glacé fruit is fruit that has been boiled or dipped in a sugar syrup and then sometimes into granulated sugar after being dried. The most common fruits that are candied are cherries, pineapple, citrus rinds and ginger. Candied fruits are generally used in cakes, breads and other sweets. Sometimes used to decorating dessert, especially celebration cakes and wedding cakes.
Keep Your Eyes "Peeled"
Over the next several months, look for a series of recipes featuring Paradise Fruit. The Paradise Fruit Co Logo will indicate that the recipe was made with Paradise Fruit:) Here are a few of our favorite recipes from last year using Paradise Fruit. This recipe is the perfect way to cool off on a hot, summer afternoon Tropical Smoothie Bowl. You don't have to wait for the holidays to make fudge! Make this recipe for Jeweled Fudge.

Lemon Icing
To add another layer of yum to these already delicious ginger peach hand pies, drizzle them with a lemon icing. We combined powdered sugar, milk or cream and lemon extract to make this simple glaze. Don't have lemon extract, use lemon juice. Another option you can use is almond extract instead of the lemon. I really like the flavor combination of peach and almond. In fact, we prefer almond extract vs vanilla in most fruit recipes. It really comes down to your personal preference. Make the 'flavor' of glaze your family likes.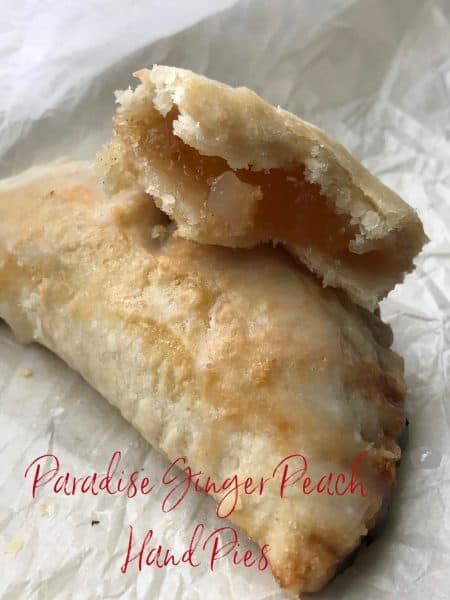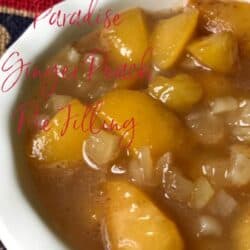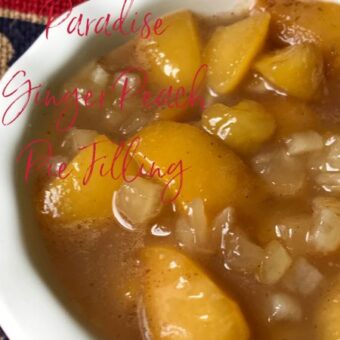 Paradise Ginger Peach Hand Pies
A delicious homemade peach pie filling made with frozen sliced peaches, lemon peel and crystallized ginger.
Ingredients
1

cup

water

1

tablespoon

fresh lemon juice

1

teaspoon

fresh grated lemon zest

1

cup

sugar

2

tablespoons

brown sugar

1/4

cup

plus 2 tablespoons cornstarch

1/2

teaspoon

ground cinnamon

1/4

teaspoon

ground ginger

1/2

teaspoon

almond extract

1

16 oz

package frozen sliced peach slices, thawed and coarsely chopped

1/4

cup

Paradise sweetened lemon peel

1/4

cup

Paradise crystallized ginger

2

cups

all-purpose flour

1

teaspoon

salt

3/4

cup

well-chilled Crisco

4 to 8

tablespoons

ice-cold water

1

cup

powdered sugar

2-4

tablespoons

milk or cream

1/2

teaspoon

lemon or almond extract
Instructions
Make Ginger Peach Pie Filling: In a large saucepan over medium heat, stir together the water, lemon juice, lemon zest, sugar, brown sugar and cornstarch. Cook until thickened and bubbly about 5 minutes.

Stir in the ground cinnamon, ground ginger, almond extract, peaches, lemon peel and crystallized ginger. Cook for another 3 minutes once it becomes bubbly, stirring constantly.

Make sure to cool the filling to room temperature. Use pie filling right away or store in the refrigerator for a few days. Re-heat the filling before using.

Make Pie Crust: Blend flour and salt together in a large bowl. Cut shortening into flour mixture with pastry blender until coarse crumbs form. Stir in enough water with fork just until dough holds together.

Divide dough in half. Shape into 1/2-inch thick discs. Wrap in plastic wrap. Chill 30 minutes.

Roll each disc to 1/4-1/8-inch thickness on a lightly floured surface. Using a large biscuit cutter of glass, cut-out 3 to 4 discs. Re-roll dough and cut-out extra discs is necessary. Place one or two tablespoons of cooled ginger peach pie filling in center of dough. Fold dough over to enclose pie filling, Using a fork, crimp edges of crust. Carefully place hand pies on parchment lined baking sheet. Cut a small hole in the top of the hand pie to vent.

Bake at 375° until pies are golden brown and pie filling is bubbly, 30 to 45 minutes. Baking times will vary on oven temperatures and thickness of crust.

Meanwhile combine powdered sugar, milk or cream and lemon or almond extract. Stir until desired drizzle consistency. Cool hand pies on wire rack set over waxed paper. Drizzle icing over warm hand pies. Cool and Enjoy!
Notes
Recipe Note: Leave sliced peaches whole if you prefer. Add ground ginger to taste.
Paradise Fruit Co

Nutrition
Serving:
6
g
,
Calories:
375
kcal
,
Carbohydrates:
89
g
,
Protein:
4
g
,
Fat:
1
g
,
Saturated Fat:
1
g
,
Sodium:
392
mg
,
Potassium:
45
mg
,
Fiber:
1
g
,
Sugar:
57
g
,
Calcium:
10
mg
,
Iron:
1.9
mg
Thank-you for supporting Paradise Fruit Co