Pan Fried Perch
We may earn money or products from the companies mentioned in this post.
Pan Fried Perch
A True Wisconsin Classic and Friday Night Fish Fry Favorite. Here in Wisconsin we have many lakes and streams where you can enjoy an afternoon of fishing. If you don't have time to go fishing or you simply don't like to fish, you can enjoy a Wisconsin Friday Night Tradition, The Friday Night Fish Fry. To find out more about this Wisconsin Classic, The Friday Night Fish Fry where pan fried perch is on the menu, read Come Fry With Me
Friday Night
This Friday night, if you don't want to head on out to your favorite Supper Club, why not stay in and make this classic dish at home! You don't have to go out to enjoy a delicious meal of fried fish. Serve with creamy slaw, tartar sauce, french fries, buttered rye bread and lemon wedges for a true Wisconsin experience. PS: Don't forget the ice cold Wisconsin Beer! My family loves an ice, cold Leinenkugel.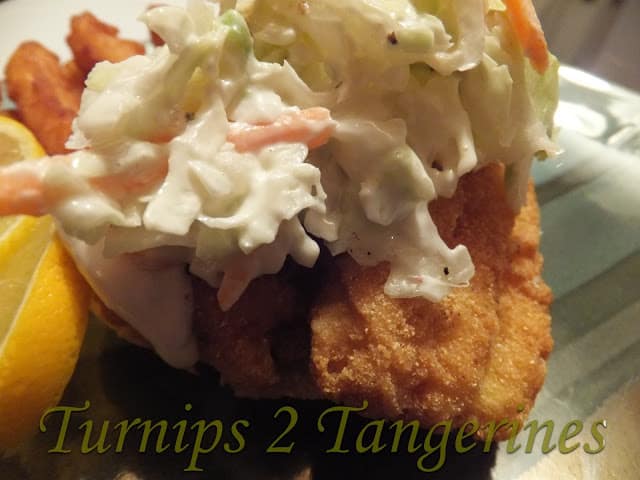 Great Neighbors
Our neighbor is an avid hunter and fisherman. Last week, he stopped by and gave us some wonderful perch fillets. I can't tell you how many times a neighbor or up north friend will stop by with venison, duck or rabbit. One thing we very seldom get is fish. Fish is a rare commodity here, so when someone gives you fish, you're in for a real treat. I have to admit, the perch fillets were the best! Nothing beats the flavor of fresh fish caught right in the lake I live on.
Best Fish in Town
My sister Mary has a nose for sniffing out the best places that serve a fantastic Friday Night Fish Fry. I don't know how she does it, but the best fish I've ever eaten was when I went out to eat with her. Shhh, Let me tell you a secret. The places Mary has taken me too, aren't your fancy, schmancy restaurants either. Heck no! They're little hole-in-the wall places, usually older than hills (or me) taverns. You know the places…
Taverns, not Country Clubs
The places that have a beer sign hanging outside advertising beer that they don't even make any more. The name of the tavern is usually one or two words; "Butch's," "One More," "Cheatin' Bar." Somewhere in the front window, you'll see a sign that reads, "Friday Night Fish Fry Served Here." If you happen to come across such an establishment, on a Friday, by all means go in!! They will no doubt have the best Friday Night Fish Fry you will ever have eaten in your entire life!…Tell them Mary sent you!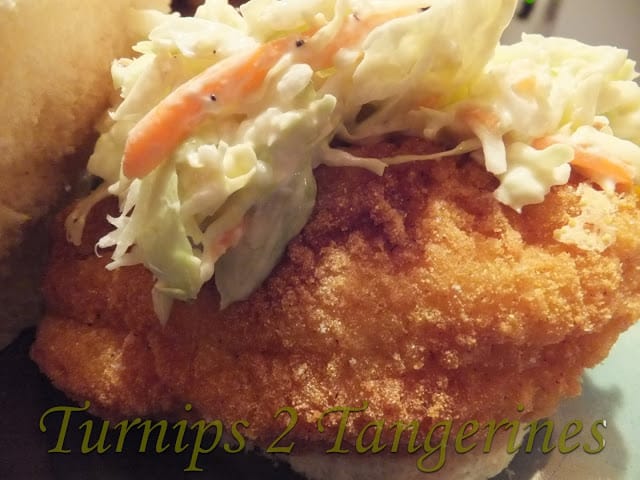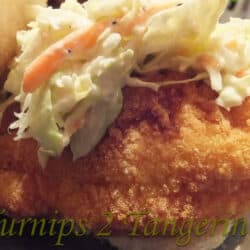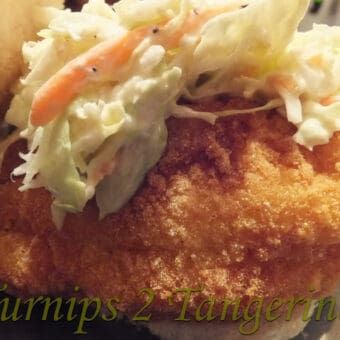 Pan Fried Perch
Ingredients
1

pound

lake perch fillets*

1/2

cup

Parmesan cheese

1/2

cup

bacon-flavored crackers, crushed

1/2

cup

cornmeal

1/2

teaspoon

garlic salt

1

teaspoon

creole seasoning

1/4

teaspoon

pepper

2

eggs

1/2

cup

beer, room temperature

1 to 2

cups

vegetable oil
Instructions
Rinse fish in cold water; pat dry.

In a shallow bowl, combine the cheese, cracker crumbs, cornmeal, garlic salt, creole seasoning and pepper. In another bowl, beat eggs and beer, dip fish in the egg/beer mixture, then gently roll in the crumb mixture.

In a cast iron skillet, heat oil. Fry fish in hot oil for 5 to 7 minutes or until fish flakes easily with a fork. Drain fish on paper towels.
Notes
*Note: You can substitute; catfish, walleye, bluegill, crappie, or lake trout for the perch.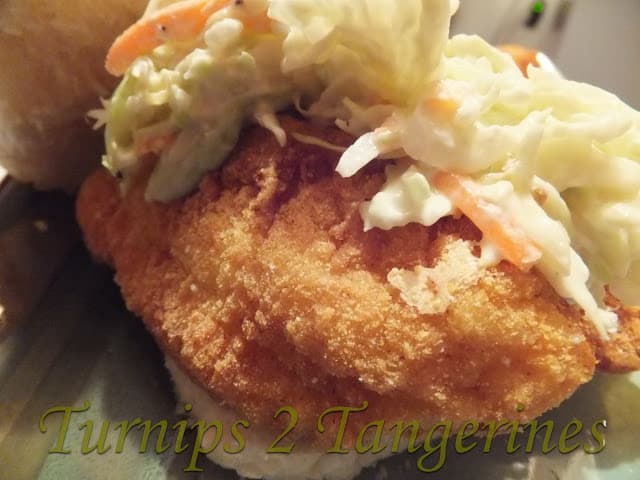 After a delicious meal of pan-fried perch or my personal favorite, perch sandwiches topped with slaw and tarter sauce. Serve bowls of Blueberry Peach Crisp with scoops of vanilla ice cream. Doesn't get much better than that in my book!