Padre Island Shells
We may earn money or products from the companies mentioned in this post.
Padre Island Shells
I have wanted to make this recipe ever since I saw it in one of my many Taste of Home Cookbooks. I think that was over 10 years ago, so I thought it's about time to give it a try.  This recipe is from Donna Grover from Rockwell, Texas via Taste of Home, Pasta Cookbook. I have absolutely know idea who Donna is or where Rockwell Texas is for that matter, but this recipe is a real winner. Both my hubby and I loved this dish. Thanks, Donna for this delicious recipe for Padre Island Shells.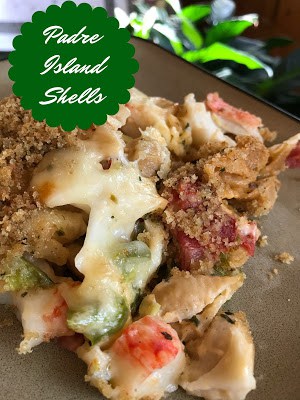 What is Imitation Crab Meat?
What is imitation crab meat, seafood sticks, krab sticks or crab sticks anyway? All are a form of kamaboka, a processed seafood made of starch and finely pulverized white fish called surimi. This mixture is then shaped to resemble the leg of a snow crab or Japanese spider crab. Surimi literally means "formed fish." Referring to fish pulp that's formed into various shapes
Surimi and the similar kamaboka, have been made for centuries by the Japanese. Most surimi found in North America is made from Alaska Pollock, a fish with a lean, firm flesh that has a delicate, slightly sweet flavor. Pacific Whiting is also beginning to be used for surimi but its flesh is so soft that it requires the addition of egg whites and potatoes to make it firm enough for processing.
To become surimi, fish is skinned, bones, repeatedly rinsed to eliminate any fishiness and pigment, then ground into a paste. This odorless white paste is then mixed with a flavor concentrate made from real shellfish. The paste is them formed, cooked and cut into the various shapes of the seafood its imitating, which in the United States is usually crab legs or lobster chunks.
Lastly, surimi is colored to complete its transformation from fish to shell-fish look-alike. Surmi is available in the refrigerated or freezer sections of most supermarkets. It can be kept unopened in the refrigerator for up to 2 months or in the freezer for up to 6 months. Once opened, use surimi within 3 days. Surimi, which is sometimes labeled "imitation crabmeat" is best when used as an ingredient in salads and casseroles.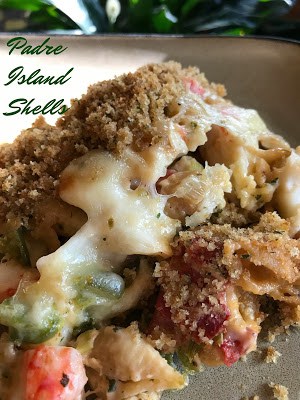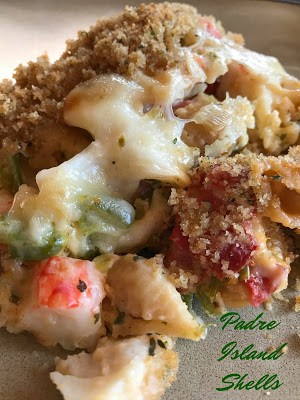 Imitation Crab
Sugiyo Co., Ltd. of Japan was the first to produce and patented imitation crab meat in 1973 as Kanikama, this was the flake type. In 1974, Osaki Suisan Co., Ltd. of Japan first produced and patented imitation crab sticks. In 1976,  The Berelson Company of San Francisco working with Sugiyo introduced them internationally.
Internationally they are marketed under the names; Krab Sticks, Ocean Sticks, Sea Legs, and Imitation Crab. Legal restrictions now prevent them from being marketed as 'crab sticks' in many places as they usually don't have crab meat. North Pacific Alaska Pollock is commonly the main ingredient.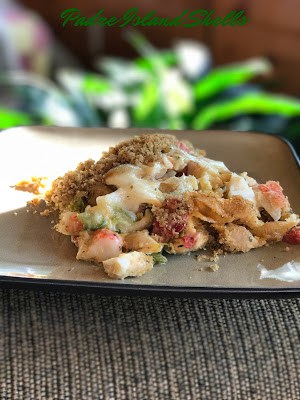 Imitation Crab, Yes or No?
Imitation crab is something that you either like or you don't. Personally, I like imitation crab, the flaked kind. I use it in seafood pasta salad and now in this recipe.  My hubby is a huge fan of imitation crab and usually eats it dipped into jarred shrimp sauce….a good way to eat imitation crab but
not a very 'fancy' way to eat imitation crab. So when I saw this recipe using imitation crab, (you can also make this recipe using 'real' crab) I thought it would be the perfect recipe to try.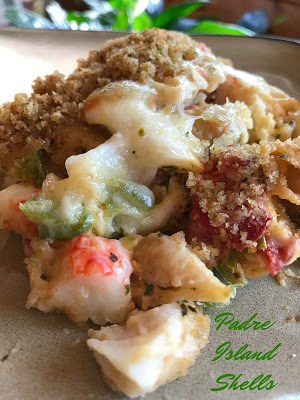 Recipe Note:
Pick up a package of imitation crab legs today and make this delicious dish for Padre Island Shells. Perfect to serve family and friends with a simple side salad, crusty rolls and a light, white wine.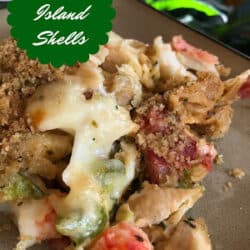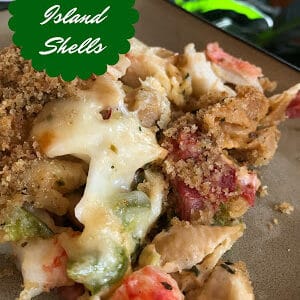 Padre Island Shells
A delicious imitation crab casserole.
Ingredients
1/2

cup

chopped green pepper

2

tablespoons

thinly sliced green onions

4

tablespoons

butter, divided

2

tablespoons

all-purpose flour

1/2

teaspoon

salt

2

cups

half-and-half

1

14 1/2 oz can

diced tomatoes, drained

2

tablespoons

dried parsley

1 1/4

cups

shredded pepper jack cheese

3 1/2

cups

medium shell whole wheat pasta, cooked and drained

1

pound

imitation crab meat

1

can

cream of shrimp soup

1

cup

dry Italian bread crumbs
Instructions
In a large saucepan, saute' green pepper and green onion in 2 tablespoons butter until tender. Stir in the flour and salt until blended. Gradually stir in half-and-half. Bring to a simmer; cook and stir for 2 minutes or until thickened. Stir in tomato and parsley.

Remove from the heat; stir in 1 cup of cheese until melted. Stir in pasta, imitation crab and cream of shrimp soup. Transfer to a greased shallow 3 quart baking dish. Cover and bake at 350º for 30 minutes.

Melt the remaining butter; toss with bread crumbs. Sprinkle along outer edges of baking dish. Sprinkle remaining cheese down the center. Bake, uncovered, for 10 to 15 minutes or until golden brown.
Recipes On Tap
Special Shrimp Bake and Shrimp and Artichoke Alfredo Casserole.