Oven Roasted Pork Tenderloin Kabobs
We may earn money or products from the companies mentioned in this post.
Oven Roasted Pork Tenderloin Kabobs
Happy Father's Day! What Dad doesn't like to grill on Dad's day! Instead of the usual burgers, brats and steak, why not make Dad some shish kabobs to grill…or better yet, why not make these tasty Oven Roasted Pork Tenderloin Kabobs, and give Dad the day off. Whether you decide to grill or bake these kabobs, you will love the ease in which they come together. Besides that, who doesn't like kabobs!!

What is a Kebob?
Kebab; Kabob [kuh-BOB] Also called: shish kebab and shashlik. Definition: Small chunks of meat, fish or shellfish that are marinated before being threaded on a skewer and then usually grilled over coals. Pieces of vegetables can also be threaded with the meat on the skewer. If using wooden skewers, soak them first in water, wine, beer or fruit juice for at least 4 hours or up to 24 hours. This will prevent the wooden skewers from burning and at the same time, adding flavor to your kabobs, if the skewers were soaked in wine, beer, or fruit juice etc first.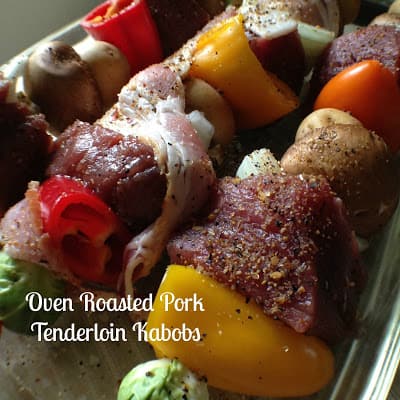 Marinade
This recipe is a great way to use marinated pork tenderloin that can be found in the meat department of all supermarkets. If you can't find marinaded pork tenderloin, you can simply make your own. Marinade a regular or plain pork tenderloin with your favorite marinade. How easy is that! This recipe is extremely versatile and of course delicious. Pork tenderloin is not only a very tender cut of meat, it's very flavorful, can be used in many different recipes and always turns out, no matter what method you use to cook it.
Make It Your Way
If you have the time, you can certainly make your own marinade or you can buy one of the many, many varieties of delicious marinades that are on the grocery store shelves….Have you ever stood and counted all of the different kinds of marinades, grilling sauces and barbecue sauces that are available?? I have, and let me tell you, there are hundreds. Bold flavors, Oriental flavors, Tex-Mex, Sweet and Sour, you name it, they make it.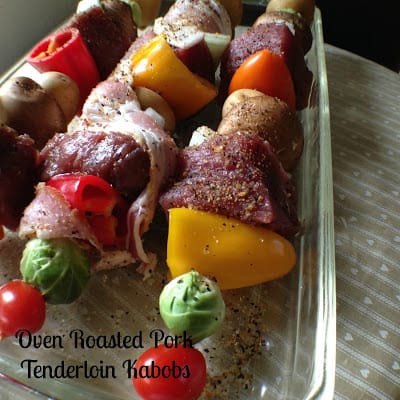 Door County Cherry Pork Tenderloin
For this recipe I went with a Door County Cherry Pork Tenderloin from StoneRidge, which is by far my absolute favorite. I started buying Door County Cherry Pork Tenderloin years ago, when we lived near Green Bay WI. We purchased Door County Cherry Pork Tenderloin behind the meat counter at a fantastic store called: Festival Foods.
When we moved 'up north', we no longer lived near Festival Foods so it seemed our Door County Cherry Pork Tenderloin days were over…..*Sigh* But then one day, while shopping at the local Piggly Wiggly, right there in the meat department, out of the corner of my eye, I spotted Stoneridge Door County Cherry Pork Tenderloin. Needless to say I was thrilled and I started filling my cart with pork tenderloin.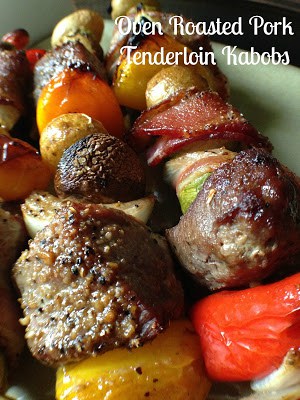 Meat Department
Most Piggly Wiggly stores, plus many other grocery stores such as Trigs and local area "markets" here in northern Wisconsin, carry StoneRidge products. (Stoneridge Summer Sausage is delish too) Besides Door County Cherry Pork Tenderloin we have tried; Teriyaki Pork Tenderloin and Garlic & Herb Pork Tenderloin. Both are equally delicious as the Door County Cherry variety and either one will work equally great in this recipe.
Another brand of marinated pork tenderloin that I have seen in stores is Hormel. I have also used Hormel marinated pork tenderloin in kabob recipes with great results. We have recently discovered that Trigs carries their own variety of Door County Cherry Tenderloin behind the meat counter. Trigs is known for there Smokehouse favorites. Check it out; Trigs Smokehouse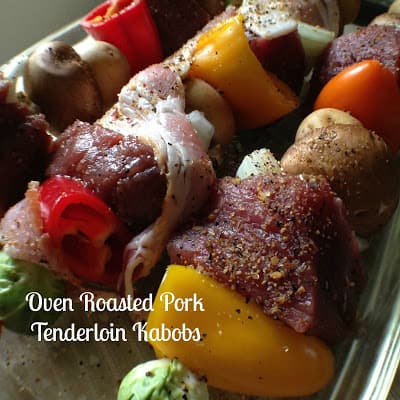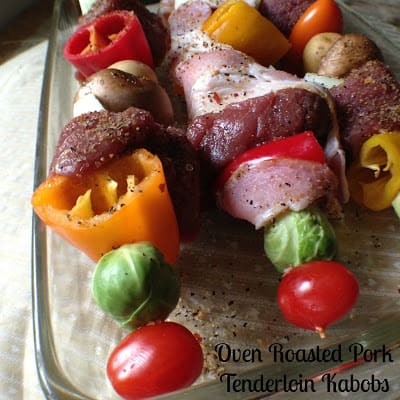 Icelandic Smoked Sea Salt
Oven Roasted Pork Tenderloin features a product I recently discovered Icelandic Smoked Sea Salt by Salt Traders. I learned about Nordur Sea Salt through Hubba and they were kind enough to send me free samples of; Icelandic Smoked Sea Salt, Icelandic Blueberry Sea Salt, Icelandic Rhubarb Sea Salt and Icelandic Licorice Sea Salt. Icelandic Smoked Sea Salt added a wonderful smokey flavor to the kabobs. Discover the wonderful flavors of Icelandic Sea Salt. Keep your eyes peeled for upcoming recipes using Icelandic Sea Salt here on Turnips 2 Tangerines. (Here's a hint, White Chocolate Blueberry Fudge)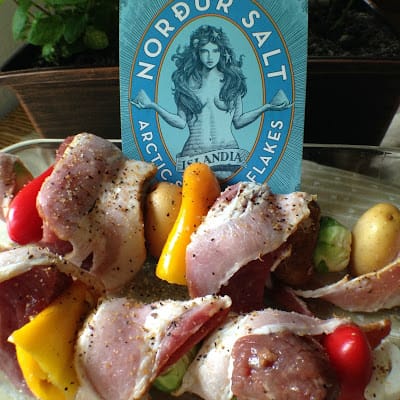 Reasons Why I Like Kabobs
There are so many reasons why I like making shish kabobs; 1. You can use any combination meat or fish and your family's favorite vegetables 2. Fruit is a tasty option pineapple, peaches and plums all work well 3. Fresh herbs can be used; mint with fruit, dill with fish, sage with poultry 4. Kabobs are a great vegetarian option. And last but not lest, 5. Kabobs are just plain good! Kabobs make a great light meal option too. Get nuts and make up some kabobs, anyway you like.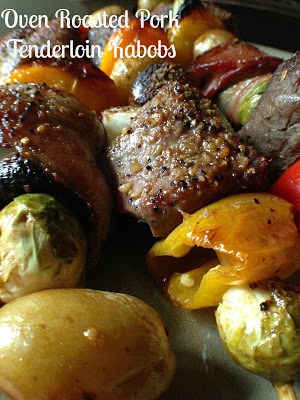 For This Recipe
For this recipe, we used Organic Aged Balsamic Vinaigrette from Aldi to baste the kabobs while they were baking. A wonderful, flavorful vinaigrette, perfect for this recipe. You can easily make your own balsamic vinaigrette or use your favorite brand of vinaigrette. Serve Pork Tenderloin Kabobs with a delicious light and fruity wine from Simon Creek Winery.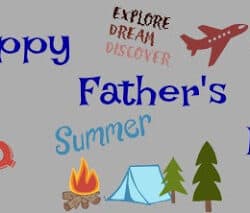 Pork Tenderloin Kabobs
Pork Tenderloin Kabobs make for a super meal served with rice.
Ingredients
10

wooden skewers

1 1/2

pounds

marinated pork tenderloin, cut into 1-1/4 inch cubes

1

10 oz package

grape or cherry tomatoes

1

16 oz package

whole mushrooms

1

16 oz package

Brussels sprouts

1

16 oz package

assorted mini peppers, cut in half

1

large

sweet onion, cut into wedges

1 to 2

pounds

mini baby potatoes

10

slices

bacon

smoked sea salt* and fresh cracked pepper

,

to taste

1/2

cup

aged balsamic vinaigrette

1/4

cup

white wine, optional
Instructions
Preheat oven to 400º

Soak 12 wooden skewers in water overnight.

Alternate the assorted veggies with meat on the skewers.

Wrap 2 strips of bacon around 5 skewers. (five wrapped in bacon, 5 without bacon)

Alternate bacon wrapped skewers and unwrapped skewers in two 13 x 9-inch glass baking dish. Place the skewers in the oven on the center rack.

Bake for 35 to 45 minutes. Check vegetables to see if they are tender.

Remove baking dishes from oven. Carefully spoon aged balsamic vinaigrette over skewers.

Bake an additional 10 to 15 minutes longer.

Remove baking dishes from oven, transfer kabobs to serving plate. Sprinkle the kabobs with smoked sea salt and fresh cracked pepper, to taste.

Optional: stir drippings in baking dishes. Add 1/4 cup of room temperature white wine to drippings stirring constantly, while scraping up any bits left in pans. Spoon drippings over kabobs and serve.

Cooking times will vary depending on thickness of meat and vegetables used.
Nutrition
Serving:
1
g
,
Calories:
700
kcal
,
Carbohydrates:
54
g
,
Protein:
40
g
,
Fat:
35
g
,
Saturated Fat:
10
g
,
Cholesterol:
117
mg
,
Sodium:
385
mg
,
Potassium:
1855
mg
,
Fiber:
7
g
,
Sugar:
6
g
,
Vitamin A:
15
IU
,
Vitamin C:
57.3
mg
,
Calcium:
56
mg
,
Iron:
3.8
mg
For this recipe, we used a fantastic Smoked Sea Salt