Oven Roasted Bananas with Cinnamon Chips
We may earn money or products from the companies mentioned in this post.
Oven Roasted Bananas with Cinnamon Chips
Oven Roasted Banana's with cinnamon chips is a fast and easy dessert. If your looking for something to satisfy your sweet tooth, this recipe will certainly do the trick. Kids and adults alike love bananas. Bananas are probably the most affordable fruit there is. Bananas are also the most accessible fruit. Lets face it, you can buy them everywhere from grocery stores to convenient stores. We know that bananas are versatile, accessible, affordable and delicious but what do we really know about banana's?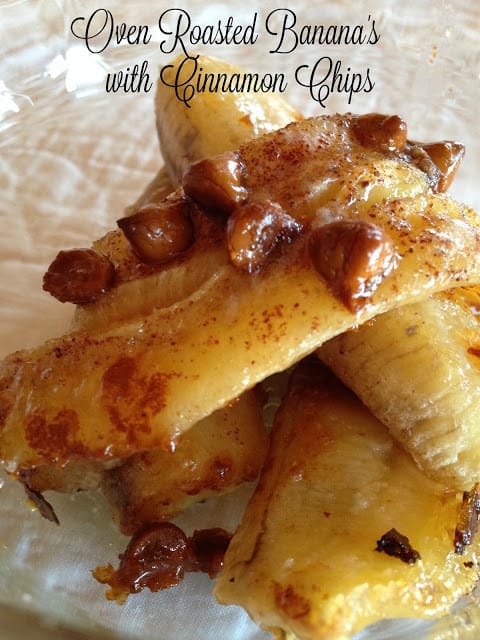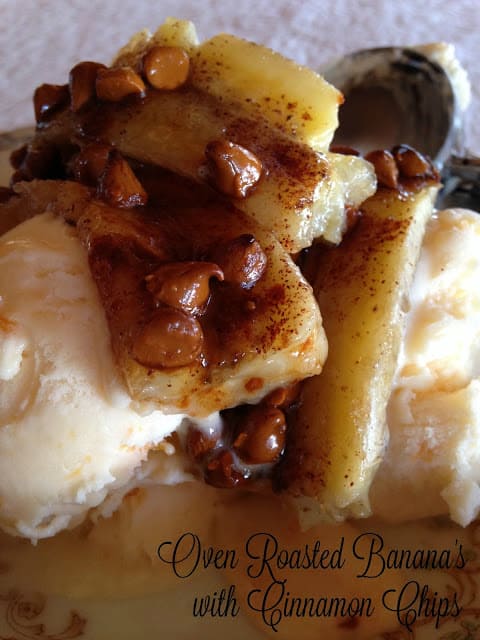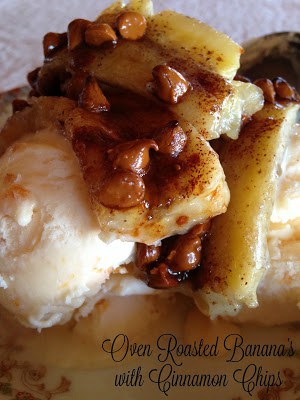 Banana
Grown in the warm, humid tropics, bananas are picked and shipped green; contrary to nature's norm, they are one fruit that develops better flavor when ripened off the bush. Banana bushes mature in about 15 months and produce one 50-pound bunch of bananas apiece. Each bunch includes several "hands" of a dozen or so bananas (fingers). There are hundreds of banana species but the yellow, arched Cavendish (or common) is America's favorite. Choose plump, evenly colored yellow bananas flecked with tiny brown specks (a sign of ripeness).
Avoid those with blemishes, which usually indicates bruising. Bananas that are still greenish at the tips and along the ridges will need further ripening at home. To ripen, keep uncovered at room temperature. Once exposed to air, a peeled banana will begin to darken. To avoid discoloration, brush with lemon juice.
Did You Know??
Banana Flour: Is a nutritious and easily digestible powder made from specially selected bananas that have been dried and ground.
Banana Leaves: The large, pliable leaves of the banana plant, used in the cooking of Mexico, Central and South America, the Caribbean and Southeast Asia to wrap food (rice, vegetables, meat or fish) to be baked or steamed. Banana leaves are available in Latin and Asian markets. Choose fresh looking leaves, with no signs of browning. Refrigerate, tightly wrapped in a plastic bag, for up to one week; freeze for up to six months. Rinse the leaves well before using and cut into appropriate-size portions before wrapping food.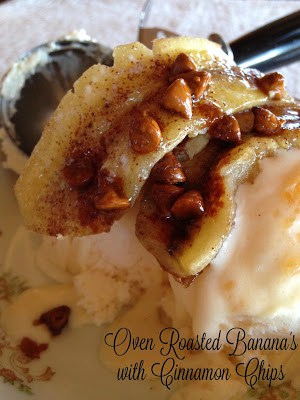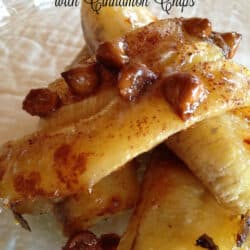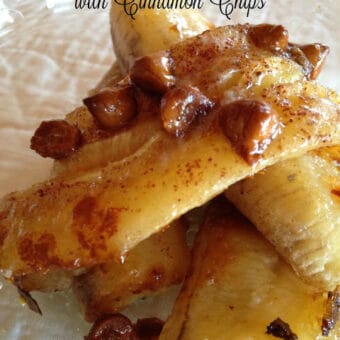 Oven Roasted Bananas with Cinnamon Chips
Roasted banana's with cinnamon chips is an easy and super delicious dessert.
Ingredients
2

bananas, (1 banana per serving)

sprinkle of ground cinnamon

2

tablespoons

brown sugar

2

tablespoons

cinnamon chips

1

tablespoon

cold butter, cut into small cubes

ice cream
Instructions
Peel bananas. Slice each banana in half, lengthwise.

Lightly spray a foil lined baking sheet with non-stick cooking spray.

Place banana halves on foil lined baking sheet, sprinkle with cinnamon.

Sprinkle bananas with brown sugar and cinnamon chips.

Cut butter pat into 4 small cubes. Dot bananas with butter cubes.

Bake for 10 to 12 minutes or until butter and chips are slightly melted.

Remove from oven and serve over ice cream.

**Use extreme caution when handling hot brown sugar and butter mixture. Very hot and sticky!**