Orange Seven-Up Jello Salad
We may earn money or products from the companies mentioned in this post.
Orange Seven-Up Jello Salad
Don't you just love a good jello salad? I certainly do! Hmm, I wonder if it has something to do with my advanced age? When I was growing up, jello salads were a work of art. A jiggly, wiggly masterpiece. The "artist" would carefully bring their creation to the dinner table amid oohs and aahs. Now-a-days though, you very seldom see a jello salad. Orange Seven-Up Jello Salad is cool, crisp and delicious.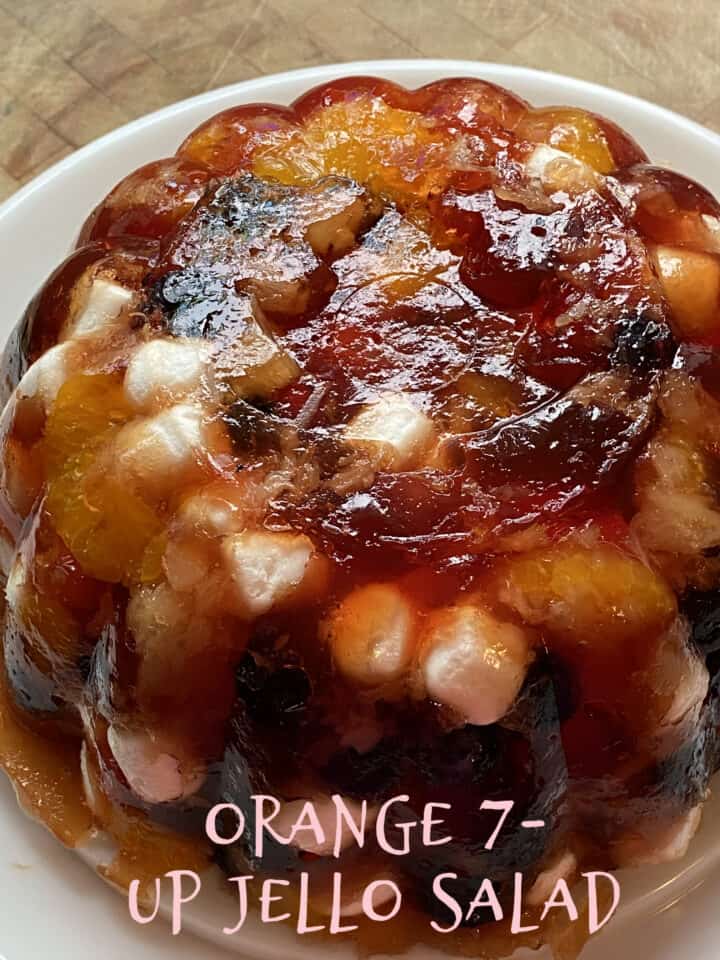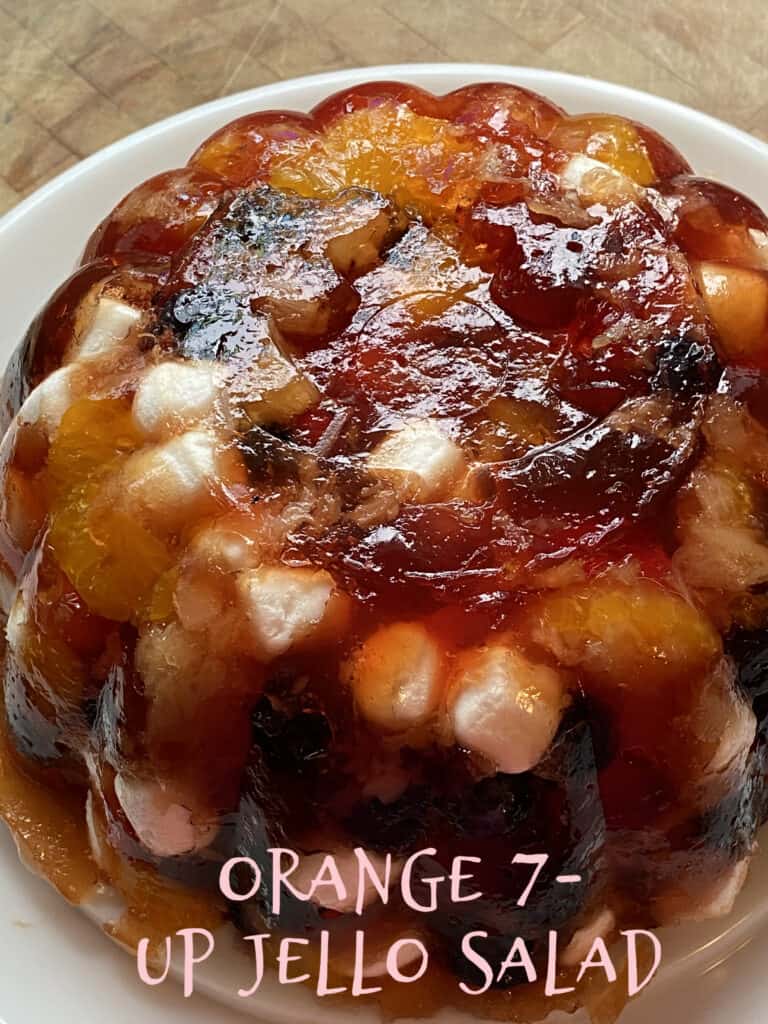 Today you might see jello salads served at funerals or bowling banquets but that's about it. This once elaborate work of art has now been reduced to the hospital cafeteria line. How sad is that! Recently I made Orange Seven-Up Jello Salad something I haven't made in a long time. It was as good as I remember.
Deli Stop
The deli stop…we've all been through this scenario before; your running late, you have to go to the in-laws for dinner and you didn't get a chance to make your "dish to pass." So you stop at the local supermarket deli counter, pick-up a 2 lb. container of one of the three jello salads offered. You then proceed to the checkout counter where you know you'll pay way too much for the green fluff jello salad the lady behind the deli counter scooped up for you.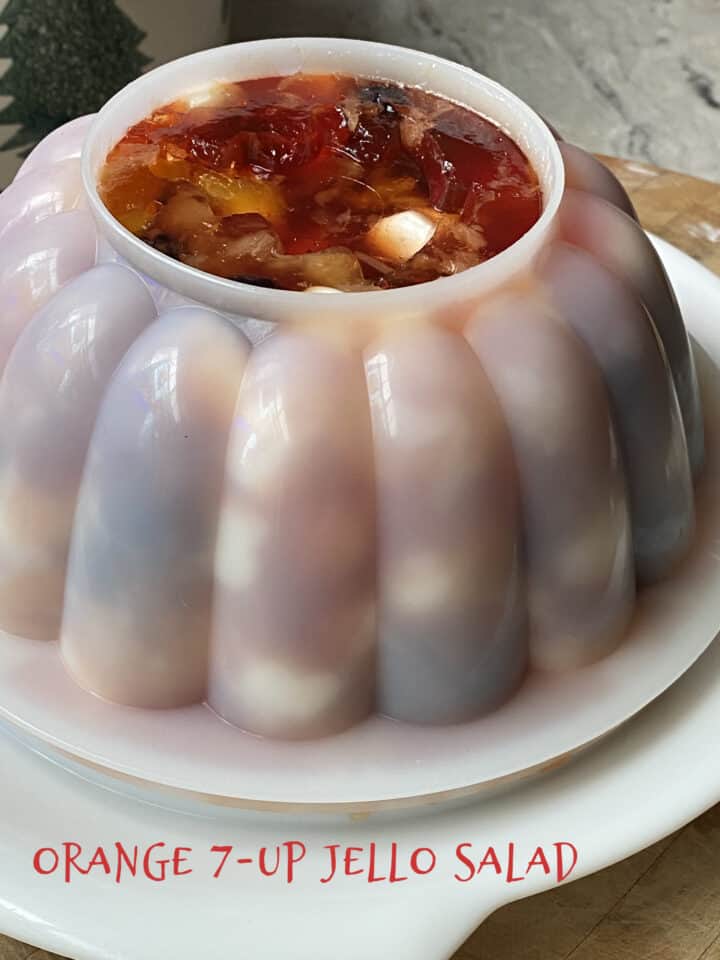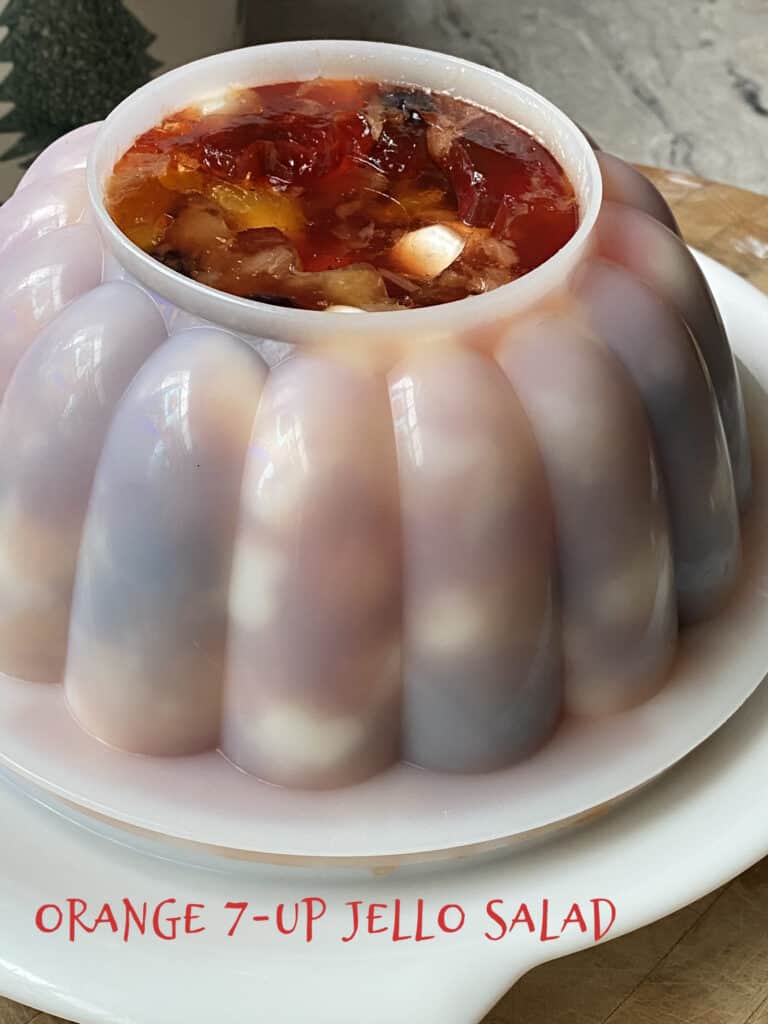 At the in-laws, the green fluff stuff looks pretty pathetic sitting on the dinner table in the classic, plastic deli container.  Nothing screams "your busted" louder than a classic, plastic deli container. Not even spooning the green fluff stuff into a decorative glass bowl would help. As the old saying goes, "You can't polish a turd."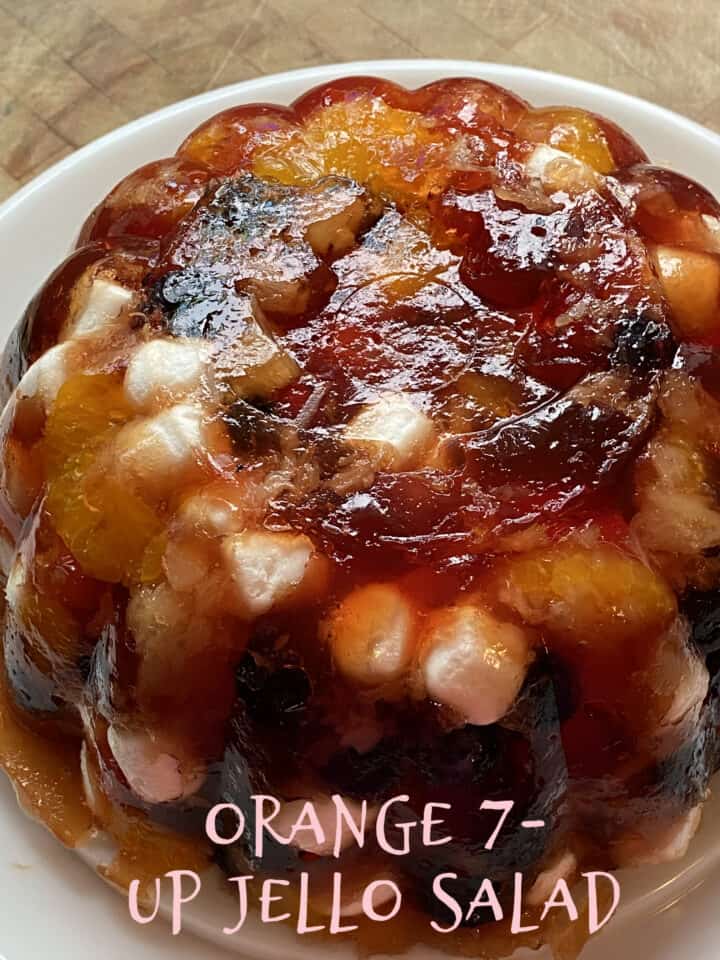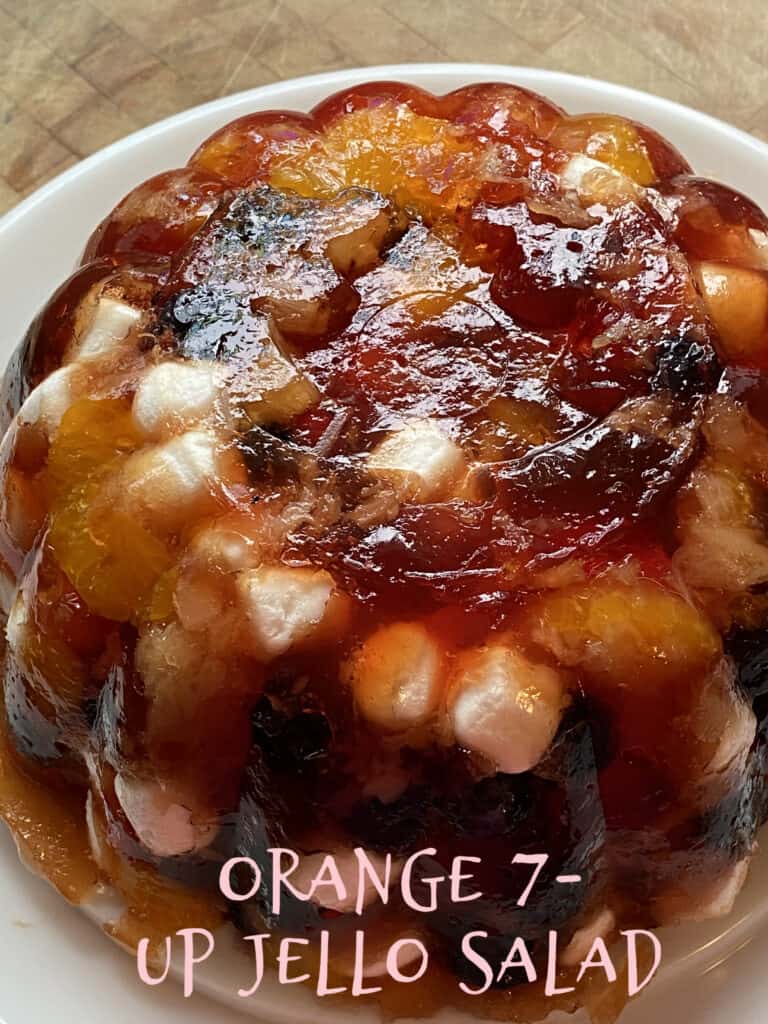 Now don't get me wrong. I have nothing against deli counters. In fact, I worked behind a deli counter once in my working career and deli people work damn hard. You have to be strong, tough and have a good back to work in the deli department.  Have you ever tried to lift one of those huge buckets of mayonnaise? They're fudging heavy!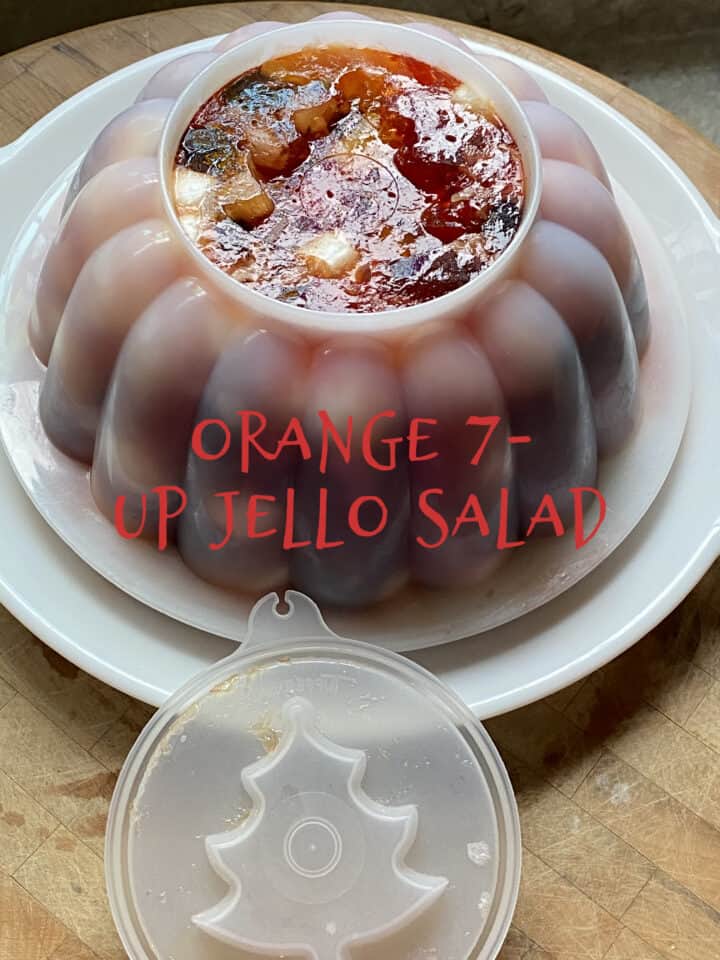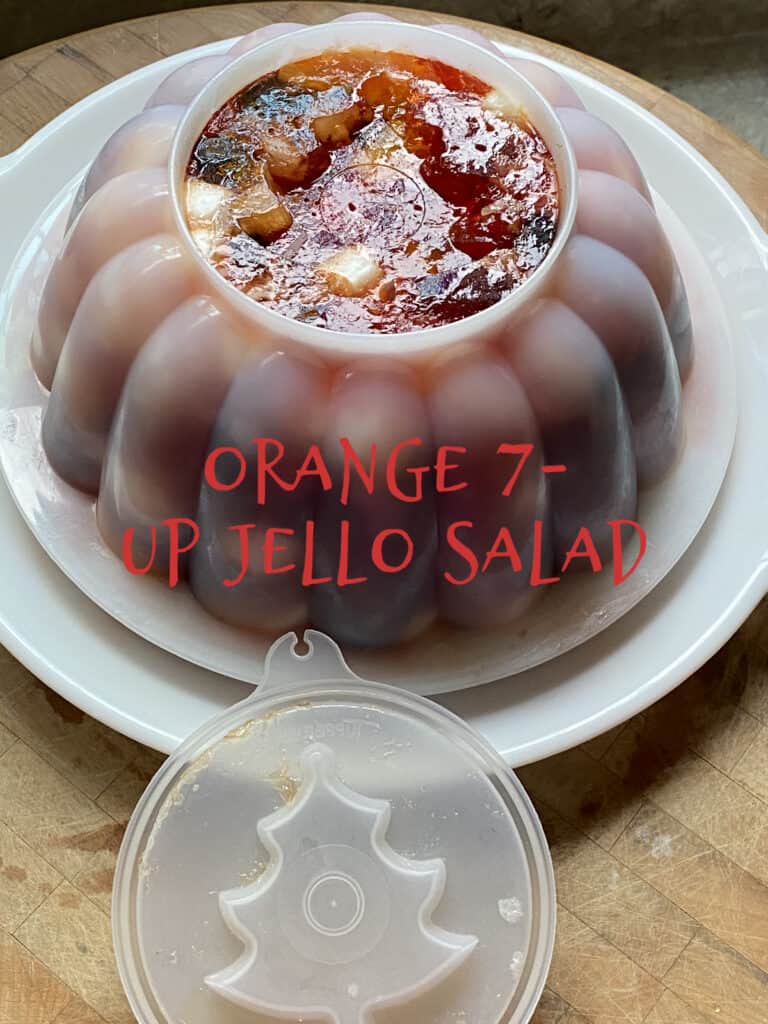 Personally, I think the days of the deli counter may one day become a thing of the past. With COVID-19 and all of the new regulations in place, it might actually happen someday. That would be a tragic and sad thing, not to mention the loss of jobs.
What is an Aspic?
The thought of eating meat and vegetables suspended in clear meat-flavored gelatin sounds unappetizing and disgusting, at least it does to me. I have to admit that I've never tried this culinary delight before so I really shouldn't judge. Besides, aspics do have their fans. I just might not be one of them.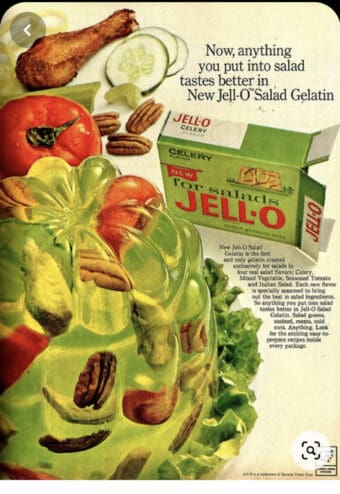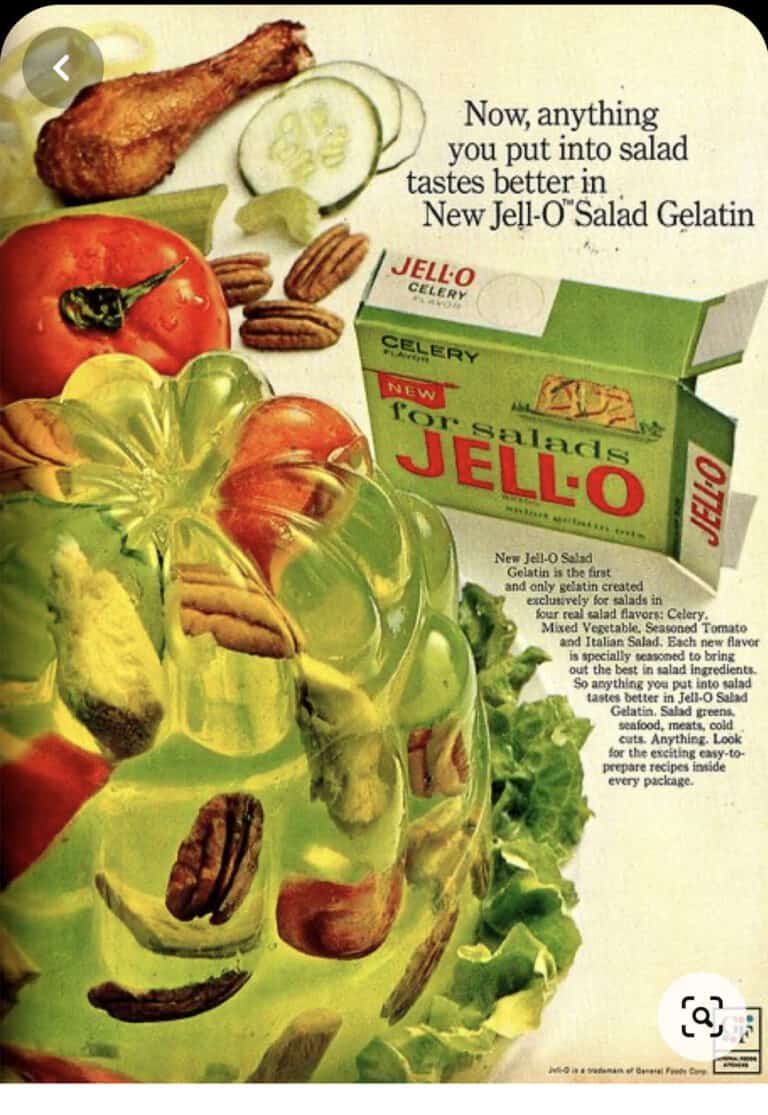 Aspics were first made in the 19th century by a time-intensive process; boiling animal bones and hooves. The collagen extracted from this process is how gelatin was derived and why it's not vegetarian. The broth is simmered for several hours until it became protein-rich and velvety. It was then clarified and once cooled, the liquid set into what we recognize today as gelatin. Most aspic-like dishes contain meat or seafood, hard-boiled eggs, and vegetables. All ingredients are then enclosed in a meat flavored gelatin. Sounds Delicious!!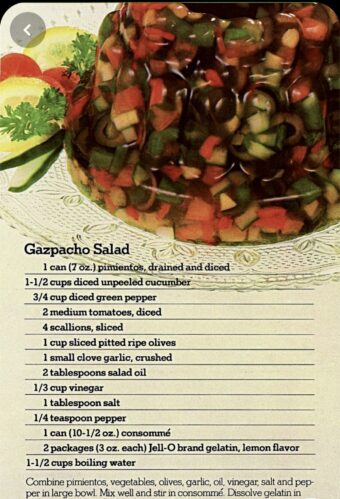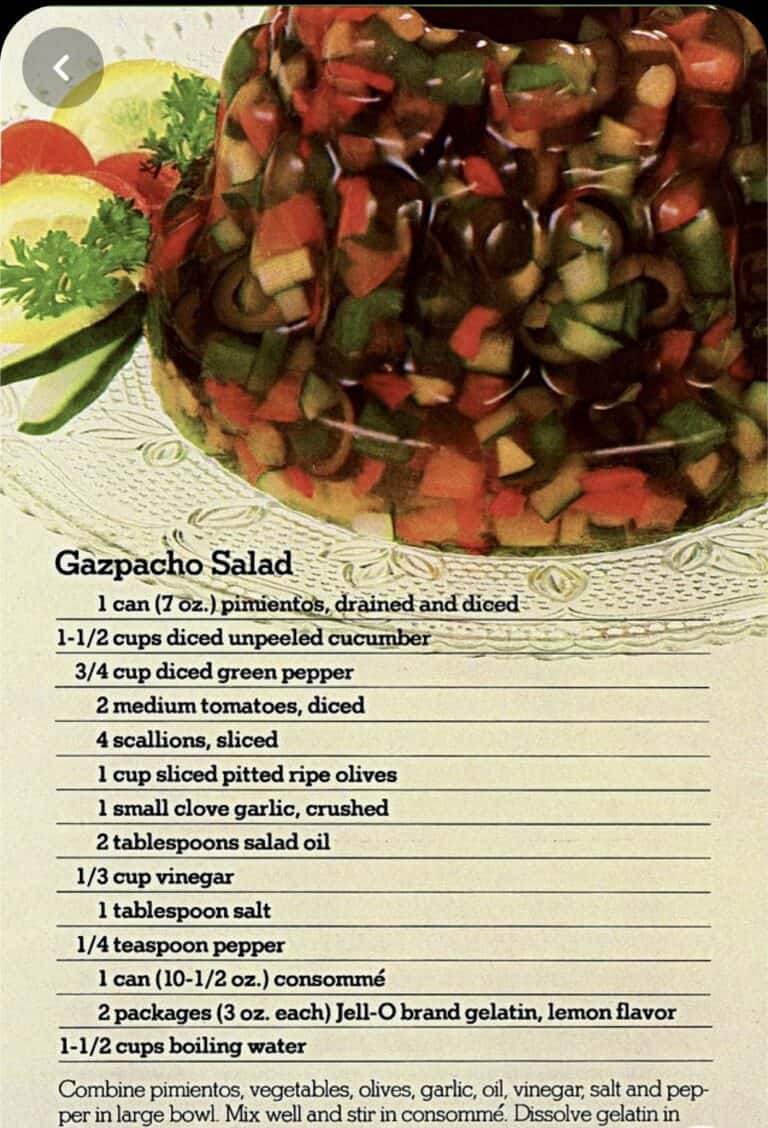 Through the Years
If you take a look back at the advertising ads from the 1940's, 50's, and 60's, jello salads were elaborate concoctions. They included everything from hard-boiled eggs to shredded vegetables to canned tuna. These aspic-style salads were popular way before the fruity, dessert-style salads of today. Not only did the list of ingredients sound strange but so were the flavors of jello used; celery flavored, mixed vegetable, seasoned tomato and Italian salad flavored jello.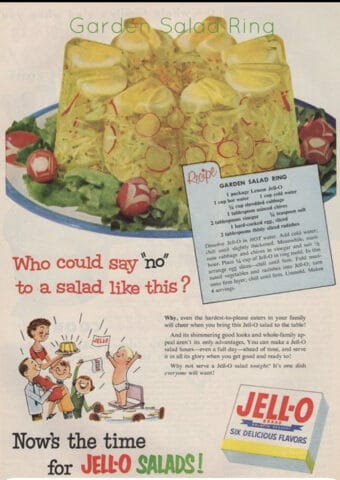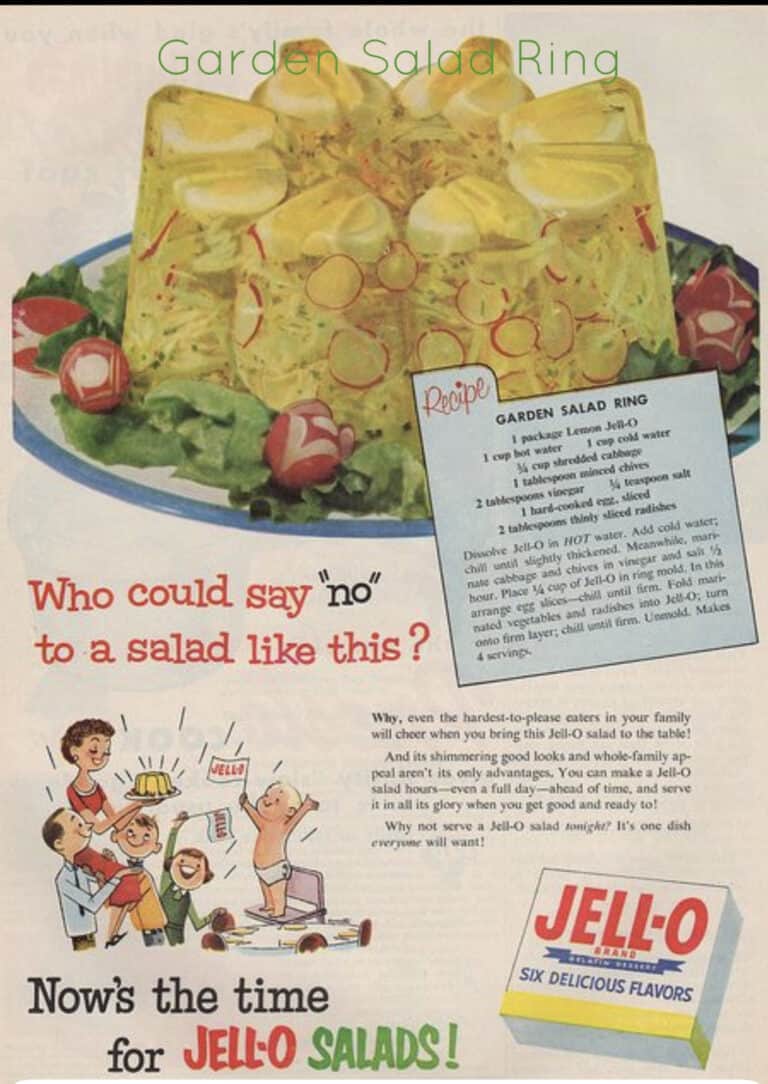 The other day while on Pinterest I was laughing at some of the jello ads from that time frame. I was flabbergasted at some of the ingredients used in these salads! Some sounded downright inedible. In the beginning, jello was used to make vegetable salads but eventually and thankfully, jello salads evolved into the fruity and dessert-style concoctions that we all know and love today.
A Few Examples
Below are a few examples of retro jello salads that I found on Pinterest. Believe it or not, there are a ton of retro jello inspired recipes on Pinterest. Along with images of elaborate looking jello salads. After reading through the list of ingredients on some of the ads, I found it hard to imagine that any of these salads would taste good, but that's just me.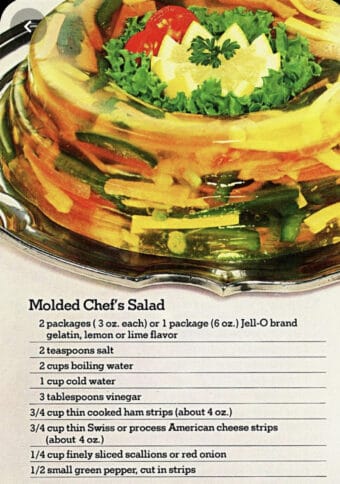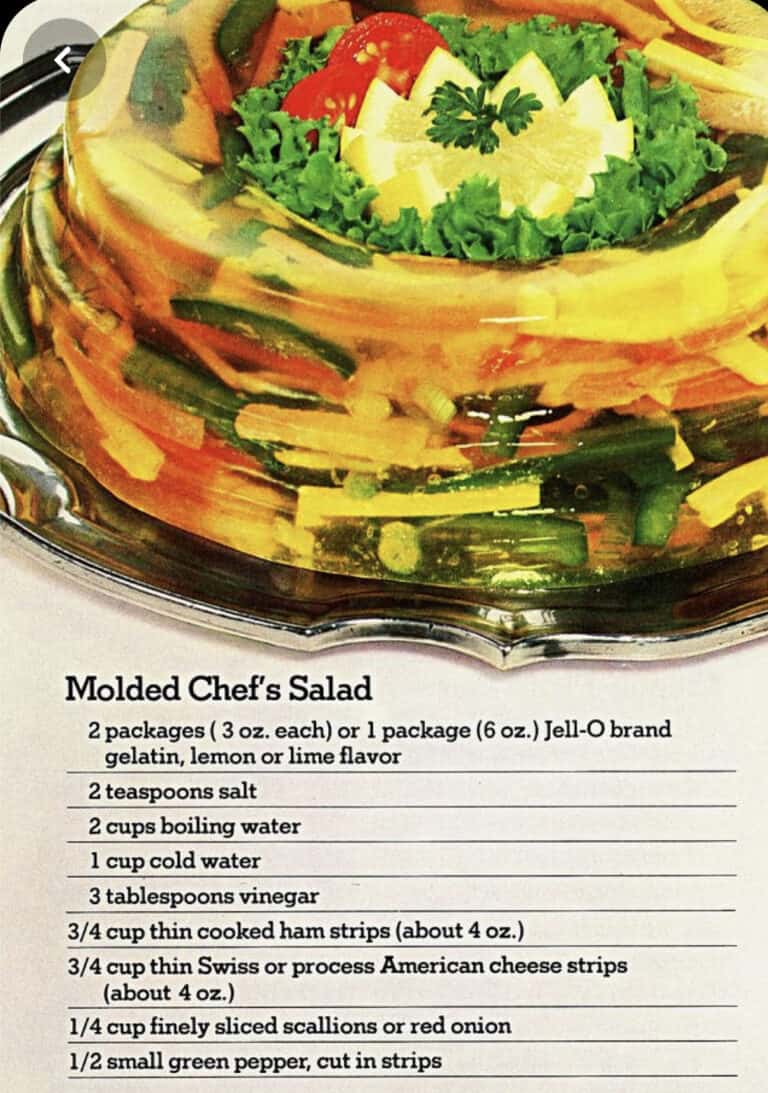 Let's take a look at the ingredients used in some of these salads, shall we.
Garden Salad Ring is made with lemon jello, shredded cabbage, minced chives, hard-boiled eggs and sliced radishes. I have no comment. Let's move on too..
Monterey Soufflé Salad Lemon jello, mayonnaise, tuna, sliced celery or cucumbers, sliced green olives, pimento and grated onion. This salad makes me shake my head. Onward..
Sunset Salad is the one salad I would consider trying. Made with orange-pineapple jello, (I don't think they make this flavor anymore but orange would do) crushed pineapple, grated carrots and pecans. Doesn't sound bad, does it?
Molded Chefs Salad is made with lemon or lime jello, ham strips, American cheese strips, chopped onions and green pepper strips. I can't imagine eating this salad, Ever.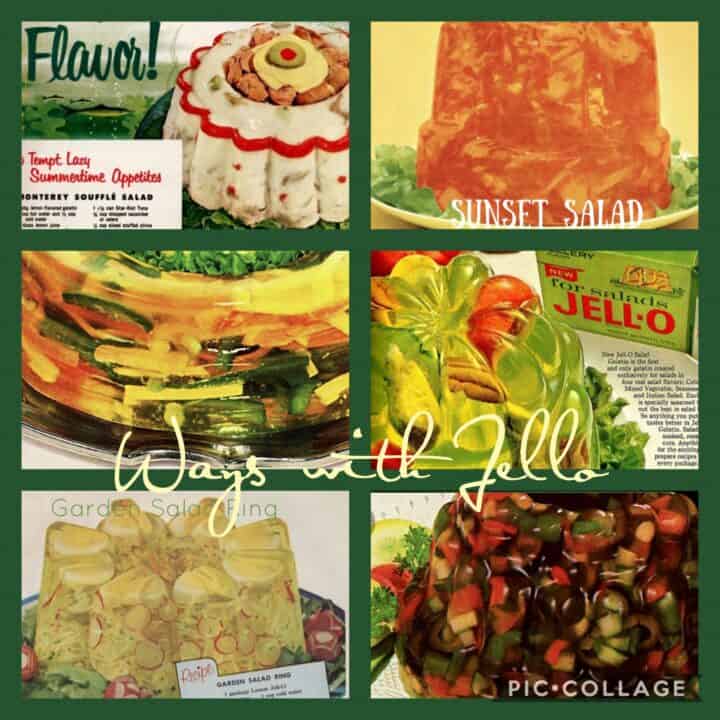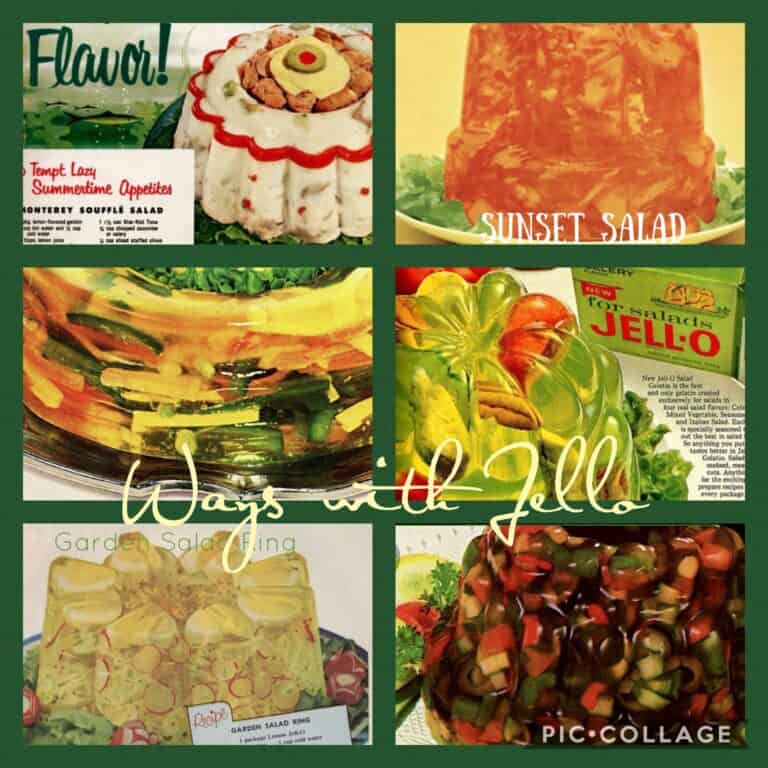 Congealed
In the southern states, jello salads go by the name "congealed" salads. In fact, we have a delicious recipe for a congealed salad called, you guessed it, Congealed Cherry Salad Congealed to me is a strange sounding name for a jello salad but heck what do I know! For instance, in my family if Mindy is having Christmas dinner at her house, I would simply call her up and ask, "Hey, do you want me to bring that green fluff stuff?"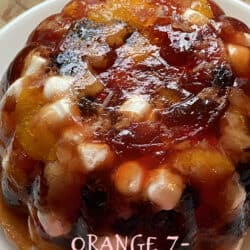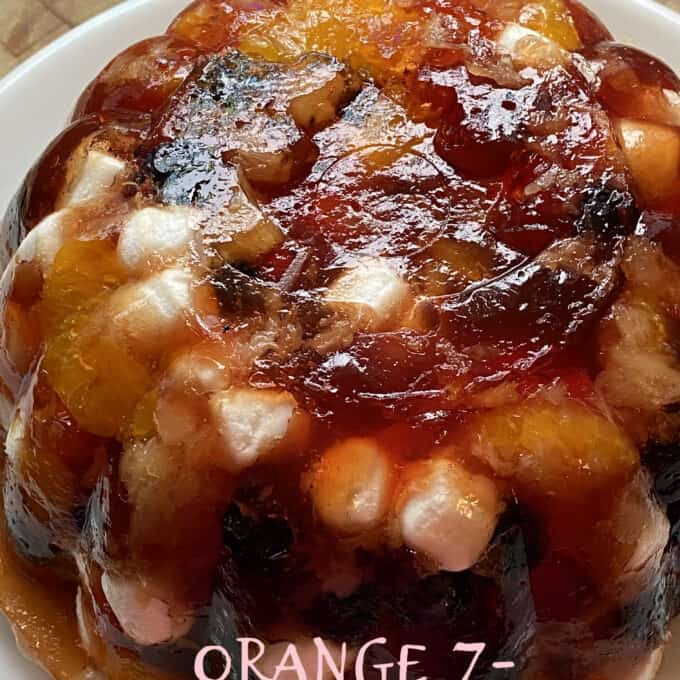 Orange Seven-Up Jello Salad
A delicious fruity salad.
Ingredients
1

11 oz. can

mandarin oranges

1

8 oz can

crushed pineapple

Water

1

6 oz box

orange gelatin

1

cup

cold 7-up or cranberry juice

1

cup

fresh blueberries

1

cup

mini marshmallows

½

cup

sweetened flaked coconut
Instructions
Pour jello into a large glass bowl, set aside.

Drain oranges and pineapple, reserving juices. Set oranges and pineapple aside. Add water to juices to measure 2 cups. Place in a saucepan and bring to a boil; pour over gelatin in a bowl. Stir until gelatin is completely dissolved. Stir in seven up or juice.

Chill until partially set (watch carefully). Fold in oranges, pineapple, blueberries, mini marshmallows and coconut. Pour into a 6-cup mold. Chill until firm.
Don't forget to check out what's happening on our YouTube channel. Don't forget to Like & Subscribe! Turnips 2 Tangerines on YouTube