Orange Hazelnut Sourdough Scones
We may earn money or products from the companies mentioned in this post.
Orange Hazelnut Sourdough Scones
Orange Hazelnut Sourdough Scones are made with diced orange peel from Paradise Fruit Co., hazelnuts, and sourdough starter. Scones are super easy to make and are delicious. Scones can be made with so many different ingredients, thus making scones versatile and much loved for breakfast or tea time. Savory scones are great served with soup or stew and can be used as a vehicle for sliced meat and cheese.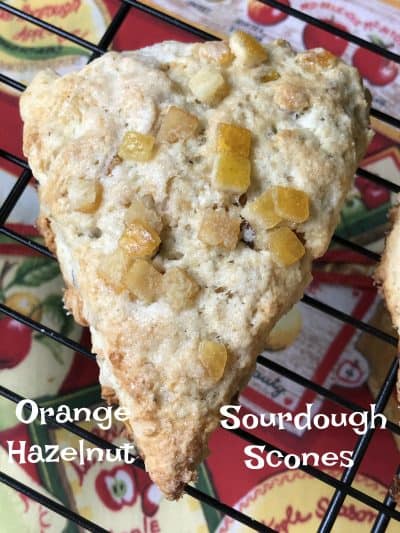 What is a Scone?
Scone [SKOHN; Br. SKON] This Scottish quick bread is said to have taken its name from the Stone of Destiny (or Scone), the place where Scottish kings were once crowned. The original triangular-shaped scone was made with oats and griddle-baked. Today's versions are more often flour-based and baked in the oven. They come in various shapes including triangles, rounds, squares and diamonds. Scones can be savory or sweet and are usually eaten for breakfast or tea.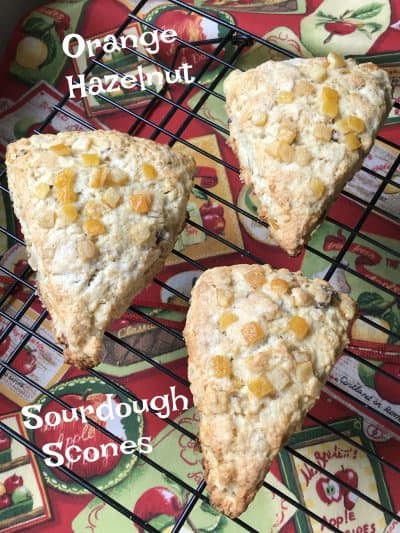 * Turnips 2 Tangerines has a wide selection of scones to choose from. A few favorites are: Sun Dried Tomato Scones, to Bacon Blueberry Scones.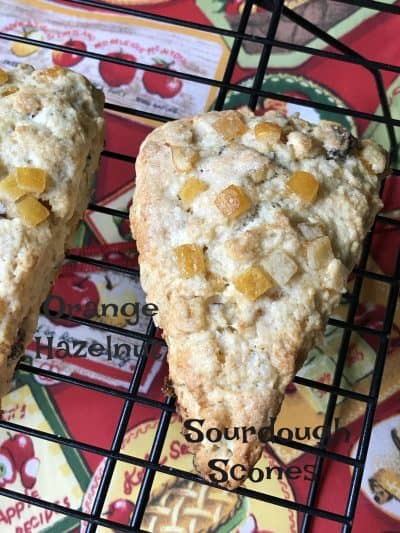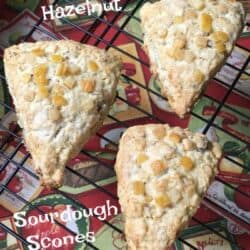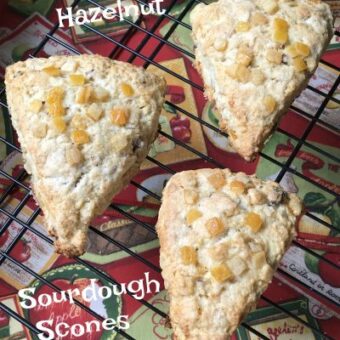 Orange Hazelnut Sourdough Scones
A delicious scone made with dried orange peel from Paradise Fruit Co.
Ingredients
1

cup

flour

2

tablespoons

sugar

1/2

teaspoon

salt

1/4

teaspoon

baking soda

2

teaspoons

baking powder

1/2 cup

(1 stick)

cold butter, cut into small pieces

1/2

cup

candied orange peel

,

Paradise Fruit Co.

1/3

cup

chopped hazelnuts

1

egg

3/4

cup

sourdough starter

2

tablespoon

milk or cream

2

tablespoons

coarse sugar

1/4

cup

candied dried orange peel

,

Paradise Fruit Co.
Instructions
Into a mixing bowl, sift together flour, sugar, salt, baking soda and baking powder. Cut in butter with a pastry blender or two knives until mixture resembles coarse meal. Stir in candied orange peel and hazelnuts.

Break egg into a 1-cup glass measuring cup, beat lightly with a fork, then fill the cup with starter (adjust amount of starter if necessary to make mixture equal 1 cup). Add this mixture to the dry ingredients and mix lightly just until combined. Turn out onto a lightly floured board and gently knead 8 to 10 times. Knead in up to 1/4 cup more flour ONLY if needed to keep dough from sticking. (dough should be very soft)

Gently pat dough into a circle about 8" in diameter. Using a floured knife, cut into 8 wedges. Brush tops with milk or cream, sprinkle with coarse sugar and candied orange. Carefully transfer wedges using a spatula or pie server to a lightly greased baking sheet, placing them at least 2" apart. Bake at 400 degrees for 15 to 18 minutes or until golden brown. Transfer to a rack to cool slightly before serving.